Police-led lessons on drugs in schools can boost trust among pupils
Police-led lessons on drugs in schools can boost engagement and trust among pupils, a report suggests.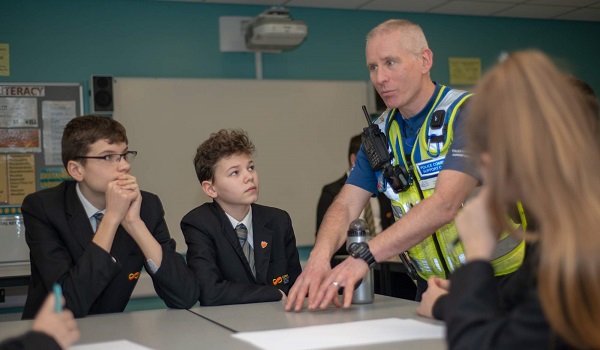 Classes led by police officers who are trained in delivering personal, social, health and economic (PSHE) lessons are more effective than sessions led by teachers alone, according to research.
A report by the London School of Economics and Political Science (LSE), based on data from more than 7,000 students, found that the sessions significantly increased young people's trust in police fairness.
After being taught by police on drugs and the law, officers were "more likely to be perceived to treat students with respect" among the 13 to 15-year-olds whose attitudes were evaluated for the study.
Students were also more likely to correctly identify what criminal justice phrases about drugs – such as "intent to supply"– meant (91 per cent), compared to students where no lessons took place (74 per cent).
After the lessons, which were conducted between September 2019 and March 2020 in 81 schools across England and Wales, students' perception of police procedural fairness significantly increased.
This remained the case even ten weeks after the lessons had taken place, the report says.
It adds: "Rather than young people largely having interactions with police officers out in the street, where the officers are acting in a regulatory capacity, they would therefore have more humanised interactions in their early teenage years that can help foster a sense of trust between police and young people."
The researchers suggest that police-led lessons may have been more successful as officers encountered the students in class on their "own turf," reducing the power-differential between the police and pupils.
Other reasons could be that enthusiastic officers were those who volunteered to teach children, or because they received well-designed training.
Report co-author Professor Jonathan Jackson, from the LSE Department of Methodology, said: "This first-of-its-kind trial found robust and long-lasting effects on young people's attitudes.
"Interactions with police officers are teachable moments, where individuals learn about the nature of society and its institutions, as well as their role and position within society.
"Because 'good contact' helps to engender trust and legitimacy, and 'bad contact' helps to damage people's relationship with the law, it is important to get these encounters right.
"Police officers engaging with education in schools may help engineer the type of positive experiences that foster a sense of trust and legitimacy, particularly because they are on young people's own turf."
Report co-author Dr Krisztián Pósch, visiting fellow at the LSE Department of Methodology, said: "We are certainly not recommending that police officers go into schools in an enforcement, surveillance or protective capacity.
"Instead, we encourage the police to provide educational training to volunteering police officers and collaborate with schools to deliver lessons where they have expertise."
But he added that more research was needed to provide clarity on how many times a police officer should visit a school for maximum impact and the ideal age of pupils to be visited.