Police leaders three times as likely to be privately educated than the public 
There has been a growth in the number of senior police leaders who come from independent schools and attended Oxbridge, a sign of stalling social mobility and division, new research has revealed.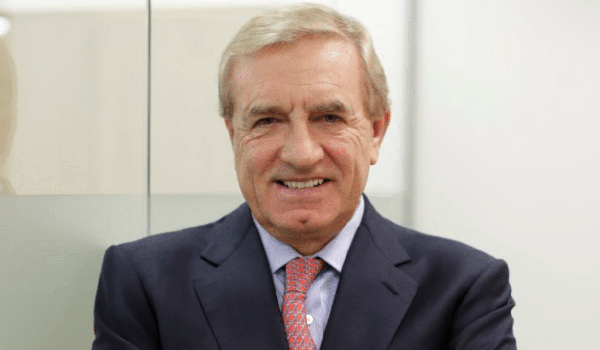 The Elitist Britain 2019 study found that power rests with a narrow section of the population – the seven per cent who attend private schools and the one per cent who graduate from Oxford and Cambridge universities.  
The report reveals a 'pipeline' from fee-paying schools through Oxbridge and into top jobs, with 52 per cent of the leading figures in some professions (senior judges) coming through this pathway. 
Overall, five times more people who benefitted from private education and attended the top universities fill influential positions in society than the general working age population.  
And chief constables and police and crime commissioners (PCCs) are more than three times more likely to have attended independent schools, the report by the Sutton Trust and Social Mobility Commission states. 
Forces have been criticised extensively for not looking like the communities they serve, especially regarding the representation of those from ethnic minority backgrounds, who are more likely to be from lower socio-economic backgrounds and live in areas where crime is more prevalent, the report adds. 
Research by the National Centre for Social Research identified that efforts to increase diversity across police forces, to ensure they look more like the communities they serve, have not made progress due to a lack of buy-in from senior officers. Chief constables and PCCs can play pivotal roles in this effort. 
Almost a quarter (24 per cent) of chief officers and PCCs attended a private school, a proportion much higher than in the population overall (seven per cent). This figure has increased by two percentage points since 2014. 
Looking at the two groups separately, 29 per cent of PCCs were privately educated, 29 per cent attended grammar schools, and only 40 per cent attended comprehensives.  
In contrast, 19 per cent of chief officers attended private schools, only 14 per cent went to a grammar, and a much larger proportion (67 per cent) attended a comprehensive school. 
However, chief officers were around twice as likely as PCCs to have attended Oxbridge or another Russell Group institution. The proportion of chief officers and PCCs who attended Oxbridge (13 per cent) has more than doubled, standing at just six per cent in 2014, but remains much higher than the working age population (one per cent).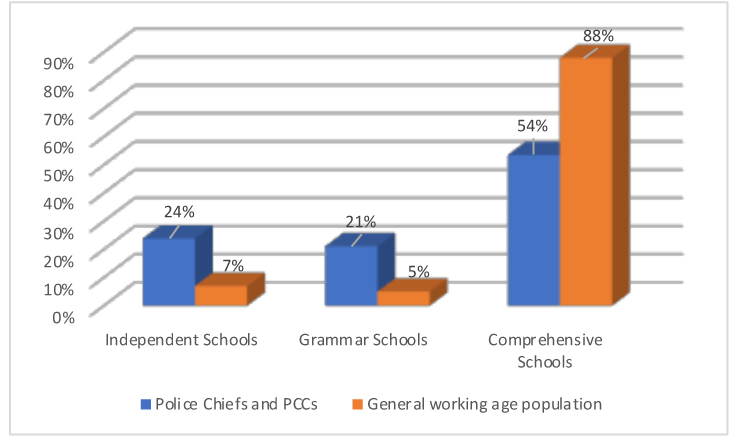 Most chief officers and PCCs have been to university (83 per cent), which has increased substantially since 2014 when only 62 per cent had done so. 
Concern has been raised that recent reforms to police recruitment will make it harder to improve diversity and make the service more elitist. Under the Police Education Qualifications Framework (PEQF), new entrants are required to have a degree or join as an apprentice. 
However, Charlie Mullins, owner of Pimlico Plumbers and contributor to the report, said apprenticeships were the key to social mobility.
The College of Policing said it is already introducing changes to senior leadership training, retention and recruitment programmes to ensure greater diversity and the PEQF offers an entry route for a broad range of academic backgrounds.
Jo Noakes, Leadership and Talent Lead for the College, said: "There is a commitment across the service to ensure future police leaders are representative of the communities they serve.
"Last year the College of Policing introduced guidance on the appointment of chief officers which recognised the value added by those with experience outside policing, in line with the 2015 Leadership Review which recommended a structure of entry, exit and re-entry points into the service to allow officers flexibility in their careers.
"We have also made changes to our Senior Police National Assessment Centre and the Strategic Command Course which has seen an increase in the number and diversity of applicants.
"This year we have launched development programmes to support female officers and those from minority ethnic backgrounds seeking progression to senior policing roles.
"We are committed to ensuring people from a range of educational backgrounds are attracted to a career in policing. We have introduced three new police constable entry routes, which includes an apprenticeship, where officers join as a constable and earn while they learn."
Researchers looked at the educational backgrounds of 5,000 people across nine areas: politics, business, the media, Whitehall and public bodies, public servants, local government, the creative industries, women and sport. 
They included 37 PCCs and 42 chief constables. 
At the time of the analysis in spring 2019,  39 per cent of t he Cabinet was independently educated. This is in stark contrast with the  Shadow Cabinet, of which just nine per cent attended a private school, down from 22 per cent in 2014 under Ed Miliband's leadership.  
There is a majority of private school alumni across various public bodies:  
Senior judges (65 per cent)

;

 

Civil service permanent secretaries (59 per cent)

;

  

 

The House of Lords (57 per cent)

; and

 

Foreign and Commonwealth Office diplomats (52 per cent)

.

 
The  media  also has some of the highest numbers of the privately educated. Of the 100 most influential news editors and broadcasters, 43 per cent went to fee-paying schools. Similarly, 44 per cent of  newspaper columnists  were privately educated, and a third (33 per cent) went to both an independent school and Oxbridge.  
The report found big differences in the educational backgrounds  of men and women at the top of sporting life.  The five per cent of  men's football international  players  who attended independent schools stands in stark contrast to the 37 per cent of  rugby internationals  and 43 per cent of the  England cricket team.   
Women  are under-represented at the top of all major professions.  However, for women who do make it to the top, their journeys do not always look the same as those of  their male  peers, the report adds. While women in top roles are still much more likely to have attended a private school than the population at large, they are less likely to have attended Oxbridge than their male counterparts. 
The report says the reasons why some groups continue to be over-represented in certain professions are complex and include access to education opportunities, financial barriers and the accumulation of social and cultural capital. But there are benefits to opening up the UK's top professions to a more diverse talent pool. Many firms and industries have recognised this and there has been a welcome focus on diversity and professional access in recent years. 
The Sutton Trust and the Social Mobility Commission would like to see social diversity adopted as a key mission to ensure the talents of people from all backgrounds are utilised.  
Sir Peter Lampl, founder of the Sutton Trust and chair of the Education Endowment Foundation, said: "This report is published at a critical juncture for this country. We find ourselves an increasingly divided society. Divided by politics, by class, by geography. Social mobility, the potential for those to achieve success regardless of their background, remains worryingly low. The British education system is partly responsible for this divide, but it also has the potential to rectify it. Giving young people from all backgrounds access to the knowledge and skills needed to succeed in life is key to bridging the gap. 
"Elitist Britain 2019 lays bare the lack of opportunities for so many young people across Britain. Amid an atmosphere of political tumult in Westminster, it must not be forgotten that addressing Britain's stubborn social mobility problem remains one of the most important challenges that lies ahead." 
The report's recommendations include: 
Tackling financial barriers to specific industries and professions, especially by paying internships of significant length

;

 

Adopting contextual recruitment and admissions practices to enter top universities and industries

; and

 

Tackling social segregation in schools through fairer admissions practices in comprehensives and grammars and opening up private schools.

 

 
The National Police Chiefs' Council, Association of Police and Crime Commissioners and the College of Policing have been approached for comment.