Police leaders condemn 'shocking' and 'unacceptable' violence against officers at BLM march
Police leaders have condemned the "shocking and completely unacceptable" assaults on officers that took place during Black Lives Matter protests in London on Saturday evening (June 6) as thousands more demonstrators descended on the capital's US embassy on Sunday.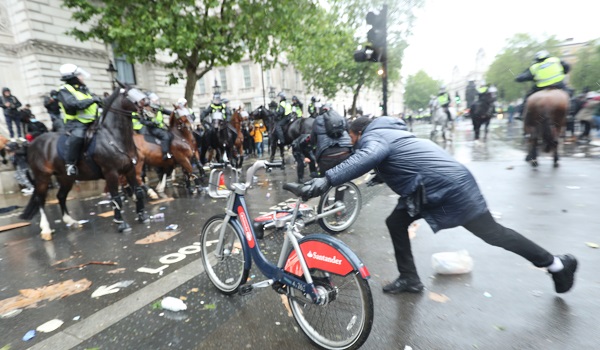 Dame Cressida Dick, the Commissioner of the Metropolitan Police Service (MPS), said 14 officers had been injured during clashes with a small number of protesters. A total of 29 arrests were made.
A further 13 officers had been hurt during similar protests earlier in the week.
"I am deeply saddened and depressed that a minority of protesters became violent towards officers in central London yesterday evening," Dame Cressida said.
"We have made a number of arrests and justice will follow. The number of assaults is shocking and completely unacceptable. I know many who were seeking to make their voices heard will be as appalled as I am by those scenes. There is no place for violence in our city.
"Officers displayed extreme patience and professionalism throughout a long and difficult day, and I thank them for that."
Marches have been taking place all over the world following the death of George Floyd, an unarmed black man, in Minneapolis on May 25. A white police officer detaining him knelt on his neck for nearly nine minutes as fellow officers stood by. The officer has since been charged with murder.
Demonstrations were carried out peacefully for much of the afternoon but disturbances began breaking out at around 6pm outside Downing Street.
Statues in Parliament Square of former British leaders, including David Lloyd George and Winston Churchill, were defaced with "BLM" graffiti by activists.
Scuffles broke out when objects were thrown towards officers wearing protective gear, with mounted police called in to drive some of the demonstrators back along Whitehall.
Video footage appeared to show an officer colliding with a traffic light before their horse ran through a crowd of protesters, sending them scattering.
The MPS later confirmed a female officer fell from the horse and had been taken to hospital. Her injuries are not life-threatening but are said to include broken ribs, a broken collar bone and punctured lung.
Metropolitan Police Federation chair Ken Marsh said the officer had "quite nasty" injuries, telling BBC Breakfast: "She's stable – she has some quite nasty injuries which she sustained. And the horse is fine."
He added: "I think my colleagues – as always – were absolute heroes… the abuse they took. They tried to facilitate the public behaviour… I had nothing but pride in what I saw. It was horrendous seeing my colleagues being injured."
Photographs showed the officer being treated at the scene as she lay injured on the pavement, while other images showed bikes being thrown at horses.
Officers are "investigating the full circumstances" of the officer's fall but the force said the horse made its own way back to its stables nearby.
Further demonstrations have been taken place at major cities across the UK but these have largely been peaceful.
John Apter, national chair of the Police Federation of England and Wales said: "This weekend we have seen large numbers of people take to the streets of our major cities to exercise their right to protest.
"Police officers will respect and facilitate that right, as we have always done. However, we must not lose sight of the fact that the country is still in the grip of a deadly pandemic. The gathering of thousands of people, however worthy the cause, still remains unlawful and is a danger to public health and that of police officers who are working hard to keep these events peaceful.
"We utterly condemn the violence that has been directed at our officers – those brave men and women who are protecting the public and at a risk to their own safety – by a thoughtless few, who act with no consideration that police officers are doing their jobs and also have families to go home to at night. It is the actions of these few that people will remember most about these protests, a message distorted from its original intentions."
Health Secretary Matt Hancock told BBC One's The Andrew Marr Show: "I think the police did a fantastic job, and I'm very proud of the British police for their professionalism, their restraint in the face of the tiny amount of violence – and I would stress it was a very small amount of violence – later on in the day. And I think that we can all be proud that the British police are not like the American police in this way and I think that's a very good thing."
Mayor of London Sadiq Khan said the pockets of violence was "simply not acceptable" and urged those protesting to do so lawfully while also maintaining social distancing.
He said: "Londoners of all ages, races and backgrounds joined millions of people around the world yesterday to come together peacefully to say that Black Lives Matter. I stand with you and share your anger and pain. George Floyd's brutal killing must lead to immediate and lasting change in countries, cities, police services and institutions everywhere. We must root out racism wherever it is found.
"The vast majority of protestors in London were peaceful. But this vital cause was badly let down by a tiny minority who turned violent and threw glass bottles and lit flares, endangering other protestors and injuring police officers. This is simply not acceptable, will not be tolerated and will not win the lasting and necessary change we desperately need to see."