Police launch 'criminal damage' investigation over toppling of statue at BLM event
Avon and Somerset Constabulary has launched a criminal investigation into the destruction of a statue of a slave trader during Sunday's Black Lives Matter demonstration in Bristol amid criticism that the force failed to adequately police the event.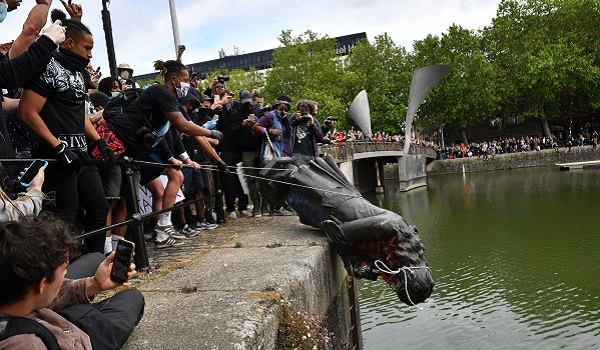 Around 10,000 protesters gathered to march through the city as part of a series of protests and events across the UK to protest against racism and police brutality after the death of George Floyd, a black man, in Minneapolis. He died on May 25 after a white officer held him down by pressing a knee into his neck for nearly nine minutes.
The 125-year-old statue of Edward Colston has been at the centre of a long running debate in the city with many saying his "toxic" legacy should not be commemorated.
Police stood back as the statue was pulled from its stone pedestal to the delight of many in the crowd who began cheering and dancing as it fell. One demonstrator was photographed leaning on the statue's neck with his knee in an imitation of the choke hold used against Mr Floyd.
Others stamped on the bronze figure, daubed it in red paint, then rolled it through the streets to the harbour where it was pushed into the water.
The organisers of the Black Lives Matter demonstration have distanced themselves from the incident and others have said that while they object to the presence of the statue, this was not the way to deal with it.
Sajid Javid wrote on Twitter: "I grew up in Bristol. I detest how Edward Colston profited from the slave trade. But, this is not OK. If Bristolians wants to remove a monument it should be done democratically – not by criminal damage."
Home Secretary Priti Patel called toppling the memorial an "utterly disgraceful" act.
"I think that is utterly disgraceful and that speaks to the acts of public disorder that actually have now become a distraction from the cause in which people are actually protesting about and trying to empathise and sympathise," she said.
Ms Patel has branded the UK's Black Lives Matter protests as "illegal" and "not in the interest of public health" due to concerns over the spread of coronavirus.
Avon and Somerset Constabulary said it had adopted a low-profile approach to policing the event as attempting to intervene during the removal of the statue would have led to greater disorder.
Superintendent Andy Bennett said: "The vast majority of those who came to voice their concerns about racial inequality and injustice did so peacefully and respectfully. "However, there was a small group of people who clearly committed an act of criminal damage in pulling down a statue near Bristol Harbourside. An investigation will be carried out to identify those involved and we're already collating footage of the incident."
However, the chair of the Police Federation of England and Wales criticised the approach. John Apter told BBC Breakfast: "To have no police presence there I think sent quite a negative message. I am a police officer so I don't support this lawlessness we saw where this statue was ripped down and rolled down the street and pushed into the river because that is not how we do things. "I understand the anger but not to have a police presence there was something – I have been a police officer for 27 years – that was a decision I have not seen taken before."
Elsewhere, the operational patrol unit of Warwickshire Police tweeted that the M6 southbound was temporarily closed soon after 6pm due to pedestrian protesters blocking the carriageway at junction 3. In Manchester, hundreds crowded into St Peter's Square, kneeling in silence.
Further demonstrations also took place in London on Sunday (June 7). The Metropolitan Police Service said eight officers had been injured after a number of demonstrators launched attacks and threw objects including glass bottles and fireworks at them. Twelve people were arrested during the event.
The majority of the arrests were for public order offences. One was for criminal damage following an incident at the Cenotaph.
Churchill's name was crossed out on the plinth and "was a racist" added. Protesters taped a cardboard sign around the statue saying 'Black Lives Matter'. The phrase was added to statues of Abraham Lincoln, Lord Palmerston and George Canning, who was prime minister in 1827.
Superintendent Jo Edwards said: "Regrettably officers were faced with further scenes of violence and disorder following a day of predominantly peaceful protest throughout the capital.
"This is a hugely impassioned movement and we understand the public's desire to have their voices heard – however it is not right that this passion has turned into violent attacks on officers.
"I would like to thank our officers, and those from the City of London Police and British Transport Police for their professionalism in the face of entirely unacceptable behaviour."
Prime Minister Boris Johnson said last night that anti-racism rallies had been "subverted by thuggery". He wrote on Twitter: "People have a right to protest peacefully but they have no right to attack the police. These demonstrations have been subverted by thuggery — and they are a betrayal of the cause they purport to serve."