Police issue warnings as organised crime targets pet trade
Organised crime gangs are turning to dog theft amid a rise in demand for puppies during lockdown, police have warned.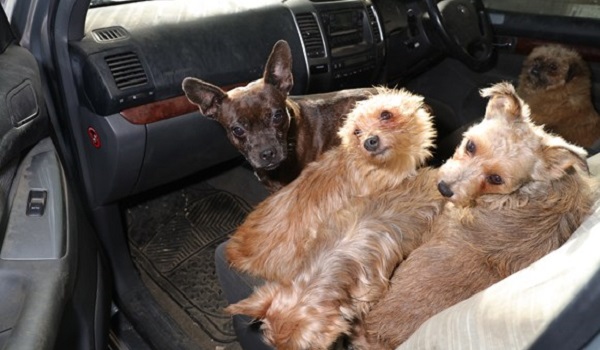 Deputy Chief Constable Amanda Blakeman, from the National Police Chiefs' Council, said the increase in potential profits had made the illegal trade more attractive to those who would normally be involved in other forms of criminality.
"During the coronavirus pandemic criminals have adjusted their activities and are taking advantage of the big demand for pets over the lockdown period. The cost of a puppy has considerably increased over the past year making this a lucrative market for organised criminals to exploit," she said.
"Dog theft can be a devastating crime for families and causes considerable distress to owners. Whilst it is still a very rare crime, it's sadly something we have seen increasing recently."
The charity DogLost has seen reports of thefts rise by 170 per cent in the last year from 172 dogs in 2019 to 465 in 2020.
Recently in Greater Manchester, officers arrested three people after a member of the public reported seeing someone carrying seven English Bulldogs puppies into a property. Two 21-year-old men and a 20-year-old woman were arrested on suspicion of burglary.
In Wales, Dyfed-Powys Police has returned nearly 30 dogs to their rightful owners after officers found 80 animals at a property in Carmarthenshire. One person was arrested on suspicion of handling stolen goods and another on suspicion of burglary. Inquiries continue.
A joint operation between Avon and Somerset Constabulary and Wiltshire Police resulted in the arrest and charge of two men following the alleged theft of several dogs at a property in Bristol.
In Cambridgeshire two dogs were reunited with their owners after officers executed a warrant. Two men, in their 20s and 40s, were arrested.
Last month in Aberdeenshire Police Scotland officers traced Skye the Cocker Spaniel after she was stolen in November from her kennel. A 25-year-old man was arrested and charged.
Ms Blakeman added: "Whilst these offences can be very difficult to investigate police understand how upsetting they are and will robustly follow any lines of inquiry. Dog owners can take reasonable security measures to prevent thefts like checking privacy settings on social media before sharing pictures of your pet online, as this can attract the attention of some criminals. The Blue Cross website has a wide range of advice on how to prevent theft of dogs and steps to take if this happens.
"I also want to encourage those who are buying dogs to really consider where the pet has come from and ensure that it is being purchased legally. Advice can be found online on the checks you should make before purchasing a new dog or puppy."
Policing Minister Kit Malthouse said: "Losing a much-loved family pet can cause great distress and it's a sad fact that criminals will seek to profit by this vile crime. We are taking action to cut crime by bolstering the police with 20,000 extra officers and our £20 million Safer Streets Fund will provide police and crime commissioners with additional cash to spend on crimes such as theft.
"Let me be clear – pet theft is a criminal offence with a maximum penalty of seven years' imprisonment and it must be confronted wherever it occurs."
In Scotland, the Scottish SPCA has received reports of bogus inspectors attempting to dupe people in to handing over their pets.
It said the fraudsters have been using vans almost identical to its own fleet.
Scottish SPCA Chief Superintendent Mike Flynn said they were alerted after a member of the public became suspicious and "thankfully didn't hand over their pet".
He added: "While we can legally seize an animal from a property we will only do so if the welfare of the animal is seriously compromised, needs vet treatment or the environment is not safe for the animal to be in. Only Police Scotland and the local authority have the same powers.
"Our inspectors will always be in uniform and will be able to provide identification badges with a photo and authorisation."
Chief Supt Flynn said its inspectors will also be happy to provide vehicle registration details to anyone who is unsure.
He is urging the public to be vigilant and keep themselves and their pets safe.