Police horse riders to be fitted with bodycams to capture 'close pass' collisions
Mounted police officers are being fitted with body-worn cameras to capture drivers who put the lives of them and their horses at risk.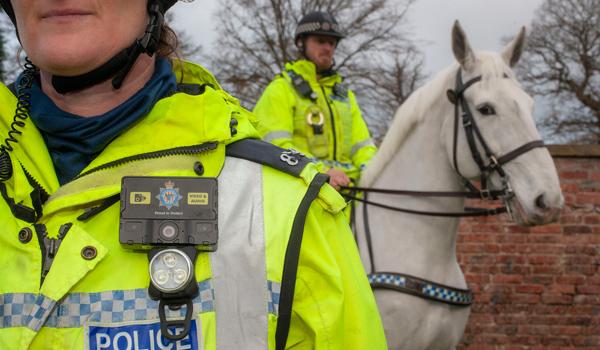 Northumbria Police is also encouraging horse riders to start wearing body or head 'cams' and submit  footage of vehicles passing their animals too quickly.
Figures released this week by the British Horse Society (BHS) show that two horses are killed on UK roads each week.
Mounted Section Sergeant Stu Coates said: "We do get drivers and cyclists submitting footage but we get very few submissions from horse riders and we need to lead the way.
"If a horse is scared by a passing vehicle and bolts into the road then that could have catastrophic consequences, not just for the animal and its rider, but for drivers too.
"We want to raise awareness of the dangers of this behaviour but we also want buy-in from horse riders to start wearing body or head cams and submitting footage."
The initiative is part of this month's Road Safety Week, which runs until Sunday (November 22), with Northumbria Police looking to safeguard vulnerable road users who are put in danger by cars passing too closely.
It comes after a 11 per cent increase in the number of serious or fatal collisions involving cyclists in the past year.
Sgt Coates said using the roads during the darker winter months can be "very intimidating" for both cyclists and horse riders.
"That is why we are encouraging people to submit footage of drivers who are passing too closely and putting lives at risk," said Sgt Coates, adding that Northumbria Police's horse riders will now be fitted with bodycams.
The newly-released BHS statistics show road incidents involving horses and vehicles are continuing to rise, with 1,037 reported to the equine charity over the past year, 81 per cent of which occurred due to vehicles passing by too closely, with almost half subject to road rage.
Alan Hiscox, director of safety at the BHS, said: "Year on year we have witnessed an increase in the number of road incidents involving horses being reported to us. With 81 per cent of the incidents reported to us having occurred due to vehicles passing too close it is evident that there is still a great need for better education on how to safely pass horses on the road.
"It is also deeply concerning that close to half of riders were subject to road rage. We all have a right to use the roads and no one should face abuse for exercising this right."
BHS figures show that since November 2010:
4,774 road incidents have been reported to the BHS;
44 riders have lost their lives and 1,220 have been injured; and
395 horses have been killed and 1,080 have been injured.