Police funding to increase by £1.1 billion to boost recruitment drive
Policing is to receive its biggest funding boost in a decade with the Government urging forces to make "full use of the investment" to place more officers on the streets.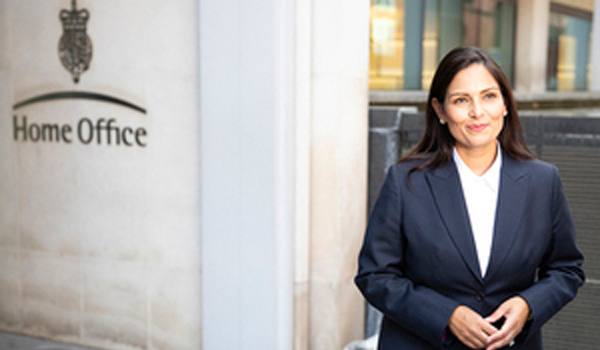 The Home Office confirmed today (January 22) that funding available to the policing system for 2020/21 will increase by more than £1.1 billion, totalling £15.2 billion, should police and crime commissioners (PCCs) take full advantage of flexibility to set the police precept.
However, the funding is conditional on forces making "measurable improvements" with increased efficiency and productivity, in addition to delivering on promises to increase officer numbers.
Kit Malthouse, Minister for Crime, Policing and the Fire Service said: "It is only right that in return the Government holds the police to account on delivering for the public. We will expect the police to achieve measurable improvements across a range of outcomes with the National Policing Board… holding the sector to account."
Home Secretary Priti Patel said: "This Government is delivering on the people's priorities by giving policing the biggest funding increase in a decade.  It will mean more officers tackling the crime blighting our streets, so people can feel safe in their communities. The police must now make full use of this significant investment to deliver for the public."
The funding will enable forces to recruit a further 6,000 of the 20,000 additional police officers by the end of March 2021. The overall figures represent an increase of 7.5 per cent on funding for the previous year.
The funding includes £150 million to fight organised crime and crack down on online child abuse. There will be a further £39 million to tackle serious violence, a figure that includes £20 million to specifically target the "abhorrent gangs terrorising towns" through County Lines drug dealing.
The settlement includes the £750 million announced by the Chancellor last year to enable forces to meet their officer recruitment targets. The also includes the £90 million increase in the counter-terrorism policing budget announced earlier this week.
Around £700 million of the new funding will go directly to PCCs while the remainder will be spent nationally on capabilities and infrastructure to support the recruitment drive. PCCs will also have access to £8,702 million in government grants, an increase of £667 million over the previous year
The maximum funding figures provided by the Government assume PCCs take advantage of the flexibility to increase local funding in England by setting the council tax referendum limit to £10 for a typical (Band D) property. If all PCCs in England do so, this alone will generate around £248 million in additional funding for forces in England next year.
National Police Chiefs' Council chair Martin Hewitt said: "This is a positive settlement for policing overall. The £750 million allocated provides the flexibility to recruit 6,000 additional officers by March 2021, as well as invest in staff recruitment, equipment and training to support these new recruits in their roles.
"We look forward to working with the Home Office and police and crime commissioners on future sustainable funding as part of the next government spending review."
Roger Hirst, Finance Lead for the Association of Police and Crime Commissioners (APCC) said: "Today's funding announcement is extremely welcome for policing and is the largest increase in government grant funding we have seen since the crisis in public finances started. We need to focus on bringing crime down, and this settlement will mean Police and Crime Commissioners can invest more into policing in order to tackle crime and keep our communities safe.
"We know that the public want to see more police and this additional funding will drive the recruitment of 6,000 officers over the next twelve months, as part of the government's Uplift Programme to recruit 20,000 new police by March 2023. Combined with the precept flexibility announced today it means we will also be able to make further investment in critical areas including technology, fund police pay properly, and deal with the inflationary cost pressures that we all face.
"We remain committed to making further efficiencies within the service, building on the huge amount of work that has been done to date, and delivering a modern police service able to get crime back down to historic lows."
APCC Deputy Finance Lead, Paddy Tipping added: "Today's announcement is good news for policing and will mean that there will be more police officers in neighbourhoods, communities and streets across the country. It also means that Police and Crime Commissioners can now prepare their budgets accordingly knowing that the additional funding for the promised uplift in police numbers is available.
"This is a first step in building police numbers again. We need to recognise that it will take three years to get back to the level of officer numbers that existed in 2010. Many of the cost pressures we face, including cost of inflation and pay awards, will have to be met locally through the precept. Once again, it needs to be acknowledged that with different levels of precept and share of budget accounted for by council tax, the level to which forces benefit will vary from the precept increase. Police and Crime Commissioners continue to push for progress to reform the police funding formula."
Although news of the increase in funding was generally well received by most sectors, it was criticised many including Labour's London Assembly Policing and Crime Spokesperson, Unmesh Desai who said:
"In reality this is only a small fraction of the almost £1 billion worth of cuts the Met has suffered over the last decade with more to come.
"We cannot shy away from the fact that funding cuts since 2010 have helped to create the conditions for the rise in violent crime, with the most vulnerable Londoners in the poorest areas of the capital particularly impacted.
"It is vital that the Government commits to putting at least 6,000 officers back on London's streets, whilst restoring proper investment in our communities, schools and youth services."
The Police Federation of England and Wales (PFEW) welcomed the move but noted that the headline figure being quoted already includes more than £800 million of money already pledged.
PFEW National Chair John Apter called for an overhaul of the current "unfair" funding system. He said: "This is clearly a better financial settlement for policing than we have had in previous years and in real terms equates to a 6.4 per cent increase on last year, which is a good thing.
"The government has listened and started to invest in policing but once again the buck has been passed to Police and Crime Commissioners and local tax payers. This is simply unfair, as we now have the public paying twice for the same service. It's creating a two-tier system where wealthier communities have more money available for local policing than others," said Mr Apter.
PFEW bellives the existing system of funding fails to reflect policing in the 21st century with officers facing crimes that are more demanding, and more complex.
Mr Apter continued: "Boom-and-bust, short-term, one-year financial settlements do not work, and forces shouldn't have to operate on a 'hand-to-mouth' basis. The Government has admitted the funding formula is outdated and must urgently address this.
"Over the last decade the police service has been hit hard by budget cuts and it needs more than a one-year cash injection to put things right. So, this increase is welcome, but it must be the start of long-term, genuine investment in policing." he concluded.