Police filming of football fans is 'counterproductive'
Police Scotland's use of CCTV, hand-held cameras and body-worn video (BWV) devices to film crowds at football matches to capture footage of crimes is counterproductive and actually provokes more trouble, a new study has found.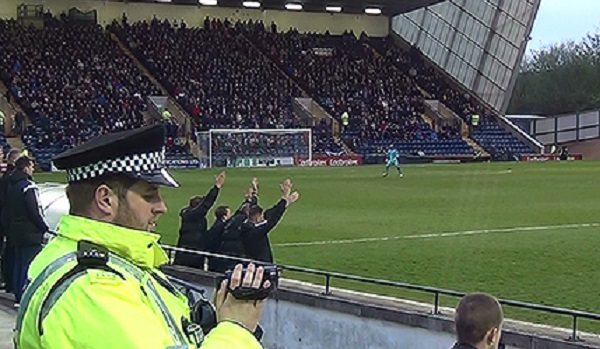 Researchers from Stirling, Glasgow and West of Scotland universities, used information obtained from surveys of thousands of fans, along with interviews with police officers, football officials and prosecutors to compile its report, Lights, Camera, Provocation? which has been published in the journal Policing and Society.
Many of those questioned said they felt intimidated by such tactics and a common complaint was that officers seemed to prefer to focus on filming rather than taking action.
"Respondents picked up on a common theme of surveillance tactics leading to officers passively surveilling behaviour and failing to take action," said the study. "Surveillance, and in particular the repurposing of cameras and BWV technology to focus on offensiveness, appears to be counterproductive. Cameras appeared to neither 'moderate' police-fan interactions or assist police.
"The use of hand-held and BWV cameras was viewed by some fans as provocative and symptomatic of the police stepping back from actively policing fan behaviour, through dialogue, challenge and positive influence."
Dr Niall Hamilton-Smith, of Stirling University, said: "There was a feeling among fans that policing at football matches was increasingly being done by cameras and not by the police."
Police Scotland first began to use such surveillance methods to enforce the Offensive Behaviour at Football and Threatening Communications (Scotland) Act 2012. The Act was repealed in 2018, but Police Scotland officers continue to make extensive use of filming devices at football matches.
The study further noted: "Under previous practice, where discretion was exercised and more preventative tactics used, fans were often given verbal warnings with associated opportunities for individuals or groups of fans to self-regulate and self-police before more formal interventions were taken."
Sean McHugh, from the Fans Against Criminalisation group, said there had been "a huge breakdown between fans and the police".
He said: "Officers are hiding behind cameras and no longer policing matches with common sense. Even though the act has gone, police are still using the same camera policy. "The whole experience has had a real negative impact on how I view our police service."
A spokesperson for Police Scotland said that football evidence-gathering teams are one of a suite of specialist resources that can be used to tackle inappropriate behaviour at football and are deployed at selected matches where the event policing lead is satisfied they are required, based on a match-by-match risk assessment.
The policing of football matches in Scotland was recently subjected to an independent review, the recommendations of which are currently under consideration.