Police Covenant 'not worth the paper it's written on' following vaccine snub
The chair of the Metropolitan Police Federation says the Prime Minister and Home Secretary have shown unforgivable contempt for police officers by snubbing them for any level of priority for the Covid-19 vaccine.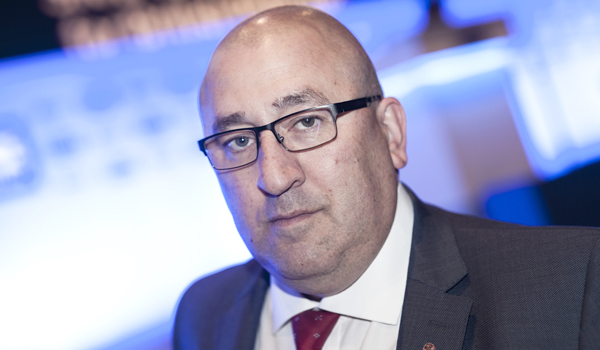 "This shows exactly what they think of us," said Ken Marsh, adding that the Government's upcoming Police Covenant was "not worth the paper it's written on".
"It's absolutely disgusting – they don't give a damn about us," said Mr Marsh. "Police officers are catching and dying from Covid-19 because of their job and yet we are still not being given the protection the vaccine offers. It's like we don't exist.
"Prime Minister Boris Johnson and Home Secretary Priti Patel should hang their heads in shame. They can forget about platitudes for police officers over the coming weeks and months. It's just noise.
"They can try and blame the scientists on the Joint Committee on Vaccination and Immunisation (JCVI) all they want. It doesn't wash – if they as elected politicians wanted to protect police officers they could make the decision today.
"Where is the much heralded 'top cover' they both promised our brave colleagues? They are an embarrassment."
This week the JCVI is understood to have provided ministers with a list of who is to get the vaccine in phase two of the roll-out. It is understood that the committee has rejected proposals for workers in key occupations, such as teachers and police, to be next in the queue.
Mr Marsh added: "Our job is unique and we deserve the highest levels of protection. And we deserved it weeks ago. We cannot police from two metres away. We cannot do what we do from a social distance. Why is this not recognised by our Government?
"I am furious on behalf of the 30,000 officers I represent that the Prime Minister and Home Secretary from behind their cosy desks have put us into this position where we are out there on the front line keeping the public safe from Covid-19 and yet we are not even in the consideration to be provided the protection from the varying vaccines.
"We are your protectors. We could be super spreaders because our officers are going from house to house. And yet nothing. Bottom of the queue. Occasionally feeding off scraps of a spare vaccine with a begging bowl.
"Later this year, Home Secretary Priti Patel will launch a Police Covenant to – in her words – 'protect officers and staff'. What a joke. She can throw it in the bin. It will mean nothing and in the minds of officers will not be worth the paper it's written on."
At least 29 police officers and staff in England and Wales have died from Covid-19 since the start of the pandemic. This includes seven Metropolitan Police Service (MPS) officers and staff. Thousands more have been forced to take time off sick after catching the virus, some with long lasting side-effects.
MPS Commissioner Dame Cressida Dick said this week that 147 of her colleagues in the capital had been coughed at and another 51 spat at by people claiming to have coronavirus since the start of the pandemic.
The National Police Chiefs' Council has also reported a 14 per cent annual rise in the number of assaults on officers, stating "we are still seeing people threatening to infect officers with the Covid-19 virus and coughing or spitting on them".
Mr Marsh concluded: "My brave colleagues are human beings. They have families, they have loved ones, they have partners. They deserve to have the best protection available.
"We would not send a police officer to an angry, violent man wielding a weapon without a stab vest, a baton, a Taser, handcuffs and even perhaps a gun. So why are we not vaccinating officers – as a priority – against a deadly disease that is being used by scumbags as a weapon?
"It's something all police officers are asking and we as a Police Federation are asking our lawyers to look into as well – in terms of health and safety at work. We don't want any more police officers to die because they didn't have the protection that was available to them."