Police and university condemn 'blatant breaches' of Covid-19 regulations at student party
West Midlands Police has promised it will take action if it finds the "appalling scenes" captured on video in a student accommodation block at Coventry University were the result of a planned party.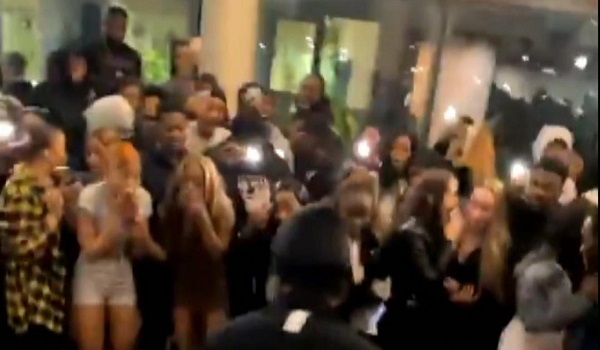 Footage was widely shared on social media of students ignoring social distancing rules in what appeared to be a huge party in the residential halls at Arundel House, near the main campus, in the early hours of Tuesday morning.
A joint statement from Chief Superintendent Mike O'Hara of West Midlands Police and Coventry University Vice-Chancellor Professor John Latham, said they were both "appalled by the scenes caught on video at the student accommodation Arundel House", which is owned and operated by a private provider.
"We are working together – alongside the private accommodation provider – to investigate this incident," they added.
"West Midlands Police will be examining CCTV and will take action if it comes to light that this was a planned party."
Coventry University said it will start disciplinary proceedings against any students identified by West Midlands Police or its own investigation as being involved.
A university spokesperson said: "We strongly condemn the blatant breaches of the rule of six and other guidelines as they risk the health of our students, colleagues and the communities in which we are located."
Organisers of illegal gatherings of more than 30 people can be fined up to a maximum of £10,000. Anyone who attends a social gathering of more than six people can be fined £100, doubling up to a maximum of £3,200.
Coventry University said its Covid-19 code of conduct was distributed to students last week and included warnings about the disciplinary sanctions open to the university, including suspension or withdrawal from the university.
"Any action will be appropriate to the findings of a thorough disciplinary process," it added.
Chief Supt O'Hara and Professor Latham said the private accommodation provider has agreed to close some communal areas and to increase security.
A 'Safer Students' stall has also been arranged between West Midlands Police and the private accommodation provider to reiterate Covid-19 regulations to residents and the consequences should those regulations be flouted.
The joint statement added: "The university has consistently and repeatedly conveyed clear messaging around what is expected of students both on and off campus and will be reinforcing that message in response to this incident.
"We understand and share the deep concern this has caused but it is our belief that the overwhelming majority of students are following the guidelines and doing everything they can to play their part in protecting our communities.
"There have been very few incidents of large scale Covid-19 breaches in Coventry to date; people have generally recognised the importance of the restrictions and behaved responsibly."
Coventry University said the vast majority of its students were sensible adults and were taking coronavirus very seriously.
"Many of them are from the communities in which our campuses are based and want to protect themselves, their friends and loved ones, and will be appalled by the behaviour of a few," said a university spokesperson.
"Hundreds of our students on health courses worked in NHS wards and ambulances during the peak of the pandemic and know the consequences of the virus."
They said safety measures in line with government advice have been put in place across its five campuses and they are in "constant dialogue" with local public health officials and other agencies and universities.
The spokesperson added: "We are regularly messaging our colleagues and students to reinforce the importance of following all the rules and laws designed to help prevent the spread of Covid-19 and we have student ambassadors in key places on campus to remind those who forget to comply with social distancing or face coverings. We are also actively encouraging the use of the NHS Covid-19 app to assist our existing track and trace process."
Chief Supt O'Hara said officers will be out on the streets reminding everyone of their duty to help slow the spread of the virus and not to congregate in large numbers. If they have to, officers will move people on and fines will be issued where appropriate.