PM stands by 'misleading' £450 million for policing claim
The Prime Minister has stuck by her claim that policing will receive an extra £450 million this year despite the second official rebuke in less than six months.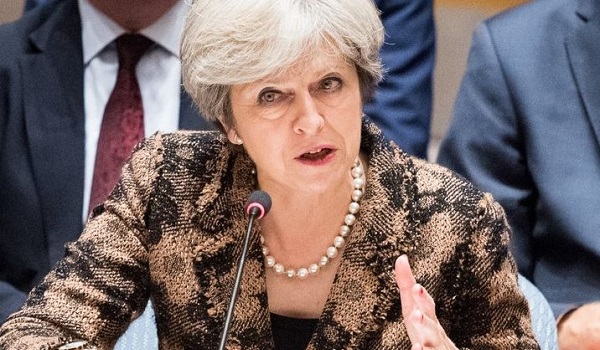 Theresa May told Prime Minister's Questions on Wednesday (March 21) that the Government will "protect police budgets" and make "£450 million extra available to police forces across the country".
Her comments follow criticism from the UK Statistics Authority, which pointed out that her descriptions of the 2018/19 police budget could mislead the public about how much forces will receive.
Chair Sir David Norgrove also highlighted a Home Office tweet that seemed to suggest the £450 million sum is a guaranteed investment – despite the bulk of it relying on an unprecedented rise in policing's take of council tax bills.
Police and crime commissioners (PCCs) have now urged Mrs May to apologise for her inaccurate choice of words.
West Midlands PCC David Jamieson described the UK Statistics Authority's letter as a "huge embarrassment" for the Government.
He added: "West Midlands Police has been hit harder than anywhere else in the country.
"I hope the Government apologises for its misleading statements and uses this as a moment to change course and start funding police forces properly."
Last December the Government announced the 2018/19 police funding settlement will include an additional investment of £450 million.
However, this statement was based on the assumption that PCCs would raise £270 million by increasing council tax precepts by the new limit of £12 per year.
Another £130 million was earmarked for 'national priorities' and the remaining £50 million was ring-fenced for counter-terror policing.
Responding to a letter from shadow policing and crime minister Louise Haigh, the UK Statistics Authority said the claim could have led the public to "conclude incorrectly" that central government was providing an extra £450 million for police spending in 2018/19.
He did not accuse the Government of deliberately misleading the public, instead recommending that the Home Office speak with its communication staff about the "importance of clear public statements".
Sir David's comments mark the second time in less than six months that the UK Statistics Authority has publicly rebuked Government messages over police funding.
Last September, it warned government budget claims could easily be misinterpreted, adding: "There is a need for government to provide more coherent and accessible information about police funding, reinforcing our view that information provided should be clearer to understand."
Derbyshire PCC Hardyal Dhindsa said that his previous warnings over the funding settlement have proven correct.
"Without the additional, and very welcome, £4.4 million the increase in council tax will provide, the money to strengthen the services delivered in a sustainable fashion simply would not be available," he added.
"The Government is patently transferring the sensitive issue of police funding from central government to council tax payers. They need to be honest about this."
Nottinghamshire PCC Paddy Tipping said: "All forces, including Nottinghamshire, still face challenges into the future and it's important not to over-egg the support the Government claim.
"Put bluntly. Nottinghamshire Police have lost £54 million Government funding since 2010."