PFEW chair resigns as no confidence vote tabled
Steve White has announced he will be stepping down as chair of the Police Federation of England and Wales (PFEW) ahead of a vote of no confidence next week.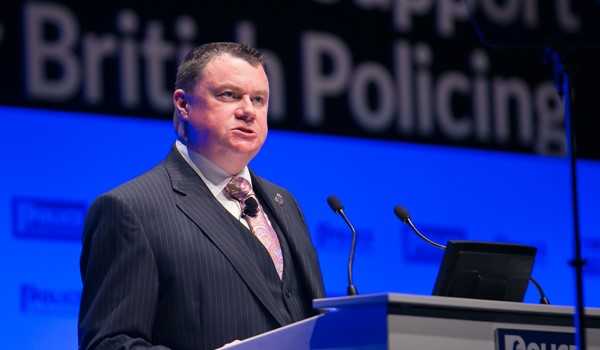 Steve White has announced he will be stepping down as chair of the Police Federation of England and Wales (PFEW) ahead of a vote of no confidence next week. In a statement issued on Wednesday (August 30), Mr White said he will officially leave the PFEW on December 31. However, chair of the Metropolitan Police Federation (MPF), Ken Marsh, claims Mr White has resigned because he "wouldn't have got enough votes" to survive a vote on his leadership, scheduled to be held at the PFEW's Interim National Board next Thursday (September 7). His resignation follows a period of extensive reforms forced on the PFEW when then Home Secretary Theresa May threatened to legislate to force changes on the staff association. Mr White was elected in 2014, winning the contest on the toss of a 50p coin after the vote was tied. On December 31, updated police regulations will legally allow the final stages of the reform agenda to be delivered, but Mr White now believes it is right that a new leader should see the final stages of reform to fruition. Announcing his resignation, he said: "I have been proud to lead the organisation during a period of significant change but feel it is time for the next stage of our continuing reform to progress under new leadership. "I am proud of what we have been able to achieve for the benefit of those that are at the heart of everything we do, our members. "This includes new financial governance, improved engagement with government and the strengthening of relationships with stakeholders including the National Police Chiefs` Council (NPCC), College of Policing and Her Majesty's Inspectorate of Constabulary who now use our evidence base to help guide national policies and processes." However, the MPF attacked the way the PFEW has been led. Mr Marsh said: "We are fed up with the way the Federation is being run. We all agreed to go forward and change the Federation, and the Met has been a great ambassador of that, but it has to be done fairly and transparently. It hasn't been. "We're now employing private consultants at £600 a day to run our finances to do all sorts of things but that's not right. We are haemorrhaging member's money on a daily basis and he is the architect of this." Others paid tribute to Mr White and especially the difficult job he has done. Chief Constable of Staffordshire Police, Gareth Morgan, commended Mr White's work on social media. "Wishing Steve well as he moves on from what has been at times a thankless task – he's led with integrity and tenacity," he tweeted. "Steve has navigated politics and personalities remaining focused on his members. I hope Gill and he get some quality time together again!" NPCC Chair, Chief Constable Sara Thornton, added: "We want to thank Steve for his contribution to policing and commitment to modernising and reforming the police service. "He has been a dedicated advocate for rank and file police officers on issues ranging from welfare and wellbeing through to crafting a joint national Policing Vision and establishing the Police Memorial Trust. "I have enjoyed working closely with him throughout his time as Chair and wish him the very best in his future endeavours." PFEW General Secretary Andy Fittes has also confirmed his intention to retire next year. Responding to the news, Mr White said: "Andy has been the driving force behind ensuring the regulation changes required are fit for purpose and is motivated to help ensure the successful implementation of these changes in the first part of next year before he enjoys his well-earned retirement." Elections for Mr White's successor are expected to take place in November.