PCC promises 'great opportunity' as first fire authority takeover goes ahead
The UK's first police, fire and crime commissioner (PFCC) has taken up his new role.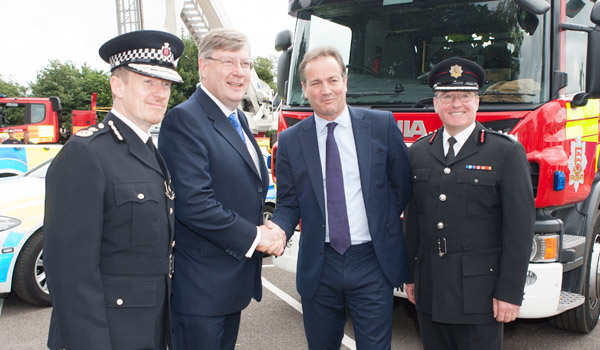 The UK's first police, fire and crime commissioner (PFCC) has taken up his new role. Roger Hirst formally assumed charge of governing Essex' fire and rescue service on Sunday (October 1) after announcing the takeover in July. Mr Hirst is now the first police and crime commissioner (PCC) to replace their local Fire Authority and become responsible for both setting the strategy for the fire service and holding its leadership to account. Mr Hirst said he feels "extremely honoured" and promised to listen to public feedback about his new role. He added: "It is a great opportunity for Essex and means the public can really benefit from a better coordinated approach between the two services. "By bringing the strategic direction of these two services together and enhancing the way they collaborate we will be able to deliver further improvement to keep the people of Essex safe. "This isn't going to be a revolution. A firefighter will remain a firefighter and a police constable will remain a police constable but there is a lot more we can do to align two services which are so important to the people of Essex." Mr Hirst is one of eight PCCs to consider a change of governance for their fire and rescue service since the option was provided by the Policing and Crime Act. The other seven – all Conservatives – are at various stages of the takeover process. However, no Labour or Independent PCCs have announced plans for joint governance so far and more than half of Conservative PCCs are not considering a change of arrangements. Essex Police Chief Constable Stephen Kavanagh said joint governance is a sensible way of using limited resources. Policing and Fire Minister Nick Hurd said: "I want to congratulate Roger Hirst on becoming the first police, fire and crime commissioner. He will provide a single point of accountability to the fire and rescue service and be well placed to drive closer collaboration between the two services. "This government is committed to enabling closer collaboration between police, fire and rescue and emergency ambulance services. It encourages the sharing of best practice and more innovative thinking which can help to improve the efficiency and effectiveness of each service, and ultimately, save lives. "I very much look forward to seeing the real benefits for the communities in Essex."