PCC: PCP chair's views 'outdated and inappropriate'
Cheshire's police and crime commissioner (PCC) has called on the chair of the panel scrutinising him to resign after he caused "outrage" by questioning a senior officer's support for LGBT communities.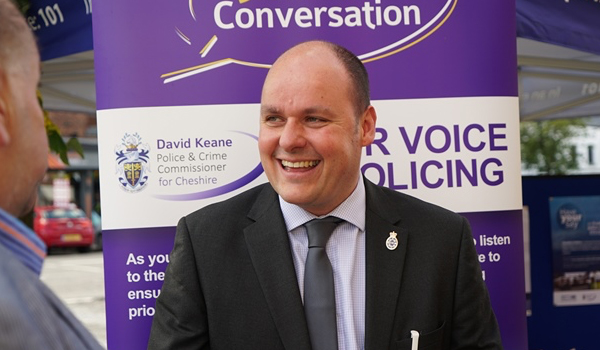 In an open letter PCC David Keane took the highly unusual step of requesting Bob Fousert, the chair of Cheshire police and crime panel, consider stepping down with immediate effect after he suggested the force's deputy chief constable breached Police Regulations by wearing a rainbow lanyard at the latest panel meeting. 
At the meeting on June 14, Mr Fousert claimed that Deputy Chief Constable Julie Cooke, who is the National Police Chiefs' Council (NPCC) lead for LGBT+ equality, had breached regulations on impartiality and suggested making "such an overt political statement" was inappropriate for a senior officer given that the police should be seen to be impartial in all that they do.  
And he suggested the message Ms Cooke was sending to officers and staff by wearing the lanyard lacked integrity, leadership and objectivity within Cheshire Constabulary's Code of Ethics. 
Many senior police leaders attacked the comments made by Mr Fousert. 
Cheshire Constabulary Chief Constable Darren Martland tweeted: "The exceptional work of DCC Cooke and Cheshire Constabulary in recognising difference and encouraging inclusion of LGBT+ communities is to be celebrated and applauded. Proud to be graded No1 Police Force in Stonewall Awards 2019. #Stonewall2019." 
Chief Executive of the College of Policing Mike Cunningham sent a direct message to Ms Cooke: "I completely support you Julie, this is about respecting all those we serve. Well done."  
His message was endorsed by Lynne Owens, Director–General of the National Crime Agency. 
In his letter sent on Monday (June 17), Mr Keane said: "Following the full and open discussion with the panel, in which largely alternative views were made by other panel members, I was further surprised to see that your closing remarks, as chairperson, hadn't reflected on the discussion and that you have continued to maintain the stance that 'LGBT+, whether you like it or not, is a political issue' both during and following the meeting. 
"Since the meeting, I have received a high level of correspondence from not only our local communities, but also nationally and internationally. I have also received a large amount of contact from our public servants on the matter. The responses range from disappointment and sadness to outrage regarding your approach to matters of inclusion, equality and diversity. 
"Many of the pieces of correspondence also made it clear that someone holding such views should not chair a public body that is charged with important statutory responsibilities." 
Mr Keane said he will continue to encourage officers and members of staff to openly express their support for the LGBT+ community. 
He concluded: "My view, as a representative of the residents of Cheshire, is unequivocally that your views are outdated and inappropriate and should not, and cannot, be seen to be the views of the panel. To allow such views to be seen to represent those of the police and crime panel could create a crisis of public confidence." 
He said it was also "wholly inappropriate" for the panel chair to raise matters of discipline that could adversely impact on the professional standing and reputation of a police officer at that public meeting.  
"The fact that you have made these statements as chair of the panel has, I believe, brought the panel into disrepute," Mr Keane added. 
"Therefore, I request that you consider resigning from the Cheshire police and crime panel with immediate effect." 
Mr Fousert is yet to respond to the letter.