PCC insists Cleveland Police is not 'broken' in ongoing row with mayor
Cleveland's police and crime commissioner has defended his force from accusations that it is "broken and needs repairing".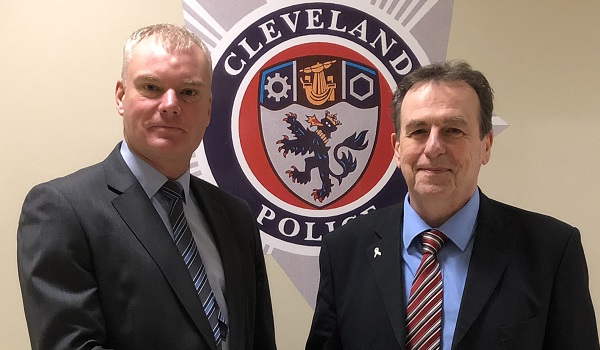 Cleveland's police and crime commissioner has defended his force from accusations that it is "broken and needs repairing". The war of words between Barry Coppinger and Tees Valley mayor Ben Houchen escalated again this week when Mr Houchen claimed Cleveland Police is failing to protect its own officers and the public. Accusing the force of "an anthology of serious incidents", including corruption, institutional racism and a "chief constable merry-go-round", Mr Houchen demanded a review of policing in the county. In the latest salvo, Mr Coppinger has leapt to the defence of incoming Chief Constable Mike Veale, whose appointment sparked the row between the two. He also highlighted his force's positive inspection reports and asked Mr Houchen to recognise the improvements that have been made in recent years. Mr Coppinger said: "Senior police figures, politicians of all parties including his own, and all local stakeholders are as one that Mike Veale has an outstanding record as a police officer and should be offered support in his job as the new chief constable. "'Broken' forces, as Ben refers to Cleveland, are not ranked as good by the police watchdog – or perhaps Mr Houchen feels he knows better than Her Majesty's Inspectorate of Constabulary and Fire and Rescue Services?" "It's time for Ben to start acting with the maturity that his position demands, to recognise the improvements that have taken place in local policing, offer his support to the new chief constable, and join us in creating a better Cleveland and Tees Valley instead of continually putting the area down." The argument between Mr Coppinger and Mr Houchen began after the announcement of Mr Veale as the preferred choice of chief constable. Mr Houchen called on Cleveland Police to "seriously reconsider" the appointment, highlighting concerns over an ongoing misconduct inquiry that left him with "absolutely no faith" in the decision. The Independent Office for Police Conduct (IOPC) is currently investigating claims that Mr Veale deliberately damaged a mobile phone belonging to Wiltshire Police during his time with the force. Mr Veale was also accused of leaking information relating to the inquiry into former Prime Minister Sir Edward Heath, but the allegations was dismissed. Mr Coppinger published an open letter addressing the concerns over the incoming chief constable's appointment, in which he described Mr Houchen's comments as "extremely unfair and unjust". He also dismissed the accusations that Cleveland Police is "broken" as "absolute nonsense" but recognised the challenges faced by the force. Cleveland Police has had to make several payouts to former officers over racial discrimination in recent years and is currently being investigated by the IOPC. Mr Veale will also be the third chief constable to lead the force since 2016, following the retirement of Iain Spittal and Jacqui Cheer. Ms Cheer's predecessor, Sean Price, was sacked in 2012 for gross misconduct. This letter, published on February 5, prompted Mr Houchen's latest response in which he claimed systemic failures in Cleveland Police had led to low morale among staff. He added: "You can't keep sticking your head in the sand as our force lurches from one crisis to another. Our force is broken and it needs repairing."