PC killed in Cumbria motorcycle collision
Tributes have been paid to Police Constable Oliver Evans after it was announced he had died in a two-vehicle collision near Sedbergh on Monday (September 16).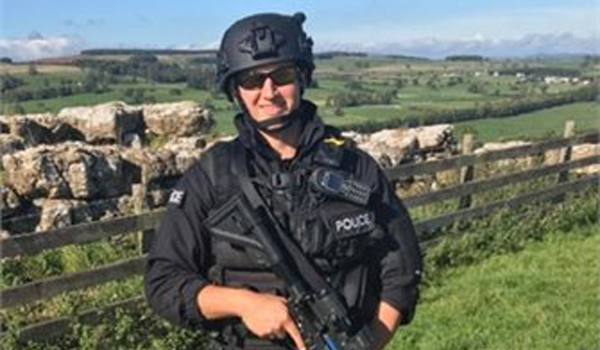 PC Evans, 27, was off-duty when his Triumph motorcycle collided with a Peugeot van on the A683 at 4.40pm.
He was pronounced dead at the scene.The driver of the van, a man, was not injured.
The Mobile Support Group officer based at Kendal was described as a caring, loving and loyal individual who was a true delight to be around.
In a statement, PC Evans' family said: "He always had a story to tell, entertaining his family and friends with tales of his adventures, his smile and vibrant personality filling the room.
"Oliver had a mature outlook on life and there is no doubt that he was wise beyond his 27 years.
"Oliver was a confident and headstrong individual; he was a true professional and focused both his work and home life around his strong morals and family values.
"The fulfilment of his desire for a career as a police officer has been testament to his unwavering hard work and ambition."
PC Evans was inspired to join the police after visiting the Mobile Support Group at Ulverston Police Station when he was just 16 years old.
His imagination was well and truly captured and he set out to pursue a path that would take him through a degree in Police and Criminal Investigation at university.
He served as a Special Constable with Lancashire Constabulary alongside his course, before commencing his regular service in October 2014 with Cumbria Constabulary.
T/Chief Superintendent Rob O'Connor, of Cumbria Constabulary, said: "Oli didn't waver for a moment in his determination to follow his dream of becoming a Mobile Support Group (MSG) officer, and joined the Operational Support Unit in 2017.
"He qualified as an advanced driver and undertook training to become an Authorised Firearms Officer (AFO).
"These are hard-earned skills, requiring immense professionalism and true grit to achieve.
"Oli had both of these in abundance – along with an infectious energy and a cheeky smile, all of which very quickly cemented him as a well-respected and much loved member of the MSG Team, and with colleagues across the Constabulary and beyond.
"Oli's passion for 'the job' was tangible, always willing and highly capable.
"His sudden and unexpected passing is being felt extremely deeply by his colleagues, and our thoughts and hearts are with his family and friends at this tragic time."
Chief Constable Michelle Skeer said: "It is with deep sadness that I learned of the tragic death of PC Oli Evans.
"All our thoughts at Cumbria Constabulary are with Oli's family and friends at this difficult time and our heartfelt condolences go out to them.
"Oli was a dedicated, professional officer who was well-liked by his colleagues.
"Any death within the police family hits us all hard but will have particular impact on those who knew and worked closely alongside Oli."