PC Keith Palmer honoured on fourth anniversary of Westminster Bridge terrorist attack
The Commissioner of the Metropolitan Police Service (MPS) and the Speakers of both Houses of Parliament have attended a memorial service to pay tribute to Police Constable Keith Palmer, four years on from the Westminster Bridge terrorist attack that cost him his life.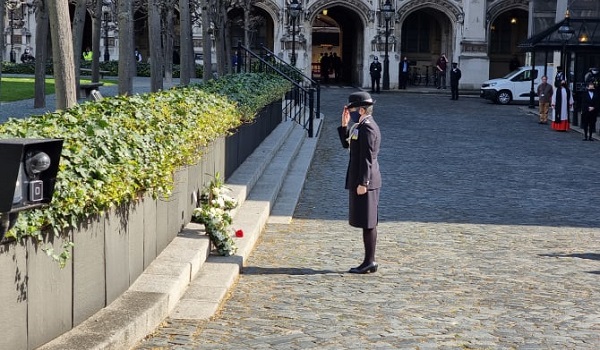 Today ( March 22) the wreath-laying and a socially distanced service of remembrance was conducted by The Reverend Prebendary Jonathan Osborne, the MPS's Senior Chaplain and The Reverend Tricia Hillas, the Chaplain to the Speaker of the House of Commons.
MPS Commissioner Dame Cressida Dick attended the memorial service at midday in the Chapel of St Mary Undercroft and gave a reading from the Bible's Revelation 21: 1-7 on behalf of the MPS before placing a wreath at a plaque laid in PC Palmer's memory at New Palace Yard.
Wreaths were also laid by PC Brian Pease and PC Lindsay McCree, on behalf of PC Palmer's family and colleagues, as well as by The Speaker, Sir Lindsay Hoyle and the Lord Speaker, Lord Fowler', representing the House of Commons and the House of Lords.
"PC Palmer was a husband and father who had joined the force because he wanted to make a difference to people," said a statement issued by the MPS.
"He was a much-respected member of the MPS Parliamentary and Diplomatic Protection (PaDP) and prior to joining PaDP, he had been in the Territorial Support Group based in Catford. Friends and colleagues remember fondly his passion for Charlton Athletic football club, which honoured him after his death by replacing his regular seat at The Valley Stadium with a white chair bearing his warrant number.
"Although unarmed, PC Palmer had stopped a knife-wielding terrorist from entering the Palace of Westminster and subsequently received the George Medal for his actions."
Those in attendance at the memorial today gave thanks for PC Palmer's courage, fortitude and dedication to duty and remembered him for his warmth, gentleness, passion, and compassion.
Dame Cressida said: "Keith was a brave and dedicated police officer and four years ago today, he made the ultimate sacrifice by acting with complete selflessness to protect others.
"We should never forget the courage and heroism this outstanding officer displayed during those terrible events. Today my thoughts are with Keith's family, his friends and his colleagues who all loved him so very much. I am also thinking of the other victims who lost their lives or were injured on that tragic day."
The service was delivered in line with current Covid-19 guidance provided by the Government, which meant that the memorial service was a much smaller event than it would have been in normal circumstances.