PC harassed by 'sex pest inspector' vindicated in looking for justice
A female officer who resigned from British Transport Police (BTP) after claiming she had been sexually harassed by an acting inspector has been awarded more than £70,000.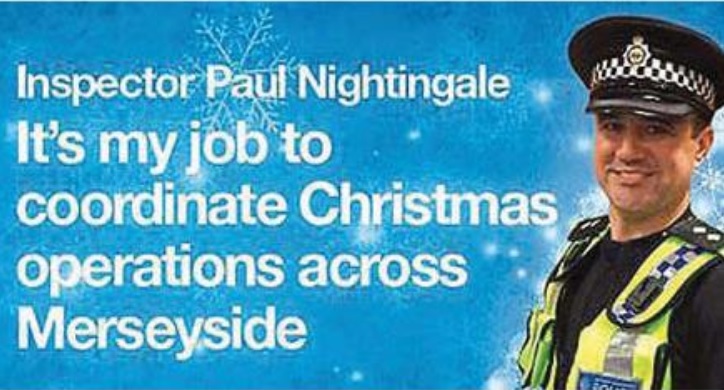 Former Police Constable Lisa Myers told an employment tribunal Paul Nightingale demanded a "birthday kiss" and suggested they share a hotel room.
The tribunal also heard that he grabbed her bottom, kissed her neck and once forced his hand down her top to fondle her breasts.
At the time of the alleged incidents, Mr Nightingale was a sergeant with the BTP, based at Liverpool Lime Street Station. He was acting in the role of inspector.
The married father-of-four, who once fronted a festive campaign for the force warning against 'alcohol-fuelled anti-social behaviour', was ordered to pay Mrs Myers £21,960.
Mrs Myers, who left her job in January 2017 after 12 years, will also receive £50,000 from the force after it settled her claim against them for sex discrimination and victimisation.
She said afterwards she was pleased that her stand "in looking for justice as a victim of sexual harassment has been vindicated".
BTP told Police Professional it was "saddened" that the actions of ex-Sgt Nightingale had left a female officer feeling it was not safe to go to work.
The force said Mr Nightingale, who resigned prior to a misconduct hearing in January last year, had been placed on the Disapproved Register in accordance with College of Policing guidelines.
Concluding the case, Judge Tobias Ryan rejected Mr Nightingale's claim he thought he and Mrs Myers were embarking on an affair, saying he "knew his attentions were unwelcome but… believed she would not complain".
The tribunal heard Mr Nightingale, 40, propositioned Mrs Myers at a Christmas party in 2015 and said he would like sex. She was one of five women he targeted.
A community support officer, 24, said Mr Nightingale, who also resigned from the force in January last year, groped her and said he could "show her a thing or two no other 24-year-old boy could".
The tribunal heard he flirted with a colleague's wife and draped his arms over two other women. It also emerged he was accused of rape by a member of the public in 2002 while with Cambridgeshire Constabulary, but the claim was "unsubstantiated".
In a witness statement, Mrs Myers said Mr Nightingale started stroking her shoulders, neck and hair in the summer of 2015 after she complained of pain on her return from maternity leave.
She said: "On each occasion, I turned my chair around and made it clear that his conduct was unacceptable."
Mrs Myers said she did not report it at the time as she was worried about making allegations against a senior officer.
On one occasion she was due to attend a course in London and alleged Mr Nightingale said they could stay at the same hotel – "with the implication that we could share a room".
Mrs Myers, a mother-of-two, said the harassment briefly stopped when the 40-year-old was spoken to informally after she complained to her line manager – but resumed at their Christmas party that year.
She alleged Mr Nightingale whispered into her ear throughout the meal and made sexual comments.
On other occasions he stroked her neck and face and placed his hand inside her shirt and on top of her breast.
The following month she claimed Mr Nightingale cornered her in the mess room and pressed his whole body into her.
The next day he approached her and allegedly said: "I am not in at the weekend as it is my birthday but I will see you on nights and I want my birthday kiss."
At the end of May 2016, she formally accused Mr Nightingale of sexual harassment. However, he was not suspended and stayed at the Liverpool office.
Mrs Myers was instead moved to BTP offices in Southport then Chester, the employment tribunal in Liverpool heard. She was signed off work with stress before quitting her £25,000-a-year job in January 2017 after 12 years of service.
Mr Nightingale has also subsequently left the force and is now understood to be manager of a DIY shop.
The tribunal heard that Mr Nightingale claimed to an internal investigation that the pair had been having an affair but resigned before he could be disciplined.
BTP told Police Professional following the complaint by Mrs Myers, the force's Professional Standards Department conducted a full investigation into the alleged breaches of the standards of professional behaviour by Sgt Nightingale.
While under investigation for gross misconduct, Sgt Nightingale resigned from BTP in January 2017.
"Had he remained in BTP, he would have faced a gross misconduct hearing, where the evidence could have been tested. The panels in such hearings have the sanction of immediate dismissal available to them if they find that there is a case to answer," the force statement said.
"As Sgt Nightingale resigned prior to the misconduct hearing taking place, and in accordance with the guidelines issued by the national College of Policing, he was added to the Disapproved Register and so would have been ineligible to work for a police force again in future.
"At BTP, we want everyone to feel safe when they come to work and so are saddened to learn that, on this occasion, a person's actions led to colleagues feeling that this was not the case."
Mrs Myers said: "I spent 12 years as police officer. I had no intention of leaving BTP until I suffered sexual harassment at the hands of Mr Nightingale. His actions have blighted my life."
Ahead of the hearing Mrs Myers's lawyer Michael McDonough said: "Mrs Myers originally had a separate claim against BTP. She claimed that it was vicariously liable for Mr Nightingale's sexual harassment. BTP settled all her claims to her satisfaction and the terms are confidential."