Pay recommendations ignored again as two per cent rise confirmed
Officers will only see half the benefits of this year's pay rise after proposals to consolidate last year's bonus were ignored.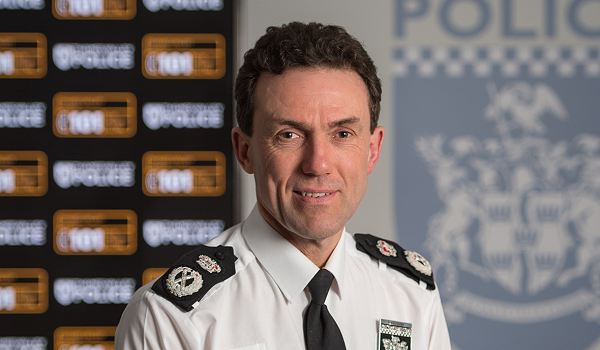 Officers of every rank will receive a two per cent pay rise in 2018/19, the Home Office announced on Tuesday (July 24).
However, this increase will effectively be halved and officers will only see a one per cent uplift from September as last year's one-off one per cent 'bonus' – a non-consolidated pay award – will end in August, despite the Police Remuneration Review Body's (PRRB) recommendation for it to be consolidated into this year's award.
Both the National Police Chiefs' Council (NPCC) and Association of Police and Crime Commissioners (APCC) advised against consolidating the award as they did not believe it would be affordable.
The announcement marks the second time PRRB recommendations have been ignored since the one per cent cap on public sector pay rises was removed.
It prompted the Police Federation of England and Wales (PFEW) to accuse the Government of showing contempt for frontline officers and called on it to "honour the PRRB process".
Chief Constable Francis Habgood, NPCC lead for reward and recognition, said: "Today's increase in police officer pay of two per cent in 2018/19 is the maximum increase that the majority of police forces can afford without additional funding.
"But we know that hard working officers would have liked to see more. They are feeling the strain from increased demand and have experienced seven years of pay restraint. We can promise them that we are working with police and crime commissioners and the Home Office to review our demand and resources in the run up to the next Government spending review.
"The Police Remuneration Review Body is independent and assesses evidence from a range of perspectives when reaching their decision.  We are concerned that not following its recommendations undermines confidence in the process."
Public sector workers' pay was frozen in 2010 and increases were capped at one per cent from 2013 to last September.
However, despite the PRRB recommending a two per cent pay rise for 2017/18, the Government chose to implement a one per cent increase and a one per cent non-consolidated increase – effectively a bonus.
The PRRB claims ending the payment in August would be equivalent to a pay cut.
The body therefore recommended that it should be consolidated for all federated and superintending ranks from September 1, alongside a two per cent consolidated pay rise.
The Government claims it had to strike a "balance between overall affordability to forces and fairness to the taxpayer" so chose not to implement part of the PRRB recommendation.
The two per cent pay rise, backed by the APCC and NPCC, will therefore take the average salary of a police constable up to more than £38,600.
Taking inflation and the refusal to consolidate last year's bonus into account, it will equate to a real-terms increase of 0.85 per cent.
This will work out as £2.50 more per week for an officer at the start of their service.
It will not be funded by the Home Office so forces will have to find room for it within their existing budgets.
Overall police pay has fallen by around 18 per cent since 2009/10.
For the first time the PRRB was tasked with considering pay options for chief officers but said it saw no reason to treat them any differently from the other ranks.
However, it warned "a pay response may be required in the future" if no improvement is seen in the ongoing problems with chief officer recruitment.
The PRRB was also asked to comment on potential extra remuneration for 'hard to fill' posts such as detective roles but claims it was not presented with an NPCC proposal to comment on.
It criticised the progress forces have made on workforce reform, claiming it had not been presented with a much-needed vision of how policing will change over the next few years.
While the PRRB has seen the ambition laid out in the NPCC's Policing Vision 2025, it said it was unclear whether this goal represents the intended end point of workforce and pay changes.
The Government also agreed to increase the London weighting payment by two per cent and the dog handler's allowance by the same amount.
The PRRB's recommendations for forces to appoint apprentice constables on a starting salary of between £18,000 and £23,586 were accepted in full.
PFEW vice chair Che Donald said the announcement "flies in the face of a lot of hot air spouted by the Home Office and Government over the past few months".
He added: "The Government must honour the PRRB process which is based on evidence – we asked for 3.4 per cent so that officers could be paid fairly for the dangerous job they do after years of austerity. The PRRB recommended a total of three per cent.
"We have played ball – we submit evidence to the pay review body, yet Government dismisses their recommendation. In the coming weeks we will be consulting with our local Federation colleagues to determine the next steps to take."
Dan Murphy, national secretary for the Police Superintendents' Association of England and Wales, said: "What is also clear is that the government does not understand the importance the police service places on the recommendations of the independent review body for pay.
"Police officers do not have the same industrial rights as other professions, so they trust and expect that their pay will be set in a fair way. The independent review body takes into account affordability to the public purse and seeks all stakeholders positions when making its recommendations.
"As the government has now not followed these recommendations for the last two years, officers would be entitled to question whether the mechanisms in place to set their pay are fit for purpose."
APCC workforce lead Ron Hogg said: "Police officers are likely to be disappointed that the recommendation of the Police Remuneration Review Body has not been implemented. However, the award that has been made is at the very limits of affordability for police forces within the current funding settlement.
"We are all aware of the changes in demand which has led to considerable stretch to the service and some very difficult challenges. Police and crime commissioners are working with police chiefs and the Home Office to ensure that the service is resourced appropriately going forward."