Partners come together to create 'world-leading' specialist unit to tackle stalking
A new multi-agency approach to stalking will stop "incidents" from escalating to violence, Britain's most senior officer believes.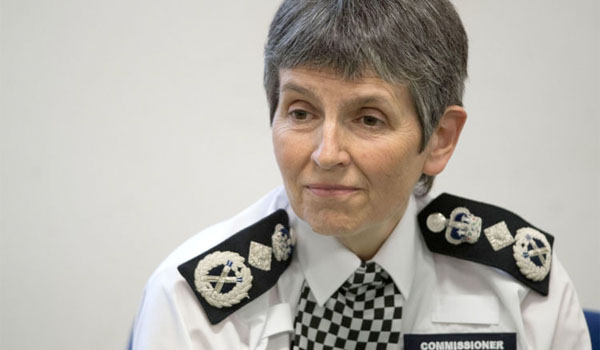 Metropolitan Police Service (MPS) Commissioner Cressida Dick says the London launch of the Stalking Threat Assessment Centre (STAC) puts "victims at the heart what we do".
The MPS will 'drive' the dedicated specialist unit in partnership with Barnet, Enfield and Haringey Mental Health NHS Trust (BEH), and it will be overseen by the Suzy Lamplugh Trust providing advocacy services to victims.
Designed to be a centre of excellence, the STAC will offer a range of services from different agencies, all working together to combat and protect from the effects of stalking.
Ms Dick said: "When we think of the impact on victims, violence is the most obvious concern that comes to mind, but, psychologically, stalking can also have a devastating impact that can leave victims feeling like they have no options but to alter their entire way of life.
"I am committed to tackling violence in all its forms and there are clear opportunities through the STAC to intervene to stop incidents from escalating to violence."
This partnership approach will see three police forces, three NHS Trusts and charities working together to pilot innovative responses to stalking through the Multi-Agency Stalking Intervention Programme (MASIP).
Currently, one in five women and one in ten men experience stalking in their adult life, with half of all cases relating to domestic abuse – usually former partners who have been rejected by the victim. Some 50 per cent of domestic abuse stalkers, if they make a threat of violence, will act on it.
The project has been awarded more than £4 million over two years from the Home Office's Police Transformation Fund, secured through the Mayor's Office for Policing and Crime. Around £1.4 million of this funding will be dedicated to the STAC in London. 
The initiative will aim to improve responses to stalking across the criminal justice system and the health sector through rehabilitative intervention for stalkers. Ultimately, it is hoped that working with perpetrators will help to make victims of stalking safer.
A team of expert officers, alongside mental health specialists and victim advocates, based at the centre will investigate high-risk stalking allegations. They will offer advice to local borough colleagues in relation to stalking allegations, identifying risks, and assisting with management plans to protect the victim and public.
The team will also identify perpetrators who may be suitable to undertake a behavioural change programme. These individuals may also be referred to other community services, where appropriate, such as local mental health, drug and alcohol or other support services.
The National Probation Service will work alongside officers to manage the ongoing risk such offenders pose to the community and to their victim. Similar projects will also be launched by Hampshire and Cheshire forces as part of the overall MASIP pilot.
The behaviour change programme will be developed in partnership with National Stalking Clinic (NSC) clinical lead Dr Frank Farnham.
It will be staffed by eight police officers, two nurses, a nurse manager, a psychiatrist and a psychologist, supported by a victim advocate, Crown Prosecution Service lawyer and a probation officer.
At the end of the two-year pilot, the outcomes will be assessed and will be considered for roll out nationally.
Since changes in the law that recognised stalking as a separate offence came into force at the end of 2012, the MPS has seen significant increases in reporting, as both officers and victims gain a better understanding of the crime.
More than 1,000 reports of stalking were recorded by the MPS in 2017 and there were 12,000 reports of harassment. However, officers believe that the introduction of this unit will lead to an increase in the number of stalking offences recorded, as experts can advise local police to spot the early signs.
Detective Inspector Lee Barnard, who will be leading the MPS unit, said: "Stalking is a crime of persistence and, whether the perpetrator is violent or not, it can have a devastating impact on the victim's lives.
"By bringing together police, health professionals, charities, and other areas of the criminal justice system, we can identify offenders sooner, offer better support for victims, and ensure that risk to the victim and the public is reduced.
"For some stalkers the best course of action is prison; but others will simply carry on with their behaviour when they are released, so we need different options to help them stop for good."
Dr Farnham said the NSC is delighted to have developed this partnership with the MPS and the Suzy Lamplugh Trust.
"Over the last 12 years at the Fixated Threat Assessment Centre we have developed significant expertise in assessing and managing those who stalk public figures and we now have the opportunity to apply this knowledge in managing all stalking cases, thereby reducing the risk posed to victims," he added. 
Chief executive of Suzy Lamplugh Trust, Rachel Griffin, added: "Our aim for this pilot is to improve the way that key information is shared between agencies, better protecting victims of stalking.
"We also hope that an intervention with perpetrators of stalking will improve understanding of psychological drivers and encourage cessation and desistance of stalking behaviours. We are proud to be part of a ground breaking new programme."
The Deputy Mayor for Policing and Crime, Sophie Linden, said: "By bringing together expertise and professionals to help combat this devastating crime, we hope to significantly reduce the risk to the public and help keep Londoners safe."
Stalking is an insidious crime that can have "devastating, long-lasting consequences" for victims and their families, Independent Victims' Commissioner for London Claire Waxman believes.
She added: "We know that stalkers are fixated and obsessive and that this can stem from underlying mental health issues.
"The launch of STAC here in London is a vital step forward in our ability to change the behaviour of stalkers and the underlying causes, whatever they may be."