Parliament told of the need to honour fallen police officers
More than 100 people, including MPs, Peers and the families of fallen police officers, attended a reception in Parliament on Monday (October 15) to be told of the national importance to establish a new UK Police Memorial to honour police officers and police staff killed on duty.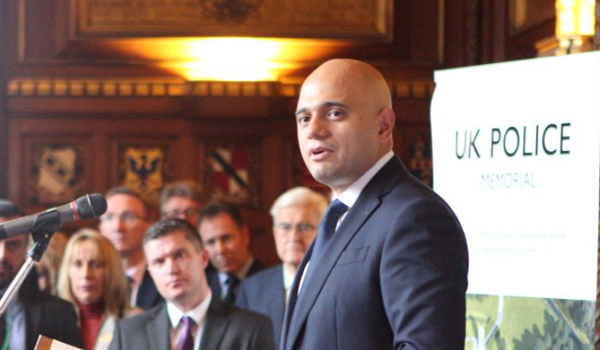 Addressing guests, Home Secretary Sajid Javid MP said: "The last few years have undoubtedly been a trying time for our police, but they have never flinched from doing their duty and in return it is our duty to ensure that we honour all those who have lost their lives.
"The UK Police Memorial will provide a focal point for us to pay tribute to them. It will provide a peaceful place for reflection where every fallen officer is recognised."
The names of over 1,400 police officers and police staff who have been killed on duty will be inscribed on the physical memorial to be built at the National Memorial Arboretum in Staffordshire, while a further 4,000 names of those who have died on duty will be remembered.
The Trust also aims to develop a digital memorial, accessible from anywhere in the world, that will tell the story of policing and those behind the badge who have lost their lives.
Mr Javid added: "The digital memorial project will allow visitors to pay their respects to all those killed or seriously injured.
"Through the work of the Trust I hope we will be able to provide a permanent fitting memorial, through which future generations will be able to hear the voices of the fallen and their families."
Chair of the Police Federation of England and Wales John Apter, told guests: "In my position as Chair of the Police Federation of England and Wales, I will do all I can to ensure that this Memorial becomes a reality.
"Because it matters, it matters to the families and it matters to my colleagues, because when an officer makes that ultimate sacrifice it is important that they are never forgotten."
Guests were told that the Trust aims to seek planning permission for the Memorial later this year, with the on-site build being completed during 2019 and commemoration of the Memorial taking place in the Spring of 2020.
Commenting on the event, Sir Hugh Orde, chair of the UK Police Memorial Trust, said: "PC Keith Palmer was murdered by terrorist Khalid Masood not far from where today's reception took place.
"It is only right and proper that those whose democracy and freedoms Keith was trying to protect were made aware of what the Trust is trying to achieve, to honour and commemorate all those brave officers and police staff who have laid down their lives to keep us safe and protect us from harm.
"This is a project of major national significance. It is not only a project that will create a fitting tribute to honour those from our police service who have paid that ultimate price, but it is a project that will create a memorial that will help to foster a greater understanding and reconnection with the public to bring back a sense of pride and value once more in UK policing."
Further details about the memorial and the Trust's plans can be found by clicking here