Paralysed ex-officer achieves 'special recognition' in Pride of Birmingham awards
A West Midlands Police officer who won an inspirational battle to walk again on bionic legs after being paralysed in a horrifying collision has been honoured in the Pride of Birmingham awards.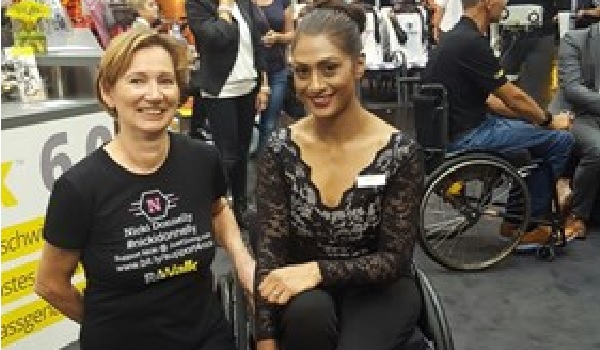 Nicki Donnelly lost the use of her legs in 2009 when a speeding motorist – travelling at 75 miles per hour in a 30 mph zone – lost control and ploughed into the officer's patrol car while she was at a junction.
The car bonnet rammed into her body and crushed her pelvis.
Despite her appalling injuries, Ms Donnelly was discharged from hospital on the same day. The accident resulted in a delayed spinal cord injury, leading to the loss of her lower limbs in 2011 following unsuccessful treatments and rehabilitation.
The mother-of-one, who had received six bravery commendations prior to the accident, was forced to abandon her career as a police officer as she spent a further two years in specialist hospitals receiving full-time care.
But Ms Donnelly's life turned round in 2106 when she was offered a £100,000 pair of bionic legs to help her walk again by the Gerald Ronson Foundation, which looks after officers injured in the line of duty. She is now the UK ambassador for the charity.
Determined to get back on her feet, she embarked on an intense fitness training regime, the former officer – conquering the 2.5 kilometre Junior Great Birmingham Run with her 11-year-old daughter Eleanor, who has a degenerative bone and joint condition called Ehlers Danlos Syndrome.
Now Ms Donnelly is to collect a Special Recognition Award as one of 11 winners in the annual event, being staged at the historic Great Hall at the University of Birmingham.
The honour recognises not just her brave personal battle but also her tireless efforts as a motivational speaker and disability campaigner.
The 35-year-old will join more than 30 celebrities on the red carpet at the ceremony on March 8, hosted by Coronation Street actress Kym Marsh.
Although she had planned to take on more walking challenges, Ms Donnelly was recently diagnosed with a heart condition that means walking upright could seriously injure her.
She has since donated her unique suit to another paraplegic.