Oversight of use of force in custody at Wiltshire Police 'not good enough', says HMICFRS
Wiltshire Police's governance and oversight of the use of force in custody "is not good enough" and is a "cause of concern", according to His Majesty's Inspectorate of Constabulary and Fire and Rescue Services (HMICFRS).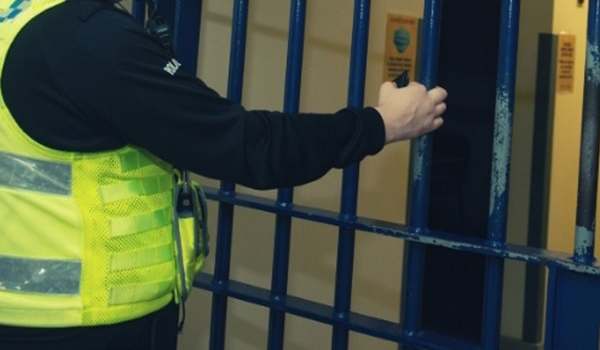 It said information is often inaccurate and incidents are not always properly recorded.
The inspectorate said the force must scrutinise the use of force in custody more closely to show that when it is used it is "necessary, justified and proportionate". And this scrutiny should be based on "accurate information and robust quality assurance", it added.
"The force's governance and oversight of the use of force in custody isn't good enough," said HMICFRS. "It hasn't improved since our last inspection and is now a cause of concern.
"Some information is inaccurate, incidents aren't always properly recorded on custody records, or recorded at all, and not all staff involved in an incident complete the required use-of-force forms.
"This prevents any effective scrutiny over the use of force by Wiltshire Police. In our CCTV review we found use-of-force incidents weren't always managed well.
"Overall, the quality of recording on custody records isn't good enough, and neither is the level of quality assurance."
In addition, inspectors found healthcare staff shortages meant detainee healthcare needs were not always met.
"Not all detainees are able to see a healthcare professional promptly, or sometimes at all," said HMICFRS. "Routine health monitoring of detainees doesn't always take place, and detainees don't always receive their medicines at the required time. This poses significant risks to detainees, the healthcare provider and the force.
The inspectorate recommends that the force should work with the health provider to make sure the contract is properly implemented so detainees requiring healthcare in custody are seen promptly and their needs met.
Overall though, inspectors found Wiltshire Police has clear governance structures for the safe and respectful provision of custody, with the treatment of children and vulnerable adults, working with mental health services and care of detainees on release highlighted as positives.
Significant investment in systems, training and working practice has also been introduced.
However, while the force monitors many areas of custody performance at a monthly management meeting, inspectors said it was not  clear how the findings are used to identify and make any improvements needed.
In addition to the two areas of concern HMICFRS also identified nine areas for improvement.
Superintendent Guy Elkins, lead for crime standards and justice at Wiltshire Police, said: "I welcome the findings of the HMICFRS report following a visit by inspectors in November.
"The report contains a number of important recommendations around how we can improve the service we provide in our custody suites. We have already started to implement a number of changes to our working practices and we are updating our systems in order to address these concerns.
"In response to the governance and oversight of the use of force, we have invested in a new software platform which will enable greater scrutiny and oversight of force used, which is a priority for the whole force.
"We have also brought in new oversight measures, with complaints relating to use of force now reviewed as part of our monthly custody performance meetings – where we can readily identify trends and learning opportunities.
"Other measures include further training for our staff and further scrutiny of every use of force incident both by line managers and by the Police Powers boards. It should be noted that any inappropriate use of force will either be dealt with as a training matter or referred to professional standards.
"With regards to the inspectors' observations about healthcare provision, we are working closely with our healthcare providers to ensure that these identified shortcomings are addressed. This is regularly discussed and reviewed by our executive leadership team and we are expecting significant improvement to the service provided over the next few months.
Supt Elkins added: "It is heartening to note that the inspectors positively highlighted our approach towards the treatment of children and vulnerable adults – identifying that we work well with youth offending services to keep children from entering the criminal justice system and demonstrating good joint working with mental health services to support detainees in this regard."
Inspectors also observed that custody staff show respect to detainees and are "patient and reassuring"; they are able to identify vulnerabilities and have a clear understanding of those from protected or minority groups.
In addition, inspectors identified that our custody staff have a clear focus on making sure detainees are released safely, providing a good level of care to detainees on release, said Supt Elkins.