'Outstanding' transformation of Essex Police recognised with Gold award
The "truly outstanding" transformation of Essex Police from a force rated as 'inadequate', with high levels of sickness and low levels of public confidence, to an organisation which is 'exceptional', with record levels of trust, has been rewarded with a Gold award at this year's iESE Public Sector Transformation Awards.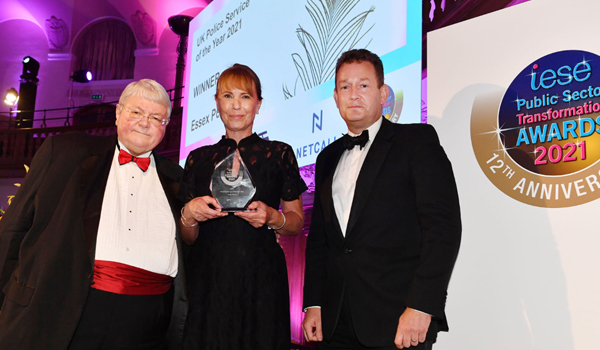 The 'Police Service of the Year' award also recognised the "most complex investigation" ever undertaken by Essex Police after securing justice for the victims, and their families, of one of the most appalling crimes in British history.
The force brought together governments and communities from Ireland to Vietnam using ground-breaking policing agreements to jail seven international people smugglers after 39 Vietnamese men, women and children were found dead in a container in Grays in October 2019.
Essex Police also won the Gold award for Customer Focus for its work on Operation Harrier, which supports vulnerable, high risk missing people living with Alzheimer's and dementia who have previously been reported missing to the police.
GPS technology is used to safeguard the user, which allows vulnerable people to continue living independently at home for as long as possible, safe in the knowledge they can easily be located when needed.
Essex Police says the device provides quality of life for the user, while proving reassurance to family members caring for the person, as the technology enables them to be alerted should the user need assistance without having to alert the police.
In addition, Essex Police says it is now attracting record numbers of recruits from diverse backgrounds through its 'We Value Difference' campaign.
Chief Constable BJ Harrington said: "I had the privilege of attending the iESE Public Sector Transformation Awards which saw Essex Police win two Gold Awards for Police Service of the Year and for Customer Focus for Op Harrier.
"This is truly an outstanding achievement for our force. It all comes down to officers, members of staff, Specials and volunteers. Their transformative work, big or small, helps us to deal with the challenges of modern policing and continue to protect and serve our communities.
"From turning around high sickness levels and low public confidence, to protecting the most vulnerable, as well as for our outstanding work on the investigation into the 39 people who sadly died in Grays and our forward-thinking We Value Difference recruitment campaign, we have really shown the best of Essex Police.
"Each and every one of my officers and staff are a credit to this force and our communities, and for that, I am so proud to be their chief."
Humberside Police was awarded Silver in the Police Service of the Year category in recognition of four years of work that has seen a complete transformation of the force.
Since 2017, Humberside Police has been on a major transformational journey, moving from an organisation that required improvement, to one that has been graded 'good' across all areas in its last inspection.
The team was congratulated by judges for its work on recruiting an additional 600 officers since 2016, its best-in-class call handling, which is surpassing all national benchmarks and expectations, the improving of confidence levels among its communities and its renewed focus on the victims of crime and how they are better supported. The force has also gone from having the highest levels of low morale across all UK police services, to being the best.
Chief Constable Lee Freeman, commented: "When I took on the role of chief constable in 2017, it was clear a period of challenging transformation was ahead of us. The force needed to better support its staff and better serve its communities. While we are still very much on that journey, this award is recognition that we're doing the right thing and making headway in becoming the outstanding force I know we can become.
"This accolade is the culmination of efforts from across the entire team at Humberside Police. We should all feel proud for what we have achieved to date, it has been a complete cultural change at every level, and I'd like to thank the staff for their continued support, without which, the transformation we've seen would not have been possible."
Humberside Police says the award comes at a time when public confidence in the force is at an all-time high, with growing satisfaction rates across the region, the lowest 999/101 abandonment rate, some of the fastest response times in the UK, and vastly improved outcomes across all types of crimes since 2017.
Humberside police and crime commissioner, Jonathan Evison, said: "I am delighted with the news that Humberside Police has received a silver award for Police force of the Year. Winning this award is a well-earned result for the hard work and dedication of all officers and staff in the organisation and mirrors the passion and professionalism I see on a daily basis.
"This will give a huge boost of confidence to the region and prove that the commitment people have within the force has been well founded and will continue to drive achievements going forward. A big well done to everyone."
South Wales Police took the Bronze award in Police Service of the Year for South Wales Police in recognition of its improvement through collaboration – from the creation of a four-service joint emergency services facility to the development of a mental health app jointly with Gwent Police.
The mental health app was also recognised with a Bronze award for both forces in the Innovation category. The app was developed by the force's Digital Services Division to assist officers from South Wales Police and Gwent Police with critical decision-making when dealing with persons who are in crisis. It gives them access to advice and guidance on their mobile devices including where the nearest available place of safety is to take the persons who need help. It also allows key data and information to be sent direct from their mobile devices to health partner agencies and force systems at the scene or at the point of handover.
In addition, the joint emergency services facility received the Bronze award in the Working Together category.
The four-service facility within Llantwit Major fire station is the first of its kind to be created in the UK to roll-out an emergency response service consisting of the fire service, the Welsh Ambulance Service, the Coast Guard and South Wales Police. The force says this project has delivered a modern premise with shared access to services, greatly reduced running costs for all services and income generation from asset disposal. The collaboration has delivered a more efficient and effective working relationship between blue light services, resulting in improved cooperation and service delivery to its residents.
South Wales Police said both projects demonstrate its "dedication to transforming services".
Gloucester Constabulary was awarded Silver in the Asset Management and Regeneration category for its Berkeley Sabrina Training Centre, part of the police and crime commissioner's (PCC) commitment to provide 'fit for purpose' accommodation to all employees. In 2019 the PCC identified a building at the decommissioned Nuclear Energy Site, Berkeley, for use as a learning and development centre. The building was purchased, refurbished and officially opened by the Home Secretary in November 2020 and has already received national recognition. The PCC is working in partnership with Active Buildings Centre, a government sponsored energy body, which will convert the building into an 'exemplar facility' for energy use. The building also offers a 160-seat conference facility available to partners and the community.
Commenting on the awards, iESE chair Councillor Paul Bettison and chief executive Dr Andrew Larner said: "Each year the standard of the submissions, and the local public services they represent, goes up. This year the awards judging was against the backdrop of the pandemic, and the submissions were simply stunning. The standards in the sector and the impact has made a generational leap forward."