'Outstanding professionalism' of three current and former Police Scotland officers recognised in New Year Honours
Police Scotland's Chief Constable Sir Iain Livingstone QPM has praised the "outstanding professionalism and commitment" of three current and former officers who were recognised in His Majesty The King's first ever New Year's Honours List.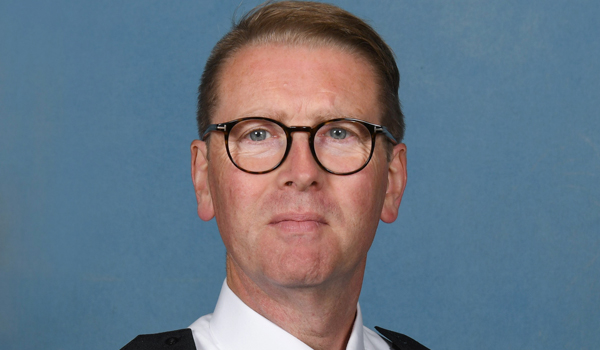 Former Deputy Chief Constable Will Kerr OBE, who left Police Scotland in November, Chief Superintendent Sean Scott (divisional commander for Edinburgh City) and Sharon Milton (who recently retired as Chief Superintendent for Emergency, Event and Resilience Planning) will each receive the King's Police Medal (KPM).
Sir Iain said: "The award of the King's Police Medal reflects the outstanding professionalism and commitment to public service all three officers have displayed throughout their long careers.
"I offer them my warmest congratulations on this recognition, which highlights the vital role played by our officers and staff on a daily basis to keep the people of Scotland safe."
Mr Kerr, who has this week taken up post as chief constable of Devon and Cornwall Police, has more than 33 years' policing service right across the UK, said: "I am deeply honoured and humbled to receive this recognition, having worked in a range of policing organisations – across the UK – for over 30 years.
"It is, in particular, testament to the work being done, within the local policing portfolio, for local communities across the whole of Scotland."
Chief Supt Scott commented: "I am humbled and deeply honoured to be awarded the King's Police Medal
"His Majesty, King Charles III's recognition of my service and achievements reflects the personal and professional qualities of the people I have served alongside over nearly 33 years of policing in Scotland.
"I continue to enjoy every minute of my public service but would have achieved nothing without the love and support of my family, who have shown great forbearance and sacrifice when plans have been changed at very short notice and important family events missed.
"I have had many fulfilling roles during my career and the pride of becoming commander of policing in Scotland's capital was reward in itself. The news of His Majesty's recognition is the ultimate additional honour."
Ms Milton, who retired in September 2022 having spent the majority of her 28-year policing career in the North East, said: "I'm really chuffed to have been personally recognised. Policing is a team endeavour and I've been fortunate to have worked with some amazing people and to have had the support of my friends and family during a challenging and fulfilling police career."
Scotland's First Minister Nicola Sturgeon congratulated those in the emergency services who were awarded the King's Fire, Police or Ambulance Service Medals.
"Our emergency services have displayed incredible fortitude throughout the pandemic, and deserve our continued appreciation for keeping people and communities across Scotland safe, every day of the year," she said.