Outstanding contributions to national pandemic policing response commended by chiefs
The outstanding contributions to Operation Talla, the national policing response the Covid-19 pandemic, were honoured at an awards ceremony in London last week.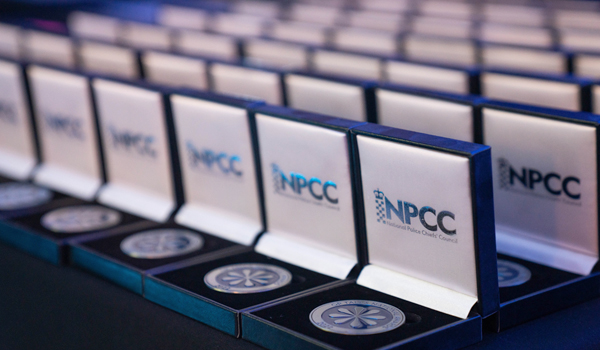 The National Police Chiefs' Council (NPCC) said Operation Talla brought out the "professionalism, capability and reliability of the entire UK police service in response to a critical incident unlike any other in living memory".
It added: "The objectives of Operation Talla sought to preserve life, maintain law and order, and prevent crime, all while maintaining the core policing service during a period of uncertainty, and assisting colleagues in the NHS as they fought the worst effects of this pandemic.
"These awards view the pandemic from a national perspective not often spoken about, commemorating those who led, shaped and delivered the national response – working to equip those on the front line."
At least half of the UK's territorial forces were represented in the awards, in addition to colleagues from a broad range of law enforcement agencies and criminal justice partners.
The event, sponsored by cloud communications provider Content Guru, was hosted at the De Vere Grand Connaught Rooms on Thursday (June 30) and was presented by writer and broadcaster Alfie Moore.
Guests were joined by the Home Secretary and Policing Minister, who were both in attendance to hear about the winners' stories, their work and the impact it had, thanking them for their role in the pandemic response.
Professional disciplines commended ranged from supply chain management, governance, logistics, PPE, communications, IT, business continuity, contact management, peer support and wellbeing, guidance and training, and more. All symbiotic to an effective national response on behalf of forces and the public, said the NPCC.
The official programme for the event, including details of the winners and their important work, can be found here.
Awards were split across three broad categories: governance and coordination, health and wellbeing, and innovation. For the health and wellbeing session, award winners were joined by Andy Rhodes QPM, director of the National Police Wellbeing Service. Support available for officers and staff can be found on the Oscar Kilo website.
Operation Talla Gold and NPCC chair Martin Hewitt said: "An impressive skillset spanning across all of policing, and across the whole of the United Kingdom, supported this national response. Officers and staff did their work diligently throughout the pandemic, carrying on with the day job often in the face of unacceptable abuse and assault.
"Behind the scenes there was another committed workforce not often spoken about, ensuring the thin blue line was well-equipped to serve and protect the public, helping the NHS with their mission of saving as many lives as possible.
"Operation Talla ensured that there was effective collaboration and coordination coming from the very heart of the police service, benefitting all officers and staff and offering consistent communications to the workforce and the public – working closely with government, partner stakeholders, public health experts, workforce associations, and our communities. All of policing stepped up to meet this challenge.
"Policing has always dealt with critical incidents, as we are always prepared to do, but Operation Talla is unique. These awards celebrate the best of this behind the scenes work. I'd like to congratulate all of those nominated and awarded, for their professionalism and service to their communities."
Operation Talla Silver and national mobilisation coordinator at the National Police Coordination Centre, Assistant Chief Constable Owen Weatherill, said: "The pandemic challenged policing to make sure we were as collaborative and effective as we could be. It was a unique moment we all hope we won't have to experience again in our lifetimes.
"With the help of recovery and reform work we commissioned at the beginning of the pandemic, we learned lessons and shared best practice with all of policing in real time. The service is now better prepared than ever should that calling come again.
"We overcame difficulties such as obtaining adequate stocks of PPE, and establishing a national standard for policing with the Health and Safety Executive in the early months of the pandemic. The entire law enforcement family learnt different ways of working together, and our capabilities and coordination have improved. Supply chain management and logistics have improved too, now achieving within days what would previously have taken weeks to accomplish.
"Covid hasn't gone away. It reminds us that we need to be on our guard, responding and pulling together. All those nominated, through their work and professionalism, enabled the workforce at large to do their duty as safely and as effectively as possible. Their specialisms enabled hundreds of thousands of safer interactions with the public every day and it is right we thank all those involved for this positive legacy, as we emerge from the worst of the pandemic."
Home Secretary, Priti Patel MP, said an "immense debt of gratitude" was owed to all the police officers and staff up and down the country who "worked tirelessly on the front line throughout the pandemic, serving our communities and supporting the NHS to keep us safe".
She added: "My congratulations in particular go to all those who have won awards – officers, staff and entire teams who have been recognised for their dedication and professionalism during the most challenging period this country has seen since the Second World War."
Martin Taylor, deputy chief executive officer and co-founder of Content Guru, commented:  "Content Guru is excited to have sponsored the National Operaton Talla Awards this year, and we wish to extend our congratulations to the winners and those shortlisted. Covid-19 placed unprecedented strain on police forces across the UK, and these awards rightly recognise the hard work and dedication police colleagues put in to serve our communities during this difficult time.
"At Content Guru we have the privilege of working closely with police forces to implement our innovative contact handling technology, and it is an honour to be part of celebrating their work through sponsoring these prestigious awards."