Online dating sees surge in reports of romance fraud
The popularity of online dating sites has seen reports of romance fraud jump by 26 per cent in the past year.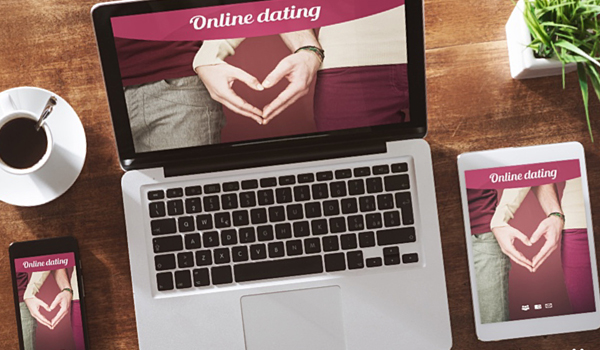 Reports peaked at more than 600 a month between June and August, suggesting people may have met and begun talking to romance fraudsters during the national lockdown caused by the coronavirus outbreak, said Action Fraud.
Victim Support said circumstances caused by the coronavirus crisis were used by fraudsters as a "hook" to extort money as they took advantage of people's desire for human contact.
Between August 2019 and August 2020, reports to Action Fraud from victims of romance fraud in the UK averaged more than 400 a month Losses during this period totalled £66,335,239 – equating to an average loss per victim of just over £10,000.
Now police forces and partners across the country are running a multi-agency campaign throughout October reminding people to 'fall for the person, not the profile'.
Supported by the online dating service company Match Group, the campaign will use a combination of awareness raising and enforcement activity to help tackle romance fraud.
The campaign is being coordinated by City of London Police and will "provide clear and unambiguous protection advice to the public" to help them stay safe online.
City of London Police T/Detective Chief Superintendent Alex Rothwell said: "Romance fraud is a devastating crime that impacts victims both financially and emotionally. It is a crime that we in policing across the UK, are committed to tackling with help from key partners. Through this campaign we want to empower people to understand what to look out for and feel confident that if they have fallen victim to a fraud, to report it to us.
"Criminals are experts at impersonating people. They spend hours researching you for their scams, especially when committing romance fraud. We're reminding everyone to stop and think: fall for the person, not the profile, it could protect you and your money."
Romance fraud, or dating fraud, occurs when someone thinks they have met the perfect partner online but who is in fact using a fake profile to form a relationship.
"They gain your trust over a number of weeks or months and have you believe you are in a loving and caring relationship. However, the criminal's end goal is only ever to get your money or personal information," said Action Fraud.
Diana Fawcett, chief executive of the independent charity Victim Support, said: "Victims of romance fraud often blame themselves, but it is important to understand that this is an incredibly sophisticated crime, and that almost anyone can be targeted. Victims may feel they have not only lost money, but also a loving partner or relationship they thought they had.
"Lockdown restrictions meant people could not meet in person for a number of months, which led to many seeking to form new connections online.
"While using the internet can be a great way to meet people and form relationships, there's also a great risk of being lured into a romance scam as fraudsters know how to take advantage of people's desire for human contact. Unfortunately, we've seen that circumstances caused by coronavirus were in fact used by fraudsters as a 'hook' to extort money. For example, some have invented lies about needing medical treatment, or urgent travel expenses to leave a country, or funds to keep afloat after a bogus job loss caused by the pandemic.
"It's important to be aware that not everyone is who they say they are."
Dr Elisabeth Carter, Forensic Linguist and Senior Lecturer in Criminology at the University of Roehampton, said romance fraudsters will use language that "exploits and persuades" in a way that is similar to domestic abuse, grooming and coercive control.
"Fraudsters manipulate and distort their victims' realities to the point where it is extremely hard for them to recognise that they are a victim of romance fraud," she added.
"Fraudsters will try and isolate their victims from sources of support, as friends and family are often able to recognise the crime being committed."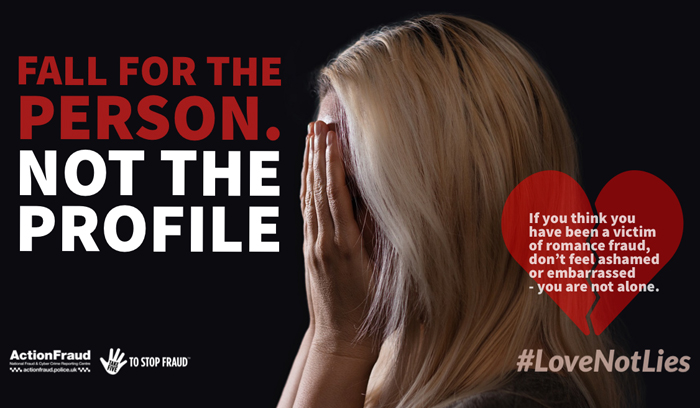 The top five platforms where victims reported first interacting with the criminal committing romance fraud were Facebook, Plenty of Fish, Instagram, Tinder and Match.com.
As part of the campaign, Match Group, which owns OK Cupid, Plenty of Fish, Tinder and Match.com, is running romance fraud protection adverts throughout October on these platforms to inform its users how to spot the signs of a romance fraud and how to protect themselves online.
Justine Sacco, chief communications officer at Match Group, said it was "pleased to support this important initiative with UK policing".
She added: "We want all of the members of our community to feel safe on our apps and feel equipped to protect themselves from romance scams. We look forward to continuing this important work, both internally by continuously updating our anti-fraud technologies and externally through our partnerships with law enforcement, governments and non-profits."
During October, City of London Police, the national lead force for fraud, will be coordinating enforcement activity across the UK and overseas, to target, and ultimately arrest, criminals suspected of committing romance fraud.
This follows the creation of partnerships between the City of London Police, the National Crime Agency and their counterparts in Ghana, to help repatriate money sent to Ghanaian bank accounts from UK victims of fraud.
Via the City of London Police's National Fraud Intelligence Bureau, UK forces are now able to send intelligence referrals to the Ghanaian authorities where they have identified suspects based in Ghana or with a link to the country.
Further international collaboration has also been developed with authorities in the US Department of Justice, Consumer Protection Branch and its Transnational Elder Fraud Strike Force.
As part of the campaign, City of London Police is also working with money transfer companies such as Western Union and MoneyGram to roll-out an initiative, first introduced by Sussex Police, across the whole of the UK, whereby any money transfer from overseas can be blocked if it is suspected by the authorities to be the result of a romance fraud.
The payee can also be prohibited from using the service, meaning they can no longer receive any payments and victims can no longer attempt to send them money. This follows close joint working between police forces and the finance and banking industry for a number of years, protecting victims of fraud via the Banking Protocol – a UK-wide scheme that enables bank branch staff to alert their local police force when they suspect a customer is being scammed.
Police will then visit the branch to investigate the suspected fraud and arrest any suspects still on the scene.
The scheme has prevented victims losing a total of £116 million to fraud and led to 744 arrests since it was first introduced three years ago by UK Finance, National Trading Standards and local police forces.
Security Minister James Brokenshire said: "It is despicable that criminals use emotional manipulation to exploit and defraud people.
"We are committed to cracking down on fraud in all its guises by working closely with industry, law enforcement and regulators to reduce the number of victims and ensure they get the support and advice they need."
The romance fraud campaign is the second phase of the National Economic Crime Centre's operation to combat fraud – Operation Otello – and follows a successful campaign, coordinated by City of London Police, targeting courier fraud in early 2020.
Detective Inspector Duncan Wynn of Thames Valley Police's Economic Crime Unit, which is part of the multi-agency group involved in spearheading the campaign, said it was dedicated to disrupting criminality that preys on victims causing significant financial losses.
"During the intensification period, we will work in collaboration with City of London Police to investigate reports and develop intelligence leads to disrupt romance fraudsters, while also safeguarding, supporting and offering protection advice to the victims," said Det Insp Wynn.
"In addition we have worked with academic experts to produce a bespoke leaflet on the linguistics of romance fraud, which will be made available as part of the campaign."
George Kidd, chief executive of the Online Dating Association, said dating services had "no forgiveness for romance fraudsters" and combat them by all means possible.
"No one goes on social media or a dating service looking to fund someone's lifestyle in the name of love," he said. "We use technology and human moderation to block fake profiles, create safer messaging platforms, and increasing use of video chat and photo-verification that makes it harder still to invent a profile and get away with it.
"We hope social media platforms will join in fighting this cruel form of online fraud. No one who has been targeted and deceived should feel at fault."
Katy Worobec, managing director of Economic Crime at UK Finance, said romance scams were both "emotionally and financially damaging" for victims, and the popularity of online dating services has made it easier for criminals to target them.
"Although banks are always looking out for suspicious activity, customers must be on their guard and protect themselves too," she added.
The multi-agency group spearheading the romance fraud campaign comprises: City of London Police; Online Dating Association; Match Group; UK Finance; Dr Elisabeth Carter, University of Roehampton; Citizens Advice; Crimestoppers; Thames Valley Police Economic Crime Unit; Victim Support; National Crime Agency; Cifas; South East Regional Organised Crime Unit; South West Regional Organised Crime Unit; and North East Regional Organised Crime Unit.