One year on from Westminster, by force or public consent
This Thursday marks 12 months to the day since the Westminster atrocity – the first of five attacks that took place between spring and autumn of 2017.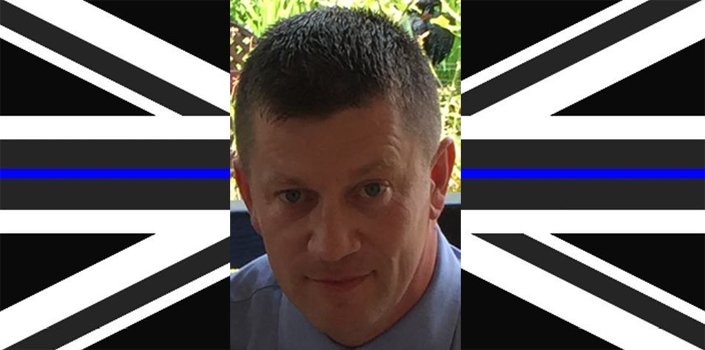 A year on and that unprecedented period of terror outrage that threatened the very fabric of UK security has changed the world of policing "completely".
For the first time for most in their service careers, officers in London and Manchester came face to face with the "horrendous" threat from disparate individuals who only had murder and mayhem in mind.
Two officers – Police Constable Keith Palmer trying to defend the cradle of democracy and off-duty Detective Constable Elaine McIver at the end of a music concert – paid the ultimate sacrifice, while PC Kris Aves was left paralysed. Dozens of citizens were killed and many hundreds more left injured, some with life-changing consequences.
Today we reflect on how these last 365 days have shaped the response of the service coping with 600 live counter-terror investigations relating to 3,000 individuals while keeping under review a pool of 20,000 former "subjects of interest", the legacy on personnel and where we go from here.
New counter-terror head Assistant Commissioner Neil Basu accepts that 2017 "came as a shock to everyone" but at least the public could feel reassured they had a "global leading" policing machine working on their behalf.
The messages from rank-and-file to chief officer are loud and strong but tell of a service seemingly headed into two different directions – policing by force and, in stark contrast, policing by consent.
What is undeniable is the seismic change of attitude from a "more accepting" public, ready to begin reconnecting with a "valued" police service.
For Metropolitan Police Federation chairman Ken Marsh, there have been huge pluses and agonising minuses.
Exactly 12 months on from the attack by Khalid Masood, who ploughed into stricken pedestrians on Westminster Bridge before crashing the vehicle into the Palace of Westminster's perimeter – and then stabbing PC Palmer in an attempt to enter Parliament – Mr Marsh describes the loss as "palpable".
He added: "My colleagues had never seen what they have witnessed in last 12 months. It is horrendous on reflection.
"It has changed policing completely from where we were before these incidents," adding that is "very clear" how it left more demand from the public for security and protection.
And as a result, there is a "greater relationship between police and public", he added.
The increase in firearms' usage and rolling out Tasers means that "gradually the bobby on the beat is being eroded" – moving towards a force-based service.
He told Police Professional: "The public is more accepting of that now. They realise we need more officers.
"The public is resolved that we can be ready for anything put in front us, wherever the challenges come from."
But he is mindful that 2018 could signal a clamouring for arming officers. "I think that is where we are going."
For Police Federation of England and Wales (PFEW) chair Calum Macleod, March 22 will be a date "etched on to the minds of police officers and the public forever".
PC Palmer's bravery will never be forgotten, on a day "he made the ultimate sacrifice defending the public, who he had sworn to protect and serve".
But Mr Macleod says it's also important to take stock of the "unseen" heroes of officers who "prevent and thwart those who seek to attack us and our way of life".
He added: "On this anniversary we once again remember and give thanks to Keith, and all the heroes who protect and serve us all every day."
The impact on individuals cannot be over emphasised – with the hand of fate placing Bournemouth East MP Tobias Ellwood in the firing line to the tragic consequences of terrorism for a second time.
Having lost his brother Jon in the 2002 Bali bombing, on March 22 last year – and just yards from his place of work at the Palace of Westminster – the Defence Minister found himself frantically trying to save PC Palmer's life from ebbing away.
The former soldier gave mouth-to-mouth resuscitation and applied pressure to stanch the flow of blood from the officer's gaping knife wounds to his neck and torso.
He recalls: "When I arrived he was alive and there was a pulse and when I left there wasn't. That's what haunts me…"
Mr Ellwood didn't know when to stop "even when the doctor said he thought we had done everything we could do for him", he wanted to carry on.
"I didn't succeed that day and I have to live with that every day. I still rack my brains about what more we could have done," added Mr Ellwood who earlier this month received policing's thanks for his efforts by way of the Outstanding Contribution honour at the Met Excellence Awards.
"PC Keith Palmer was an incredible man who gave the ultimate sacrifice and we in Parliament are forever indebted for that sacrifice," added the MP.
Counting the cost of a "year to forget" for Greater Manchester Police Chief Constable Ian Hopkins means there will be no formal minute's silence today for PC Palmer.
He expects his officers to "quietly reflect on what a hero" as the time of day passes, one year from the tragedy that claimed five lives.
Mr Hopkins places greater emphasis on September's National Police Memorial Day service  – this year in Belfast – and the annual remembrance day activities in Sedgley Park, Manchester.
But that has not stopped him raising £45,000 for National Police Memorial funds from a charity curry dinner attended by 400 people that persuaded one benefactor at the event to give a £3,500 country house holiday giveaway and a straight donation of £25,000.
Two months on from Westminster, the Greater Manchester force found itself walking straight into the path of mortal danger when a suicide bomber targeted an Ariana Grande concert at the city's Arena building – with many of the 22 victims, and 250 injured, children or teenagers.
Off-duty Cheshire Constabulary officer Elaine McIver was tragically caught up in the atrocity.
And her death touched Mr Hopkins on two fronts – Elaine being an associate of a "best friend" of the chief constable and meeting the 43-year-old officer's parents. "They were wonderful people. What struck me was how immensely proud they were of her police service," said Mr Hopkins.
The chief constable said that feeling of helplessness in grief and how it affects loved ones is something he has been constantly reminded of since 1982 when Bolton PC John Egerton was stabbed to death as he tried to arrest a man he caught siphoning petrol.
The 36th anniversary of his killing was on March 11 but Mr Hopkins was not able to meet up with the officer's mother – Joan Egerton – who passed away last year. "Whenever I met Joan she spoke of John and reflected on how every single day she thought about him," he added.
Events for the first anniversary of the Manchester Arena bombing are well in hand with a memorial service at the city's cathedral and a special evening event on May 22 when the lives of those who died will be "celebrated".
Tuesday saw another poignant date in the UK's terror calendar – the 25th anniversary of the Warrington attack that saw two bombs hidden in bins by the Provisional IRA go off – killing Johnathan Ball, three, and Tim Parry, 12, and injuring 54.
After the Arena atrocity, GMP established, with the help of faith groups, the 'We Stand Together' campaign and decided to introduce "something that delivered a different legacy" for the children of Manchester and Wigan.
They have encouraged the introduction of peace studies to two senior and two primary schools linked to The Peace Centre in Warrington which was born out of its own terrorist tragedy a quarter of a century ago.
The "shining beacon" for the GMP among a sea of despair has been the support from the public for officers, emergency services, health workers – "utterly amazing," Mr Hopkins enthused.
At the memorial straight after the atrocity, he remembers the thousands of people applauding police officers. "It was one of those 'hairs on the back of the neck' moments," he added.
"Day after day, week after week the thanks continued, from ice creams to cards from children.
"It brought a reconnection of the public with policing."
Mr Hopkins said there have been tough times in recent years, particularly with budget cuts, where "some of the public had forgotten how valued British policing is".
The thin blue line has the support of the vast majority as we have the "best police service in the world," he added.
He says it's important we remain an unarmed police. And there should be no change to that in the "short to medium term", adding: "We want to continue to protect that British policing model with consent and support of public.
"Yes, it is changing with Tasers but the best defence we have against terror is policing with the consent and support of the public."
Policing's message that "communities defeat terrorism" is galvanising the public response with more than a fifth of reports from the UK population producing intelligence helpful to police.
Assistant Commissioner of Specialist Operations Neil Basu praised the public's willingness to counter last year's unprecedented rise in terrorist activity by contacting the service in "record numbers" to report suspicious behaviour and activity through online referral forms and the confidential hotline.
His remarks came at the launch of the second phase of the Action Counters Terrorism (ACT) campaign, featuring a new 60-second film based on real-life foiled plots.
Based on the success of the 2017 branding platform, which incorporates counter-terrorism external campaigns to warn, inform and reassure the public, the latest information film will also show examples of attack planning methodology.
Act 2 of the campaign is a call to action to encourage the public to carry on responding via the online tool (gov.uk/ACT) – helping forces prevent terrorism and save lives. It aims to educate the public about terrorist attack planning and reinforce the message that any piece of information, no matter how small, could make the difference between a lethal attack or a successful disruption.
"We have been saying for some time now that communities defeat terrorism, and these figures demonstrate just how important members of the public are in the fight to keep our country safe," said Mr Basu on Tuesday (March 20).
Of the cumulative 30,984 public reports to Counter Terrorism Policing (CTP) during 2017, some 6,659 (21.5 per cent) resulted in useful intelligence – information that is used by UK officers to inform live investigations or help build an intelligence picture of an individual or group.
A total of 22,955 reports were made to CTP via the Anti-Terror Hotline – of which 5,074 resulted in useful intelligence for the police, a conversion rate of 22.1 per cent.
A total of 8,029 reports were made to CTP via online reporting forms at gov.uk/ACT – of which some 1,585 resulted in useful intelligence for the police, a conversion rate of 19.7 per cent
This week the 'by force' versus 'by consent' argument drew National Police Chiefs' Council firearms' lead Simon Chesterman into suggesting all officers on the beat should be allowed to carry Tasers – if they want to.
The Civil Nuclear Constabulary deputy chief constable said he would not want to go on the frontline today without one, and indicated "future conversations" on their use would inevitably involve the public.
He said the ultimate decision is for chief constables, before adding: "But I think officers now deserve the protection it affords them."