Officers warned over dance videos
Police officers taking part in dance and singing challenges on social media channels have been warned they could face disciplinary proceedings for engaging in 'unprofessional' behaviour.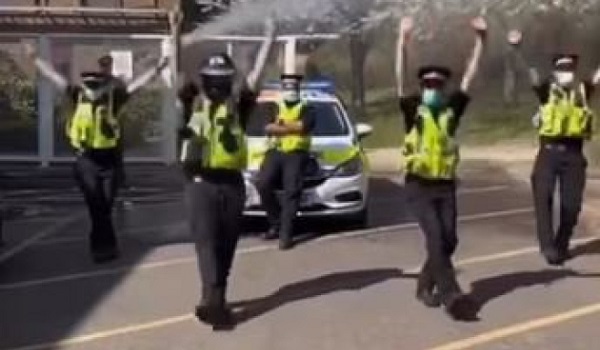 Video sharing sites such as TikTok and YouTube now feature dozens of performances showing officers taking part in choreographed dance routines, performing cartwheels or lip-synching to pop songs.
One recent clip shows six officers sitting on chairs and pretending to row across their office. Another shows two uniformed officers attempting the 'kick challenge' where they tap their feet together in sync.
The majority of routines have been filmed inside or immediately outside police stations and the officers are all in uniform.
Last month, a group of officers from Cambridgeshire Constabulary went viral after they filmed themselves dancing to a song while wearing face masks and washing a police vehicle. The video was viewed more than 660,000 times in the 48 hours following its release.
However, despite the popularity of these videos, chief officers have warned that such behaviour sends the wrong message to the public.
Gavin Stephens, chief constable of Surrey Police and the National Police Chiefs' Council (NPCC) lead for digital engagement, told the Mail on Sunday: "From an NPCC point of view, particularly through Covid, we're not encouraging people to take part in dancing, rapping TikTok challenges.
"We have got more important things to do. What I have told my local teams is that we will get through this as a country and there will be time to celebrate."
Andy Cooke, chief constable of Merseyside Police, said: "We have reminded officers and staff that such behaviour is wholly unprofessional and will not be tolerated by the force. Merseyside Police holds clear policies about behaviour, including the inappropriate use of social media, and anything which breaches these would be subject to potential disciplinary proceedings."
He added: "Above all else, we are here to support the NHS and keep policing our communities, many of whom would be rightly appalled to see police officers failing to show respect for the uniform they wear. We simply don't want anything to detract from the outstanding work our officers and staff are putting in at the moment."