Officers should receive greater recognition as 'remarkable public servants'
Leicestershire Police's chief constable heaped praise on colleagues as "the one constant" in his three decades of service and urged greater protection for officers as they attempt to serve 50 per cent more people than they did before austerity measures were introduced.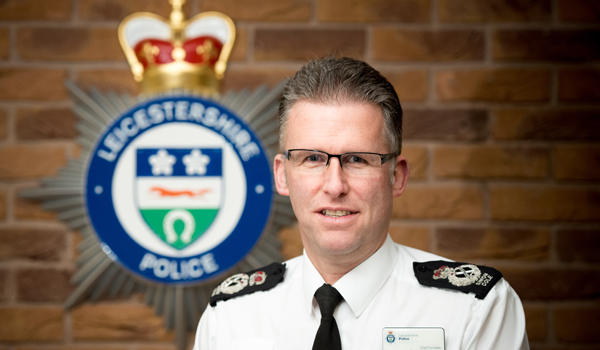 In a reflective article for Police Professional marking 30 years' service, Simon Cole urged more to be done to 'Protect the Protectors', indicating support for the Police Federation of England and Wales' campaign to give greater protection to officers in law and take assaults on officers more seriously. 
He praised officers who face incredible levels of scrutiny and media reports that often do not reflect the reality they face. 
Mr Cole said: "One constant is my colleagues. They are truly remarkable public servants who, frankly, put up with a lot of inaccuracies being said about them by a media, which seems to choose to be unaware of what they actually do, and less willing than they should be to highlight when things go badly right." 
On September 5, 1988, when he joined West Midlands Police, terrorism was a major threat, but most other aspects of policing have changed. Mr Cole notes the huge transformation from technological developments and the shift to policing private spaces. 
The growth in highly skilled staff who investigate, handle public contact, forensically examine, procure and run non-frontline systems is also a defining feature of the past three decades. And officers are better trained and equipped than at any point in his service. 
"Officers are equipped with a national decision making model that is usable, set around a code of ethics that make sense. Our expertise is reflected in accreditation, our empathy in the remarkable 'thank yous' that I see almost daily; the ones that say 'without you we didn't know what we would have done'; the bereaved who just want to tell the chief to be proud of those who serve with him. We remain, in a good way, endless dealers in hope and decency. 
"But our people also show the strains of being expected to have the gift of hindsight; of being expected to fill the cracks when others aren't available; of being thought able to deal in minutes with complex issues that have built up over generation upon generation; of being typecast as preying on speeders when they've just spent their last duty hours watching medics failing to breathe life into an atrocious collision scene; of being expected to provide the same service when there is one of them to 601 citizens as they could when there was one to 430 citizens a few years ago before austerity kicked in. 
"We must also be able to understand who protects the protectors? That means doing something about the fact that every single day here in Leicestershire we have at least one officer assaulted. That means looking after the officers, staff and volunteers who manage the strain of those changing demands, and work so hard to overcome the challenges that we face on a daily basis.  
"Across my three decades they have never ceased but to run towards danger. Society should never take that for granted." 
For the full article click here.