Officers save six puppies being dumped at roadside in plastic bag
Quick-thinking officers saved six cocker spaniel puppies that were about to be dumped in a plastic bag at the roadside.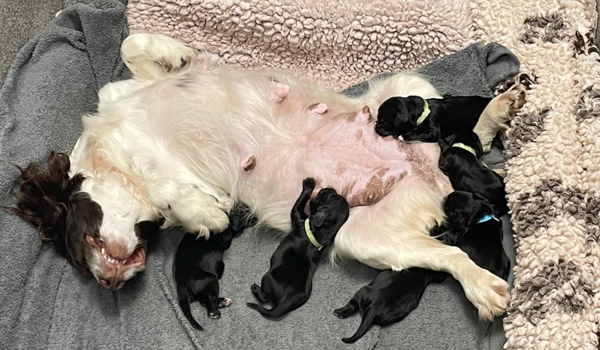 Durham Constabulary said the flea-ridden puppies "were just moments from death" and were so young their eyes had not yet opened.
Police Constables Liam Vernon and Luke Howie were travelling along the A689 from Bishop Auckland in the early hours of Saturday morning (March 18) when they spotted a vehicle parked up and the driver standing on the grass verge.
As they turned around to check everything was in order, they noticed the driver swinging a sealed carrier bag on the edge of the bank.
"They put their blues on and parked up behind the vehicle. They then saw the man fling the carrier bag onto the front seat before starting to 'inspect' his tyre as the officers got out of the police car," said Durham Constabulary.
"As the officers approached the vehicle, they could hear squealing coming from the passenger's side and, as they got closer, they realised it was the same bag the man had been swinging just moments before."
The officers untied the bag, which was sealed tight, and found the five-day-old Cocker Spaniel puppies inside.
The driver was questioned at the roadside while officers monitored the puppies and arranged for the litter to be transported to a local vet for treatment.
The man, in his fifties, was arrested on suspicion of animal cruelty, money laundering and trafficking in a controlled drug and taken into custody. He has since been released on bail while inquiries continue, the force said.
It added that all six puppies were now making a full recovery at a local vets and will soon be fostered.
Officers carried out a section 18 warrant of the man's address as part of the investigation and rescued the puppies' mother and father too.
They have since been reunited with the litter and are also receiving treatment.
PC Vernon said: "The puppies were riddled with fleas and if we'd have passed just seconds before, we would have been none the wiser.
"Both myself and Luke are huge dog lovers, so it has been one of those jobs which has really stuck with us; we've hardly stopped thinking about it but are just glad to have saved them – it really was right place, right time."