Officers require 'tougher' Covid regulations to police lockdown, says PFNI
The Police Federation for Northern Ireland (PFNI) says officers "must be given full enforcement powers" to help them police the Covid-19 lockdown restrictions.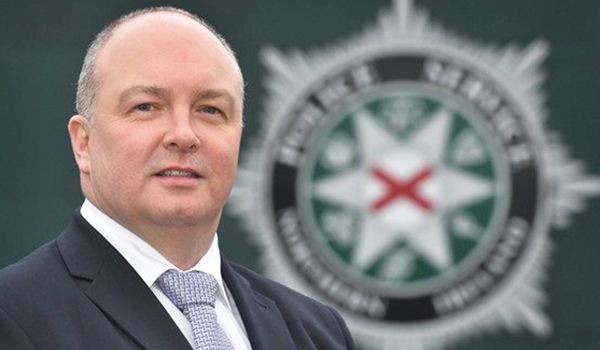 PFNI chair Mark Lindsay says officers need the certainty of regulations to back up their actions and make the task of combating the spread of the virus more effective.
"For as long as we don't see guidance turned into regulation, we will have abuses," he added. "The minority is laughing at wider society and they should know that their behaviour will not be tolerated."
Northern Ireland's chief medical officer Dr Michael McBride said it was estimated that on average about one in 60 people have Covid-19 in Northern Ireland.
New lockdown restrictions came into force in Northern Ireland on Friday (January 8), meaning people can only leave their home for essential reasons.
Mr Lindsay says guidance "needs to be strengthened" to remove any doubt for the public.
"Most people are willing to comply, but there is nothing officers can do if some choose to ignore the guidance they are given at road stops," he said.
"Of course, there will always be a case for guidance, but officers say that guidance needs to be strengthened and placed into tougher regulations.
"Only then will officers be able to order people to return to their homes or run the risk of a fixed penalty notice. Only then will officers have the backing of law to support the actions they take on the roadside or elsewhere."
Mr Lindsay added: "It beggars belief that some people wilfully ignore the advice that's offered. However, they're not breaking any law when they thank officers for the guidance they are offered and plough on regardless.
"For the minority who flout the guidance, the police must be given full enforcement powers to order them to do what they should be doing anyway, and that is staying at home and not leaving the house unless for permitted activities."
Mr Lindsay has also joined the growing calls for frontline officers to be given greater priority and vaccinated as a matter of some urgency.
He says there are now more than 100 confirmed cases of Police Service of Northern Ireland (PSNI) officers with Covid-19 with more than 500 self-isolating as a result of contact trace requirements.
John Apter, chair of the Police Federation of England and Wales, has already asked for officers to be prioritised after society's most vulnerable groups and NHS workers have been given the jab, saying rank and file officers urgently needed the "protection they deserve".
His concerns have been echoed by Metropolitan Police Service Commissioner Dame Cressida Dick, who is also asking the Government to consider the case for inoculating frontline police officers earlier than planned, adding that her colleagues were "not immune to the virus".
And in a letter to Scottish Justice Secretary Humza Yousaf, the general secretary of the Scottish Police Federation (SPF), Calum Steele, stressed that police officers "do not work in a clinical setting" and "should to be prioritised in the vaccination programme".
Health Secretary Matt Hancock told MPs in the House of Commons on Tuesday (January 12) that the Government would be looking "very carefully" at those professions, including the police, that need to be prioritised in the vaccination programme and would "make those decisions based on the data".
Mr Lindsay said: "We share the concerns around officers working on the front line. It doesn't take much for officer strength to be seriously depleted because of exposure to the virus in an operational environment.
"Covid transmission rates are high and frontline officers are not immune. The virus is already impacting negatively on the frontline both through infection rates and the requirement to self-isolate.
"Failure to vaccinate officers as a priority could lead to a depletion of police resources and expose individual officers to personal risk."
Mr Lindsay said the PFNI has worked closely with the PSNI to ensure that operational safeguards and appropriate personal protective equipment were readily accessible and available to keep confirmed cases and numbers self-isolating to a minimum. However, he warned that the risks cannot be negated completely.
"While we recognise the absolute importance of vaccinating the most vulnerable in society and NHS staff, frontline police officers should be afforded greater priority with regard to the roll-out of the vaccination programme," said Mr Lindsay.
"This is a view held by all those involved in policing our society, both here and on a national basis.
"Police officers are essential frontline workers, dealing with a wide range of social issues and especially breaches of the Covid regulations. It is essential for officers to receive one of the vaccines as a matter of some urgency."
He added: "We have to protect frontline policing and to avoid a resourcing crisis, which could impact on public or officer safety.
"That means implementing an advanced programme of vaccination for our colleagues who, on a daily basis, are coming into physical contact with members of the public, including many of those who are not obeying the guidance in respect of Covid-19."
Mr Steele said the SPF cannot accept that the police service, which is "so critical for the functioning of society, and so critical in responding to this public health emergency", is not subject to the same considerations in the vaccination programme as other priority groups.
In his letter to Mr Yousaf he wrote: "As you are aware, police officers do not work in a clinical setting. Their work environment is often chaotic, uncontrolled, and unavoidably 'up close and personal' with the public. It is fast moving and with the best will in the world, it is often impossible to avoid the need for physical intervention.
"At the best of times these realties are an unfortunate part of life; in a coronavirus world, they carry considerable additional risk and these risks are not always capable of being mitigated."
Mr Steele also warned that with the new strain of the virus "ripping through the country", they were seeing a steady increase in coronavirus-related absences across Police Scotland.
"Some of our stations have experienced absence rates in excess of 40 per cent and many of our critical departments live in constant fear that an infection could wipe out their ability to function," said Mr Steele. "Given the widespread non-compliance with the regulations (granted by a small, but still considerable minority) it will also directly impact on the ability of the police to continue our sizeable contribution to curtailing community transmission. We cannot imagine this possibility would be one the government would welcome."
He added that since the prohibition on house parties was introduced  in Scotland on August 28, police officers have attended almost 7,000 such events.
"The SPF has not been able to identify a single day in all that time that unlawful house parties have not been reported to the police," wrote Mr Steele.
"After attending calls to house parties, police officers continue to attend other calls like domestic violence calls, hate crimes, and concerns for the vulnerable. In every single case, police officers, through no fault of their own, increase the risk of bringing virus they have been exposed to into the homes of others. They are the very epitome of State-designed super-spreaders."