Officer who spoke out about domestic abuse recognised with award
An Avon and Somerset Constabulary officer who spoke out about her experiences of domestic abuse – and encouraged colleagues to do the same – has won the Annual Outstanding Contribution to Women in Policing award from the Police Federation of England and Wales (PFEW).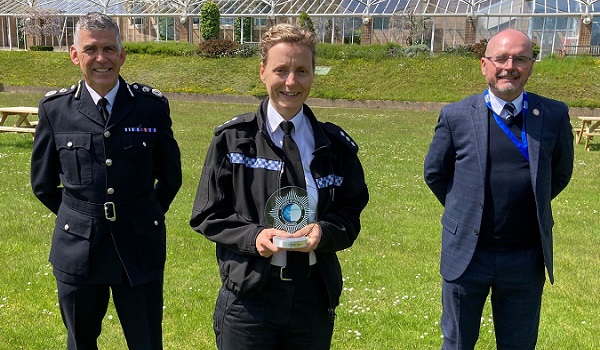 Chief Inspector Sharon Baker bravely made a video about living in an abusive relationship to assist police officers and staff in a similar situation. The video was entitled 'It's time to break the silence – I am the victim of domestic abuse'.
Chief Insp Baker now works tirelessly to raise awareness about the hurdles of reporting domestic abuse for police officers and staff and supports colleagues who find themselves in a similar situation.
She said: "Domestic abuse can happen to anyone. No matter your age, gender, your job or even your rank. To start with, I was utterly loved. Bowled over by affection… [Eventually] I felt absolutely trapped. Domestic abuse erodes any confidence you have in yourself and it slowly isolates you until one day you look around and realise you are all alone. I had become paralysed with fear. And too frightened to tell anyone."
After realising she could no longer live in terror, she contacted the control room and spoke to her duty inspector, Superintendent Liz Hughes, about what had been happening. She was met with kindness and reassurance and has since been able to share her story with her supervisor and work colleagues. "It was the best decision I've ever made. There was no 'why?', no judgment, just unwavering support and belief," Chief Insp Baker added.
Supt Hughes said: "Sharon and I had a great working relationship. I had worked with her for several years and knew her well. I noticed she'd been looking a bit more tired and staying at work later than necessary but I was genuinely shocked when she told me the full extent of the domestic abuse she had been suffering."
Chief Supt Baker was handed her PFEW award today (June 9) by Avon and Somerset Constabulary Chief Constable Andy Marsh and Avon and Somerset Police Federation chair Iain Prideaux.
Mr Marsh told Sharon: "Sharon you have made a massive contribution to policing. Our own values are courage, – you've shown courage – we value caring, I think your caring nature just shines out in what you do every day, and then inclusion, the sort of work that you're doing is making us the sort of police force that people want and need to be part of and the sort of police force that our communities need. I am so proud of what you've achieved, and your best is ahead of you yet."
Mr Prideaux added: "When I met Sharon to talk about the award, she spent little time talking about herself and more about how the award could help her to raise awareness around the hurdles of reporting domestic abuse when you're a police officer or police staff.
"Thank you Sharon for being a trailblazer, an inspiration, and a woman who through your kindness and leadership has found the courage to challenge one of the few remaining taboos. Your example will lead many of our police family to feel empowered to come forward and report their experiences of domestic abuse."
Since the video was posted, Chief Insp Baker has published a blog about her experiences in a bid to "break the silence" that enables abuse to flourish. She has also helped staff who have found themselves in similar situations and formed a support group of "influencers with lived experience".
In the UK alone more than two million people experienced domestic abuse in the past year, according to the Office for National Statistics.
The officer added: "Anything I've been able to achieve has only been possible because of the help of so many others. I've been able to help colleagues and be their voice because of the unwavering support that I've had. I will be forever grateful that I was believed, listened to and cared for when I needed it most.
"Domestic abuse reaches into every corner of our organisation. It affects us all. There is no 'them', only 'us'. Our colleagues are living with abuse or rebuilding their lives from it right now, all around us. You just can't see it. They are our crew mates, our bosses, and the person on the other end of the telephone. However, you can help by building and ensuring we have the supportive teams and environments which mean that we can come forward and ask for help. This award is really for those victims who are suffering from abuse now. I hope it shines a light into the darkness and shows that you're not alone."
Zoe Wakefield, chair of the Police Federation's National Women's Group, said: "Sharon showed immense courage by being so open about her own experience, all with the aim of helping others in a similar situation. She has highlighted the additional complexities of being a domestic abuse victim and a police officer. She is an inspirational role model for others and because of her actions in coming forward, others have done the same.
"Sharon has led the way in breaking the silence and giving confidence to colleagues that they will be believed and listened to. This has developed into a pledge from the force which states how they will support officers who are victims of domestic abuse.
"It was a pleasure to telephone Sharon and inform her that she was this year's winner. Sharon was overwhelmed by the news and this is clearly a very emotional journey for her. But she has already made such a difference to Women in Policing and I know other forces are already interested in replicating the work Sharon has done."