Officer stabbed in neck in terror attack at airport
Investigators are treating the stabbing of a police officer in the neck with a 12-inch knife by a lone-wolf attacker with a "hatred of the US" as an act of terrorism.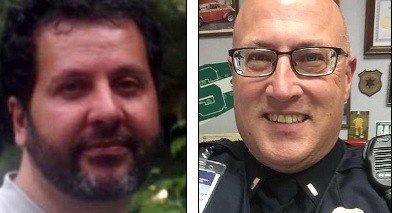 Lieutenant Jeff Neville was praised for his bravery in assisting with the arrest of his assailant despite suffering serious injury in the attack at Bishop International airport in Flint, Michigan.
The assailant – 49-year-old Canadian Amor Ftouhi – has been charged with causing violence at an international airport, the FBI said.
Officer Neville, second in command at the airport's Department of Public Safety since 2001 with 20 years' previous police service, was described by Genessee County Sheriff Robert Pickell as an "amazing deputy". He is recovering in hospital and expected to make a full recovery after undergoing survey.
Flint airport director of public safety Christopher Miller said the officer "fought" the attacker "till the end" – until he could be handcuffed.
Ftouhi, who legally entered the US last week, was motivated to go to the Flint aiport on Wednesday morning (June 21) out of a "hatred to the United States", according to FBI Special Agent in Charge David Gelios.
He reportedly dropped off two bags at one of the airport's toilets before coming out screaming "Allahu akbar" (God is great) and launching his knife assault on the officer. The weapon was 12-inches long with an eight-inch serrated blade, added Agent Gelios.
US attorney general Jeff Sessions, in confirming the attack is being treated an act of terrorism, added: "I want to assure all our law enforcement across the nation, any attack on someone who serves and protects our citizens will be investigated and prosecuted to the fullest extent of the law."
Canadian law enforcement agencies are in touch with their US counterparts and assisting them in every way possible, Canada's public safety minister Ralph Goodale said.
While the FBI said the assault was an isolated incident with "nothing to suggest a wider plot", the implications for the global community point to a rising tide of 'lone-wolf' attacks where the perpetrators have no-known links to organised terror groups.
On Tueday (June 20), in Brussels, a suspected suicide bomber was shot dead at a busy railway station after his device failed to fully explode. Belgium Prime Minister Charles Michel admitted maintaining a 'zero risk' option on such attacks "does not exist".
Last month, a suicide bomber suspected of acting alone killed 22 people at the Manchester Arena, while in March, a man drove a car into pedestrians on London's Westminster Bridge, killing four people before stabbing Police Constable Keith palmer to death outside Parliament.