Officer safety training to undergo major overhaul in bid to reduce assaults
Personal safety training for police officers across the country is to undergo a complete overhaul following the publication of a safety review which found that 88 per cent of officers have been assaulted at some point during their careers and 39 per cent in the past 12 months.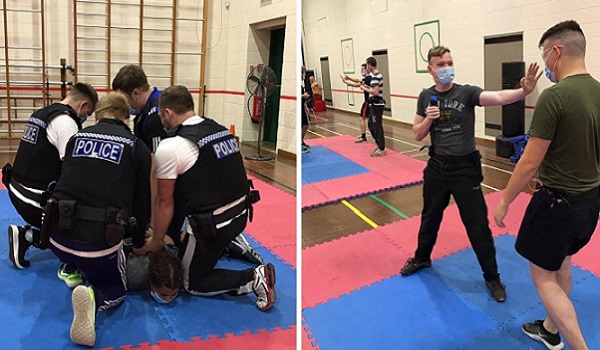 The Officer and Staff Safety Review and National Police Safety Survey, commissioned by the National Police Chiefs' Council (NPCC) and College of Policing, obtained responses from more than 40,000 police officers and staff in England and Wales, making it the largest of its kind.
As part of the research, more than 40,000 police officers and staff in England and Wales took part in what is thought to be the largest survey of its kind. The review was commissioned last September in response to concerns about rising assaults and increased violence against officers.
Publication of the report, which was delayed due to the Covid-19 pandemic, has also highlighted issues of safety for frontline officers and staff. Work has been underway since then to begin implementing the recommendations of this review and improve safety of officers and staff.
The report makes 28 recommendations, which were unanimously agreed by the NPCC in January 2020.
The survey found levels of safety training are currently inconsistent across the country. Some forces currently provide 16 hours per year while others provide just four. Some forces include first aid and fitness tests as part of their safety training while others do not.
A national curriculum and recommended officer contact time with trainers will now be brought in across forces in England and Wales.
NPCC chair Martin Hewitt said he was shocked by the scale of assaults, and that a third of officers said they were not happy with the personal safety training they had received.
Mr Hewitt said: "In this review, we have followed the evidence, listened to the concerns of those within the service, and heard the views of the public.
"The Review and the breadth of its recommendations show that there is no one piece of equipment that is the answer to all violent and threatening situations. Instead, chief constables have agreed a broad package of measures that will significantly enhance the safety of our brave and hardworking front line.
"We're overhauling safety training, trialling new technology and tactics, reviewing the availability of equipment and taking a hard line on the standard of response after an assault. Chiefs have also agreed to take suggestions for legislative change to government to further protect officers and staff.
"The primary purpose of the police service is to keep the public safe. Having well trained and equipped officers and staff allows us to fulfil that purpose as well as our responsibility to do all we can to protect our people.
"Policing is a career with huge rewards but front line police officers and staff join knowing they face some risks and will sometimes have to run towards danger. Those risks can never be eliminated completely but, as these changes are implemented, we do expect to see a reduction in the number of assaults and greater satisfaction in the response after an assault."
NPCC lead for officer and staff safety, Chief Constable Alan Pughsley, said: "It is never acceptable for anyone to be assaulted or harmed just for turning up to do their job. We're concerned by the rising numbers of assaults against officers and staff and have worked to make sure this review can quickly deliver improvements for them.
"Work to implement the recommendations of the review has begun at pace, even throughout the current pandemic. With the support of government, chiefs and staff associations, we have the commitments in place to make a positive difference for everyone within policing.
"The views and experiences of over 40,000 officers and staff have helped shape this review and its recommendations. We will seek to repeat the national safety survey and test the views of officers and staff again as recommendations are implemented."
College of Policing chief executive officer, Chief Constable Mike Cunningham, said: "Police officers and staff in England and Wales are paying a heavy price for keeping people safe, with many reporting that their health is suffering as a result. The number of assaults on police officers has risen over the past five years, with more than 30,000 assaults on police officers recorded in 2018/19.
"It is essential that we reduce the risk of officers and staff getting injured or suffering harm when at work and police leaders across the service are collectively taking a stand today. The College of Policing undertook a national safety survey, likely to be the largest ever carried out in the police service, to hear directly from those on the front line. More than 40,000 officers and staff responded to us and the stark findings include 71,308 sickness absence days as a result of assaults in one 12-month period. A conservative estimate of the direct cost to the public of days lost to assault is £4.7 million. The full social and economic costs, including the criminal justice processes and health costs will be far higher.
"We are taking action to make sure officers and staff who come to work each day to protect the public are better protected themselves."
The College of Policing has also today (September 2) published new guidance for forces and officers on approaches that can be taken to attempt to resolve confrontations with the public without the need to use force.
The guidelines help to address a key finding in the National Police Safety Survey. Officers were asked which tactics they used regularly that may have been taught during personal safety training (PST). A total of 91 per cent said they were most likely to use non-physical conflict management skills on a regular basis rather than physical skills. However, a quarter (26 per cent) said that not enough time was spent training essential communication and only half (52 per cent) said their training had taught them how to defuse confrontation.
The updated guidelines, developed using evidence from frontline officers, including techniques developed for hostage negotiation, address this issue and provide support for officers in practicing de-escalation, communication and negotiation skills in order to avoid the use of force wherever possible.
The package of agreed measures resulting from the findings of the survey includes:
The College of Policing overhauling current safety training and replacing it with a new national curriculum, including recommended contact time with trainers, which all chief constables in England and Wales have committed to ensuring is met. Current provision of personal safety training was found to be inconsistent with officers in some forces receiving 16 hours of annual training compared with four in others;
Introducing an improved process for decision-making about deployment, equipment and other operational issues. A national framework for conducting a strategic threat and risk assessment will be created to ensure consistency of approach across police forces, even if local circumstances mean different decisions about equipment and deployment;
Every chief constable reviewing whether their frontline officers and staff have the equipment they need and increasing the availability of Taser, body armour, spit and bite guards, protective gloves and high-visibility clothing to proportionate levels if supported by their strategic threat and risk assessments. The Review has maintained the position that these decisions must be taken by chief constables based on local circumstances;
Research to examine racial disparities in the police use of Taser. In England and Wales, national use-of-force data has shown that people perceived to be black or black British were involved in a higher of proportion of incidents where less lethal weapons (principally Tasers) were drawn compared to people perceived to be white. Research has been commissioned to address the current evidence gap in understanding the causes of the disparity and to make recommendations to minimise it;
Expediting trials of new technology or equipment that could enhance safety such as changes to prevent assaults in police vehicles and remotely operated vehicle immobilisation devices; and
A hard line approach to investigations into officer assaults with arrest of an offender the default position. This will be supported by work to set out the standards police victims of assault should expect at each stage of the criminal justice process and a review of impact of the Assaults on Emergency Workers (Offences) Act 2018 on the outcomes for those assaulted.