Officer sacked for 'providing dishonest accounts'
A West Midlands Police (WMP) officer has been dismissed for gross misconduct for giving dishonest evidence at the inquest into the 2011 death of a 29-year-old student.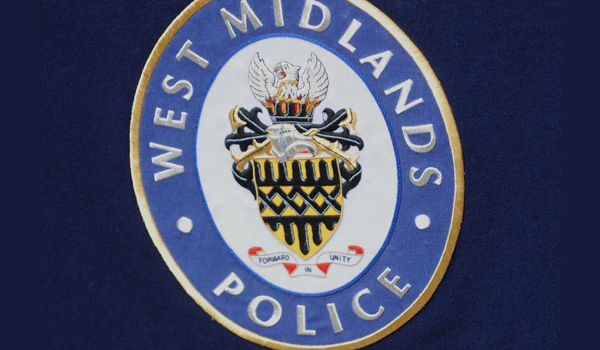 Police Constable Paul Adey was found by a disciplinary panel hearing to have breached standards of professional behaviour related to honesty and integrity, and duties and responsibilities. 
PC Adey and two other constables were cleared of "using excessive force prior to the death of Kingsley Burrell". 
The two other officers were also cleared of the honesty and integrity allegations. 
The WMP misconduct hearing at Sutton Coldfield police station lasted for four weeks and concluded yesterday (Tuesday, December 18).  
Mr Burrell died of a cardiac arrest in hospital on March 31, 2011.  following "a number of interactions" with officers. 
His death "followed a prolonged period of police restraint and medical intervention".  
He had been detained under mental health laws (prior to the Mental Health Act coming into force) after officers responded to reports of "a violent incident" at the Mary Seacole House Mental Health Unit in Birmingham. 
Mr Burrell was "restrained by officers and sedated by medical staff at the unit", but during this time he sustained a cut to his eyebrow and was transported by ambulance, accompanied by the WMP officers, to the A&E Unit at the city's Queen Elizabeth Hospital. 
While there, "a covering, understood to be a blanket, was placed over Mr Burrell's head by an ambulance technician to address the fact that Mr Burrell was allegedly spitting at various people". 
A further period of restraint involving four police officers followed, and the officers performed a cell insertion technique to place Mr Burrell within the seclusion room", after which the restraints were removed, and the officers left the seclusion room.  
But a short time later, medical staff monitoring Mr Burrell raised concerns about his breathing from an adjoining observation area, and on entering found that he had stopped breathing. 
Medical staff performed CPR on Mr Burrell and an ambulance took him to the hospital's critical care unit, where he died the next day.  
The Independent Police Complaints Commission (IPCC), the forerunner of the Independent Office for Police Conduct (IOPC), investigated the "interaction police officers had with Mr Burrell between his detention on March 27, 2011, and his death at the Queen Elizabeth Hospital in Birmingham four days later" and the case was referred to the Crown Prosecution Service (CPS). 
The CPS found that there was "insufficient evidence to bring any charges against police officers over use of force". 
WMP agreed to hold a gross misconduct hearing in 2015, which was "stayed following representations on behalf of the officers". 
The five-week-long inquest into Mr Burrell's death at Birmingham Coroner's Court returned a narrative verdict in May 2015 but found that "prolonged restraint" and "a failure to provide basic medical attention" contributed to his death. 
Witnesses who gave evidence at the inquest included "the four police officers involved in the restraint of Mr Burrell prior to his death as well as medical staff and ambulance staff who attended to Mr Burrell".  
Complaints were received by the IPCC from representatives of the family of Mr Burrell in June 2015. 
The complaints related to the accounts given by police officers under oath at the inquest regarding "the issue of a covering over Mr Burrell's face", as the accounts given by the officers as evidence were "materially and significantly different from the accounts given by medical staff present".  
The IPCC commenced a second investigation into these complaints and referred a file to the CPS five months later. 
The CPS "determined there was sufficient evidence to charge three officers with perjury and perverting the course of justice" in October 2016. They were all acquitted at a trial at Birmingham Crown Court in October 2017. 
But WMP "later agreed with the IOPC view that four officers should face gross misconduct proceedings over use of force, and three over allegations of dishonest accounts". 
However, at a pre-hearing in October 2018 the disciplinary panel decided the use of force allegations against the fourth officer should be dismissed.  
The two IPCC/IOPC investigations have involved analysis of police Airwave transmissions and CCTV; conducting criminal interviews with four police officers on two occasions; dozens of witness statements taken from police, medical/ambulance staff and members of the public; and expert opinion gathered and analysed from over ten pathologists, forensic scientists and psychiatrists; and a police use of force expert. 
They also took into consideration relevant national and force policies on use of force and the handling of people detained under the Mental Health Act; and the two separate referrals to the CPS, one over use of force and one for allegedly dishonest accounts. 
IOPC regional director Derrick Campbell said: "We have undertaken two complex investigations surrounding the sad death of Mr Burrell which have led to the gross misconduct proceedings that ended today, as well as the earlier criminal trial at which the officers were acquitted.  
"The evidence we gathered also helped to inform the inquest held in 2015. The actions of the officers involved, their use of force and the accounts they since gave have been thoroughly and independently scrutinised, and the disciplinary panel has now made its decisions and findings. 
"The overall length of time taken since Mr Burrell's death to reach today's conclusion is regrettable, and I have no doubt of the profound effect this has had on all concerned.  
"Our first investigation took longer than it should have but it involved criminal interviews with the primary officers, witness interviews with ten other police officers and over a dozen medical staff, and the analysis of a large range of expert opinion.  
"I again send my condolences to the family and friends of Kingsley Burrell at this difficult time."