Officer praised for 'key role' in new rural crime legislation
A Northumbria Police officer has been praised in the House of Commons after proposed rural crime legislation reached a major milestone with its second reading.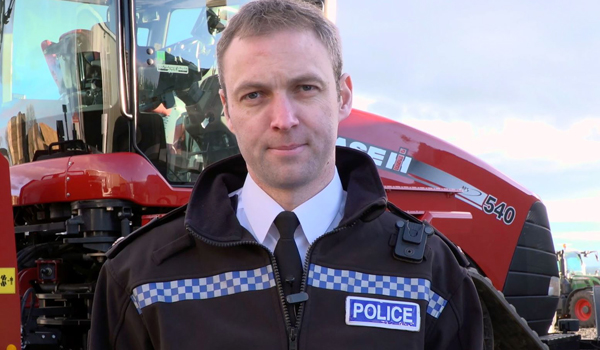 If it becomes law, the legislation would see all-terrain vehicles (ATVs) and other agricultural machinery fitted with forensic marking and immobilisers to help tackle rural crime
Superintendent Andy Huddleston, national policing lead for theft of construction and agricultural machinery, was singled out for his "key role" in the Equipment Theft (Prevention) Bill, which is currently passing through Parliament.
The Bill would introduce new measures to help prevent the theft and illicit re-sale of agricultural and farming equipment.
Each year, it is estimated between 800 and 1,100 ATVs are stolen from farms across the UK – with criminals targeting rural communities before quickly selling on stolen equipment and machinery.
But the Bill – which it is hoped will become law in 2023 – would see all ATVs and other agricultural machinery fitted with forensic marking and immobilisers by law. It would make it easier for police track down stolen items more easily as well as making it difficult for criminals to sell them on.
Presenting the Bill to the House of Commons, Greg Smith MP reserved special praise for Supt Huddleston, who he said "has played a key role up to this point".
"The Bill would not exist without the vast insight, knowledge and experience of Supt Andy Huddleston, whose hard work and determination as the rural crime coordinator at the National Police Chiefs' Council has made this Bill possible," said Mr Smith.
Supt Huddleston believes the Bill will make a major difference to rural communities across the UK if it becomes law.
"I am delighted that this Bill has passed its second reading and is a step closer to hopefully becoming law," he said.
"This legislation would represent a significant milestone in our ongoing fight against rural crime, helping us track down stolen goods more easily and cut off the ability for criminals to monetise these items.
"We believe this will help lead to a significant reduction in the theft of ATVs and other agricultural machinery, helping us better protect our most remote communities and allowing us to take swift and robust action against offenders."
The Bill has also been welcomed by other organisations.
Paul Branch, head of claims at NFU Mutual, said: "We are pleased to support progress on this Bill, which seeks to improve security and protect our farmers and rural communities from crime and the impact that it has on their wellbeing and livelihoods."