Officer poisoned in Novichok attack quits force saying he cannot 'find peace' without leaving
Detective Sergeant Nick Bailey, the Wiltshire Police officer who was contaminated with a nerve agent during the Salisbury Novichok attack, is leaving the force saying he "can no longer do the job".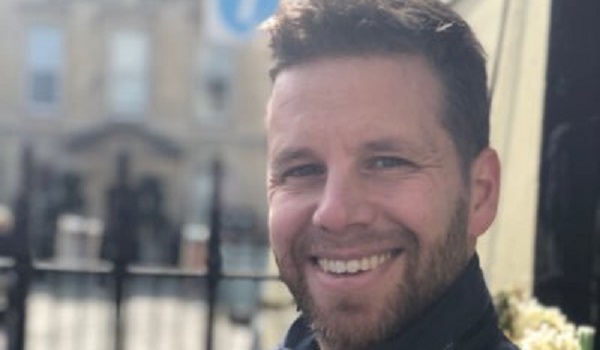 In an emotional post on Twitter, Det Sgt Bailey said: "After 18 years in the police force I've had to admit defeat and accept that I can no longer do the job. I wanted to be a police officer since I was a teenager, I couldn't envisage doing anything else, which is why this makes me so sad.
"Like most police officers, I've experienced my fair share of trauma, violence, upset, injury and grief. We deal with it, take it on the chin and keep going because that's our job. But we're still human and the impact this has shouldn't be underestimated.
"The events in Salisbury in March 2018 took so much from me and although I've tried so hard to make it work, I know that I won't find peace whilst remaining in that environment. Policing will remain in my heart and I feel honoured and privileged to have been part of Wiltshire Police.
"I am so grateful for the opportunities that they've given me, and the support that I've received. We've all seen that the 'Policing family' very much exists and in the current climate it's more important now than ever.
"To all those in the police, I salute you. Keep fighting the good fight, I'm just sorry that I've made the thin blue line that little bit thinner. Be proud of what you do and know that you make a positive difference to so many people. But for me, it's time for a change. 1772: off duty."
The attack on March 4, 2018, left Sergei Skripal, a former Russian military intelligence officer and double-agent for MI6 seriously ill in hospital, along with his daughter Yulia. Three months a discarded perfume bottle containing the nerve agent killed Dawn Sturgess and left her boyfriend Charlie Rowley fighting for his life.
Det Sgt Bailey was one of the first responders to the attack and became infected with nerve agent that had been administered to their door handle, despite wearing a forensic suit. He was rushed to hospital and remained there until March 22.
During a recent interview with Good Morning Britain he described the aftermath of the poisoining:  "There were fairly acute symptoms quite early on, but it affected me at a slower rate. It sounds foolish, but I put it down to exhaustion and migraines because at that time, we had no idea what we were dealing with and you couldn't even begin to comprehend it would be something like a nerve agent.
"It just evolved from there. The drugs I was put on at the hospital had side-effects as well and it's quite difficult to differentiate between the Novichok and the drugs I was on. I had hallucinations and vomiting. It was terrifying."
He revealed he had attempted to return to work on three separate occasions but was unable to continue due to the level of trauma he has suffered. "It's been really, really tough and I'm not embarrassed to say I've suffered with depression and trying to sort myself out and climb out of the hole I feel like I've been in," he said.
Responding to the news that Det Sgt Bailey is stepping down, Mark Andrews, chair of Wiltshire Police Federation, said: "It's really sad for me personally to hear of Nick's leaving. Nick was the victim of a terrible crime, he is a personal friend of mine and a valued colleague of ours at Wiltshire Police Federation. I know he'll be missed by every police officer who he has come into contact with through his service.
"What happened to Nick is unprecedented and I hope will never happen to any other police officer or any other British citizen again. I can only hope that one day the offenders will be brought to justice and Nick will be able to rest knowing that."
Mr Andrews added: "I've always been impressed with how Nick and his family managed what they went through. I know both physically and mentally it's been tough, but Nick showed the real resilience of an excellent police officer by continuing to fight.
"He showed this in the money he has raised for Salisbury Hospital doing his half marathons and the support he has given to his colleagues who also went through this incident. I'm very proud of how he's behaved, I'm very proud of him and I'm very proud of how his family have got him through. We wish Nick and his family all the very best."
Wiltshire Police Chief Constable Kier Pritchard took to Twitter to pay tribute to the officer. He wrote: "Nick, thank you for 18 years of dedicated and highly professional service. You have been an amazing colleague and will be missed by all of us across the force. We've shared many happy and emotional experiences but now it's time for a new chapter in your life. Good luck my friend."
Angus Macpherson, the Wiltshire police and crime commissioner, said: "I would firstly like to thank Nick for his service and dedication to Wiltshire Police.
"Nick found himself at the centre of an international, criminal incident which not only affected his health but I am certain changed the course of his family's lives too.
"The events in Salisbury and Amesbury back in 2018 remain unprecedented and Nick, himself, has found himself in a situation that no other police officer in this country has been through.
"I know that the force has offered as much welfare support to Nick as possible but I hope today brings Nick and his family some sense of closure and allows them to start to look to the future.
"Each day, our officers, staff and volunteers do all they can to best protect the public and Nick symbolises that dedication and sense of public duty."