Officer jailed for sending explicit videos to vulnerable woman
A Staffordshire Police officer has been jailed for eight months after he admitted sending two explicit videos of himself to a vulnerable woman.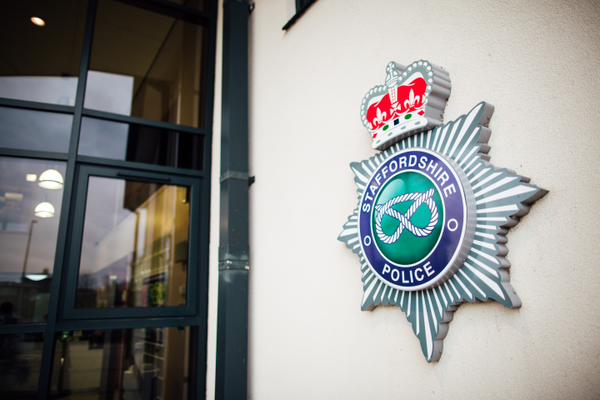 Police Constable Jarrett Kinson, who was convicted of corruption through abuse of authority, also exchanged "explicit and flirty" text messages with the woman on social media.
The "grossly inappropriate" contact took place between March and July 2018 after PC Kinson had visited the woman following a report of domestic abuse.
During the hearing at Birmingham Crown Court, it emerged that PC Kinson, who joined Staffordshire Police in 2006, had a history of similar behaviour.
In November 2010, PC Kinson had sent sexually explicit text messages to a woman who had made a complaint of harassment against her partner. The officer was given "strong advice" by a police inspector and said he was sorry, giving assurances that the behaviour would not be repeated.
Five years later, in June 2016, PC Kinson interviewed a woman after her former partner made a complaint that she had damaged his car. During that interview she had given the defendant her life story, including the fact that her children were in care, all of which made PC Kinson aware of her vulnerability.
He told the woman that he lived near and gave her his phone number, saying she could contact him at any time.
In April 2018, the woman contacted the police reporting there had been a domestic incident with her partner. PC Kinson went to her address with another officer where he recognised the woman from their previous meeting.
PC Kinson said he would need to speak to her again to get information made contact "within hours", asking if she was scared of her partner. He then sent her a text saying he had been aroused on seeing her and that he "fancied" her.
The officer then made contact using Facebook, sending a series messages and exchanging photographs. He also sent two explicit videos of himself and had asked the woman to send something similar of herself in return.
The victim later confided that, while she was not attracted to PC Kinson, she had been flattered by the messages, which had arrived at time when her self-esteem was low. She also hoped the officer might be able to help get her children back.
PC Kinson later deleted all the messages he had sent and told the woman to do the same. However, when officers contacted the woman during an investigation into other complaints, she showed them the messages, which she had decided not to delete.
When interviewed, PC Kinson said he had been stressed at the time and was flattered by her attention.
In passing sentence, Judge Paul Farrer QC said: "In short this was grossly inappropriate conduct with a woman you knew to be vulnerable. It was undoubtedly with the intention of commencing a sexual relationship.
"The public rightly expect police officers to act in a professional way and your actions represent a breach of that public trust and has the potential of undermining public confidence in the police services."
Staffordshire Police Deputy Chief Constable Nick Baker said: "Abuse of position for sexual gain by police officers or staff in any guise is never acceptable as it causes harm or distress to the very people we should be protecting and keeping safe."
PC Kinson remains suspended from Staffordshire Police pending internal disciplinary proceedings.