Officer injured during Just Stop Oil protests on M25
A police motorcycle rider was injured as officers responded to a Just Stop Oil protest on the M25.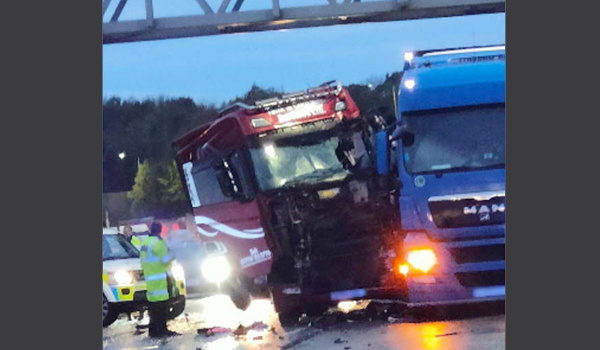 Essex Police said there was a collision involving the motorcycle and two lorries during a rolling roadblock introduced as officers intervened to deal with a protestor on the motorway between junctions 26 and 27 on Wednesday morning (November 9).
"The motorbike rider was injured and has been checked over by the ambulance service," the force said.
"Two people have been arrested on suspicion of causing a public nuisance in connection with that incident."
Essex Police said a third person was arrested later that morning in connection with the disruption on the M25.
The man was brought down from a gantry at junction 30 and taken to custody.
The force said it was also working to remove an activist from junction 29 and was in "close liaison" with National Highways to ensure as much of the motorway remains open as possible.
"These decisions are under constant review, with the safety of the public foremost in our minds," it added.
Chief Superintendent Simon Anslow said: "Officers have again responded quickly to minimise disruption and three people have already been arrested.
"One of our officers has been injured as they worked to help resolve this situation.
"Our roads policing officers are dedicated, specialist officers who come to work to serve the public and keep you safe on our roads.
"They do this tirelessly, day-in day-out.
"Sadly, this morning one of these fantastic officers has been injured while carrying out this work.
"My thoughts are with them and their family.
"I want to thank the public for their support, patience and understanding while we work to resolve this situation."
National Police Chiefs' Council chair Martin Hewitt said officers continue to demonstrate "professionalism, tenacity and resilience" when responding to increasingly challenging protest activity.
Speaking at today's joint annual conference with the Association of Police and Crime Commissioners, he said: "This week we are seeing protests on the road network. A combination of proactivity and preparedness meant we have been able to reopen the busy motorways quickly.
"Working with government and other agencies we continue to use civil injunctions as well as our criminal powers to minimise disruption."
He added: "Policing is not anti-protest, but we are pro-responsibility and for having due regard for the rights of others.
"We will continue to take all appropriate action against anyone who deliberately chooses to protest outside of the law."
Home Secretary Suella Braverman has sent her "best wishes" to the Essex Police officer who was injured while dealing with "protesters engaging in guerrilla tactics on the M25".
"These protests are dangerous and I fully back police in using all tools available to prevent further disruption and protect the public," she tweeted.