Officer cleared of gross misconduct after deliberately colliding with a moped
A panel with an independent legally trained chair has praised an officer's diligent actions in apprehending a suspect despite the Independent Office for Police Conduct's (IOPC) finding that he breached his training and force policies when causing a moped to collide with his police car.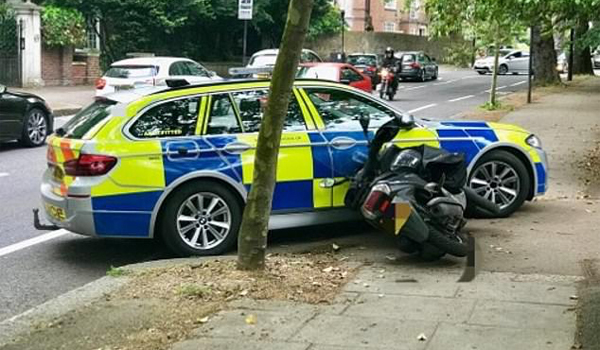 A gross misconduct hearing concluded on May 8 that Police Constable Edwin Sutton did not contravene standards of professional behaviour in relation to use of force and duties and responsibilities.
It said his manoeuvre – placing his vehicle into the path of a moped being driven on the A406 North Circular Road in London by a 17-year-old boy in order to stop it and causing a collision – was proportionate.
The IOPC decision to direct the Metropolitan Police Service to hold a misconduct hearing into the incident caused anger among staff associations who have recently been supported by proposals put forward by the Home Office to amend legislation to protect police drivers in pursuits.
IOPC Regional Director Sal Naseem said: "While there is public concern about moped enabled crime and what tactics and protections are available to officers to respond to such incidents, it is important to draw the distinction between tactical contact and the manoeuvre used by the officer in this case. Our finding of a case to answer was in part based on his stated intention to 'box in' the moped and how his training said it should be done.
"When evaluating the findings we decided that a tribunal, when presented with the evidence, could conclude that PC Sutton had breached police professional standards when carrying out the manoeuvre. That is the test we must apply. As is its role, that tribunal has tested the evidence and today concluded that his actions did not amount to gross misconduct."
However, Metropolitan Police Federation chair Ken Marsh attacked the decision to take action against the officer.
"What message does this case send?" he said. "We believe this officer acted within guidelines, but is being fed to the wolves. It's not right."
At about 5pm on May 21, 2017, in response to reports of criminal activity involving moped riders, The IOPC said PC Sutton moved out of his lane of near stationary traffic and accelerated, though still at a slow speed, into the path of the moped which collided with the car.
The boy was taken to hospital with a broken leg but was not arrested or charged with any offence.
PC Sutton decided to carry out the boxing-in manoeuvre to stop the moped rider after hearing reports of moped-related crimes in the area.
The IOPC said it examined the officer's training record and the relevant local and national policies on conducting manoeuvres to deal with suspected offenders on mopeds. Guidance on the use of boxing-in states that at least two police vehicles are required to carry out this tactic.
However, the hearing concluded that PC Sutton's manoeuvre was a slow and measured movement in clear sighting of the suspect; and that it was reasonable in all the circumstances.
The panel considered it was done for a legitimate policing purpose, taken in a dynamic and fast-moving situation where PC Sutton had few, if any, other practical options. Itconcluded that, in the circumstanced in which he found himself, PC Sutton's action was necessary for the apprehension of a suspected criminal and hewas not neglecting his duty.
"There is also an overarching duty on all officers to protect members of the public, and certainly not to place them in danger. The panel accepted that PC Sutton, in assessing the situation and deciding what pre-emptive action to take, had regard to all the circumstances surrounding it, which will have included the risks. He is a very experienced traffic officer, used to making dynamic risk assessment," it said.