Number of US officers feloniously killed increased by almost two thirds in 2016
The number of US police officers killed as a result of a criminal act last year was the highest recorded in a decade.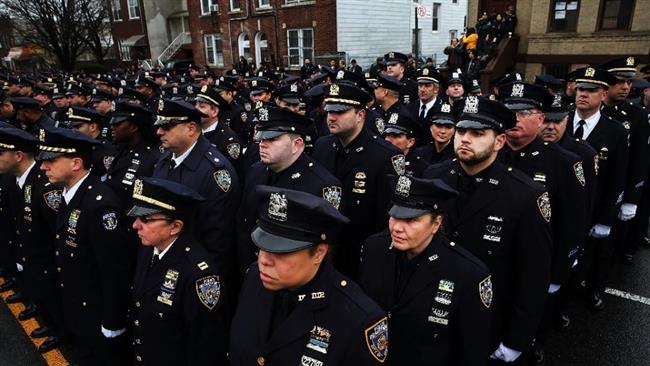 The number of US police officers killed as a result of a criminal act last year was the highest recorded in a decade. There were 66 felonious deaths – a 61 per cent increase on the previous year – among a total of 118 law enforcement officers who lost their lives in the line of duty in 2016. All but four of the 66 officers were slain by offenders with firearms – 37 by handguns, 24 by rifles and one by a shotgun – the others using vehicles as the primary weapon. A quarter were "ambushed" and a fifth answering disturbance calls when they met their premature deaths in figures released as part of the FBI`s annual Law Enforcement Officers Killed and Assaulted (LEOKA) report. Nine were killed investigating suspicious persons/circumstances; six were engaged in tactical situations; five were performing investigative activities (such as surveillances, searches, or interviews); four were conducting traffic pursuits/stops with a further four attempting other arrests; three were investigating drug-related matters and three more killed in unprovoked attacks; and one was answering a burglary call and another a robbery. Law enforcement agencies identified 59 alleged assailants in connection with the felonious line-of-duty deaths. Forty-five of the assailants had prior criminal arrests, and 14 of the offenders were under judicial supervision at the times of the felonious incidents. The number of officers killed as a result of criminal acts in 2016 increased by 25 when compared with 41 officers feloniously killed in 2015. The five- and ten-year comparisons show an increase of 17 felonious deaths compared with the 2012 figure (49 officers) and an increase of eight deaths compared with 2007 data (58 officers). Some 509 officers have been feloniously killed in the last ten years in the US with 2016 being the second worst year for numbers behind 2011 (72 killed). The overall total of 118 for 2016 showed a 35 per cent increase on the previous year. Fifty-two law enforcement officers were killed accidentally while performing their duties – up seven on 2015. The majority – 45 officers – were either killed in motor vehicle accidents, struck by vehicles or died due to motorcycle crashes. In 2016, of the 57, 180 officers assaulted while performing their duties, nearly 30 per cent were injured. A third of assaulted officers were attacked while responding to disturbance calls with assailants using their hands, fists or feet in 78 per cent of the incidents. Firearms were in evidence in only 4.2 per cent of incidents, and knives in just 1.9 per cent of cases.