Notts launches UK's first 'Military to Police' scheme
The country's first scheme to provide a direct pathway for military personnel to join the police service has been launched by Nottinghamshire Police with support from the College of Policing.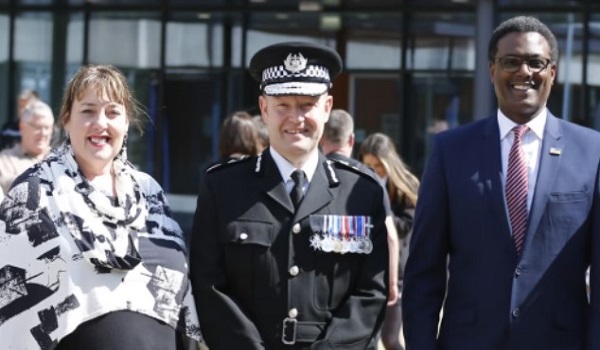 Currently, there is no specific national pathway for serving members of the Armed Forces to join the police – despite lots of military skills translating well into policing.
Nottinghamshire Police's pioneering new Military Widening Access Course means serving military personnel will now be supported to transition into an exciting new career in policing.
The force has co-designed an innovative Level 4 qualification in Policing with the University of Derby, accessible to those within the military who are looking to utilise their skills and experiences in the police service.
The 12-week pilot course fast-tracks entrants onto the second year of the Police Constable Degree Apprenticeship, which involves on and off-the-job learning in partnership with the University of Derby and the Ministry of Defence.
Having joined the police, the new recruits will then complete a two-year probationary period to be confirmed in post as a police officer and achieve a degree.
Superintendent Louise Clarke said: "We recognise the skills that are transferable from the military. They are problem-solving skills, communication skills, conflict resolution and they've had some worldwide experience – all of those things we recognise can make a really strong police officer.
"The force is proud to already count a number of former serving members of the Armed Forces and Reservists among its employees, and the skills and experience military personnel bring are highly valued.
"We've had lots come through and been really successful at all ranks in our organisation and, therefore, the Armed Forces is a talent magnet we and the service want to tap into."
Supt Clarke said: "It's a 12-week programme which members of the Armed Forces can access while still serving in the military but are looking to embark on a new career.
"It starts in January 2023 and after that there will be a short break so they can leave the Armed Forces and resettle into Nottinghamshire, ahead of becoming a police officer in June 2023.
The police and crime commissioner for Nottinghamshire, Caroline Henry, said she was delighted to see the new pathway come to fruition. "We recognise the experience, skills and values that military people can bring to our police force.
"I've been around the military for a long time. My husband served 26 years in the RAF and I've been involved in military charities for a long time. I'm very familiar with that world and it was clear to me when we started having discussions about launching this new pathway that it was a fantastic idea. We like doing things first in Nottinghamshire and I'm delighted that we've done it again."
Darren Henry, the MP for Broxtowe, which is home to Chilwell Barracks, added: "Following a meeting I organised in January with Government ministers, the chief constable of Nottinghamshire Police force and the police and crime commissioner, I am delighted that Nottinghamshire will be the first place in the UK to introduce a Military to Police scheme. As a veteran myself I know just how many untapped skills are held by this group of men and women."
Nottinghamshire Police has managed to achieve its national uplift recruitment target a year ahead of schedule. The force reached 2,380 officers by March 2022, meaning officer ranks at the force are now at their highest levels for 11 years.
Chief Constable Craig Guildford said the force will continue to be proactive in attracting the brightest and the best talent, including from the Armed Forces via the new pioneering pathway.
"Whenever we look to recruit new police officers, we look for people who are compassionate, resilient and above all dedicated to making communities safer places to live, work and visit.
"Many of our military personnel have these attributes in abundance and that is why we have launched this innovative new pathway with the help of the College of Policing and the University of Derby.
"We fully recognise that military skills translate very well to policing and would encourage members of the Armed Forces who are coming towards the end of the service to consider joining the police service.
"I can promise them a rewarding career where they will help people at their lowest ebb, protect the vulnerable and help bring criminals to justice."