Nottinghamshire Police receive record applications from LGBT+ community
The number of LGBT+ applications to Nottinghamshire Police has reached an all-time high with almost one in six identifying themselves as part of that 'community'.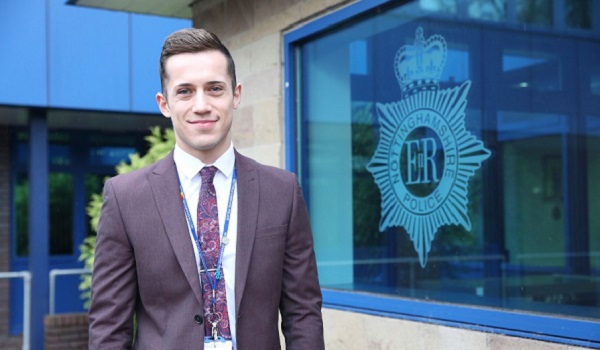 Since recruitment opened last November, 16.9 per cent of applicants say they identify as LGBT+. The increase has been achieved with the support of The Network – the force's support group for LGBT+ staff.
Detective Constable Julian Eminson-Ferry who is openly gay, has been with Nottinghamshire Police for seven years, including four years as a special constable. He said his time with the force has been nothing but positive.
"I have never had an issue with my sexuality and the work I do," he said. "My work colleagues are all aware I am gay, and I have had nothing but positive support from them all. This is a really great force to be part of. And the fact they have an active LGBT+ network is a real positive as this gives you the support should you need it."
Police Constable Dai Holmes, spokesman for the force's LGBT+ Network said: "I am glad Julian has had a positive experience in this force and that we as a network have had a part to play in that. It is also very encouraging to see the numbers of LGBT+ people wanting to join our force.
"We have a great chief officer team who are supportive of us having a voice and being heard. I would encourage anyone from the LGBT+ community who wants to be a police officer to join our force and to join our network too."
Chief Constable Craig Guildford said: "As an employer of choice we are committed as a force to ensuring we represent the people we serve. That is why over the last few years we have been focusing on all aspects of diversity within our workforce. We constantly attract talent from a huge variety of backgrounds. Our interest lies in the individual's ability to serve the public without fear of favour.
"I take a personal interest in ensuring all our networks and staff associations have a voice that is heard and making sure we learn from best practice.
"The news that a number of people from the LGBT+ community have applied to join the force is excellent and I would like to thank the LGBT+ Network for their hard work in achieving this by going into the local communities and talking to people and showcasing the role."
Nottinghamshire police and crime commissioner Paddy Tipping added: "Our focus is on attracting and retaining the best people from a range of backgrounds to ensure that our workforce is truly representative of our local communities.
"Having an increase in numbers of officers from LGBT+ backgrounds can only be a good thing and is one I very much welcome."