Nick Adderley to continue as Northamptonshire Police chief constable beyond 2023
Nick Adderley is to remain as chief constable of Northamptonshire Police for at least a further two years when his current contract expires in 2023.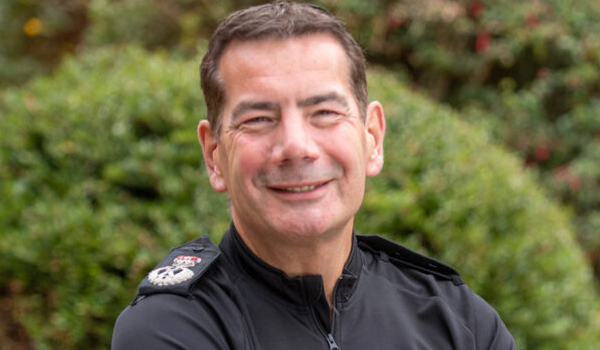 Northamptonshire's police, fire and crime commissioner Stephen Mold confirmed that Mr Adderley's contract is to be extended until at least August 2025, although he added that "complex" tax and pension rules will require a special arrangement to allow him to do so".
"I don't believe that now is the right time to change chief constable and so I accept Nick's personal need to retire and come back as something necessary to the future of Northamptonshire Police and the leadership of policing in the county," said Mr Mold.
He said Mr Adderley is still the "right person to remain at the helm" of the force so that he can continue to deliver the improvement programme already underway.
It comes as new figures show Northamptonshire Police is the only force in England and Wales to have reported an actual fall in overall crime in the year to June 2022.
Data from the Office for National Statistics (ONS) shows overall crime nationally rose by an average of 12.9 per cent across police forces, but in Northamptonshire it fell by 0.6 per cent.
Mr Adderley was awarded a five-year contract as chief constable in August 2018.
Mr Mold explained that a policing career is generally structured around a 30-year term, with full pension and benefits geared to the expectation that a police officer will retire after that time.
He said the "complex tax and pension rules" mean that it is "financially detrimental" to Mr Adderley to simply extend his contract for a further term. Instead, Mr Mold has agreed for him to retire return as chief constable after a short break.
He said the chief constable has demonstrated the "clear leadership and drive" that will ensure stability and create the best conditions for the force to continue to make progress.
"It is my responsibility to appoint the chief constable, and I take that incredibly seriously," said Mr Mold.
"I believe that Nick Adderley should remain as chief constable. I have taken the views of frontline police officers and staff, and of key partner agencies into account, and they have only confirmed my view.
"Northamptonshire Police is on a journey but I see clear signs of improvement. Nick has clear plans that will further improve policing across the board: strengthening the links between neighbourhood teams and the people they serve, better fighting crime and arresting more offenders.
"I believe those plans for better policing in Northamptonshire will be carried through if we keep up the momentum, not just standing still but meeting my ambitions to provide the highest standard of policing for the people of this county.
"I believe Nick is the best person to lead the force on this journey and I will hold him to account for how well he does that.
"Policing is subject to demands and drivers that change every day.
"Alongside that, recruitment to policing like other professions, is challenging and I will expect Nick to ensure his leadership team is the best it can be."
Mr Adderley joined the force shortly before the publication of a "damning inspection report" on the performance of Northamptonshire Police by Her Majesty's Inspectorate of Constabulary and Fire Services (HMICFRS).
Since then he has overseen the recruitment of extra officers that has taken the force to the "greatest number it has ever had",
He also oversaw the change in policy to ensure that every victim of household burglary is visited by an office, and the crime is properly investigated.
Latest HMICFRS inspections show that the force is now good at handling calls, answering swiftly and recording details accurately
Mr Adderley said: "I am delighted to be continuing as chief constable and look forward to building on the impressive work already achieved by the force.
"I firmly believe that continuity of leadership, at this crucial time, is essential to maintain, and in some areas, accelerate our performance improvements.
"The communities of Northamptonshire deserve the very best policing services we can provide and I am grateful to Stephen Mold for the opportunity to continue leading this proud force to ensure that they get exactly that."
The latest ONS data for Northamptonshire Police shows that
Anti-social behaviour fell by 8.2 per cent, down by more than 9,500 incidents;
Knife crime fell by overall by some 16 per cent, while in Wellingborough – where Op Revive, a targeted campaign to tackle those carrying knives – it fell by nearly 30 per cent;
Arrest rates for domestic abuse have risen steadily year on year to 35.2 per cent, a significant improvement on the previous 12 months: and
A clear proactive strategy to tackle serious organised crime has led to more firearms being seized, large number of drug factories being closed down and 16 County Lines drugs groups being broken up
All these crime types were identified as the chief constable's 'matters of priority' in 2021/22.
Mr Adderley said: "I'm really pleased to say that Northamptonshire Police is fast being recognised as one of the most progressive forces in the country.
"These figures come against a backdrop that we are of one of five forces rated as good in terms of our crime data recording so people can be confident this ONS data is wholly accurate.
"I made it clear when I took over that I wanted Northamptonshire Police to be a proactive force that goes out and deals with these issues when they happen and that's exactly what we are now doing."
Significantly, he said, the force has climbed from 34th to eighth in a league table of forces in terms of its ability to detect crime, a step-change from 2018 when HMICFRS judged the force was 'unable to investigate crime'.
Mr Adderley also reported continued success in the fight against burglary across Northamptonshire, with an 11.6 per cent fall in residential break-ins and a 14.1 per cent drop in commercial burglaries.
The official data shows that residents in Northamptonshire are now less likely to be a victim of crime than most parts of the country in a county where the population has grown by 6.3 per cent, a rate significantly higher than the national average.
Overall, violent crime accounts for 45 per cent of all offences recorded by the force, one third of which is related to domestic abuse. However, the number of violent offences recorded last year actually fell by two per cent in 2021/22, placing Northamptonshire Police second in the performance table of 43 forces.
Theft, which continues to fall, makes up around one in every four crimes recorded by Northamptonshire Police
Mr Adderley said the force is also making "real progress" against tackling violence against women and girls, serious violence, serious and organised crime and drugs harm, including:
90 per cent victim satisfaction levels in cases of domestic abuse and a programme of prevention activity in the county's night-time economy designed better to protect women and girls;
1,294 knives taken off the streets in the last three months and a high conviction rate for offenders;
Significant numbers of firearms seized and more than 130 people safeguarded from modern slavery; and
Significant falls in anti-social behaviour and residential burglary, both of which have close links to drugs harm.
Twelve weeks of targeted action during the summer also resulted in "significant seizures" of drugs, cash, weapons and mobile phones linked to drug lines, all resulting in a large number of arrests and intelligence gathering going forward.
Mr Adderley said: "I know there is still work to be done, I'm more than aware of that, but thanks to all the hard work of police officers and staff we are absolutely going in the right direction in terms of delivering our key aim to fight crime and protect people."