Next generation TASER announced
TASER has released details of their latest TASER enabled projectile, the XREP (eXtended Range Electronic Projectile).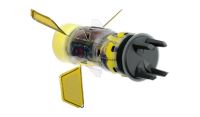 The new technology is a 12-gauge Neuro Muscular Incapacitation (NMI) projectile.
The technology is the product of five years of research and development by the company.
TASER CEO Rick Smith said: "The XREP introduces not only amazingly miniaturised TASER technology, but groundbreaking flight stabilisation and microprocessor-controlled intelligent electrode selection technologies – in a package that weighs only 14 grams, or half an ounce. The XREP projectile is, by an order of magnitude, the most sophisticated weapon system ever launched from a 12-gauge shotgun platform."
TASER will release the XREP into a field test that will take up to a year at the end of 2007, with the full release and production scheduled for 2008.