New tracking system in police vehicles will enable 'quicker response' times
Anew hi-tech system for police vehicles across Staffordshire should mean faster response times with the right specialist resources and capabilities attending.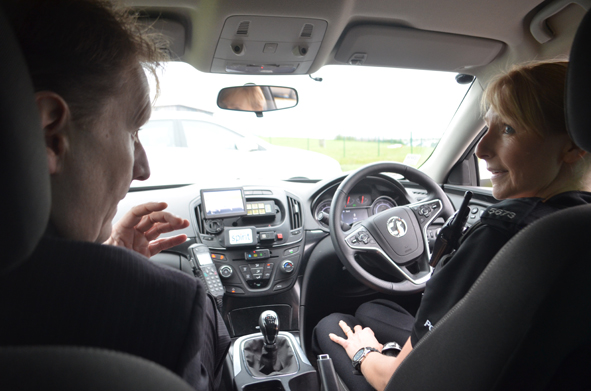 Anew hi-tech system for police vehicles across Staffordshire should mean faster response times with the right specialist resources and capabilities attending. For the first time, control room staff at Staffordshire Police will have real-time information on exactly where each police vehicle is, which officers are in the cars and the specific expertise and capabilities available – making sure officers with the right skills are sent to incidents faster.
The force said it would also minimise the times when officers from miles away respond to an incident even though suitable resources are close by.
The rollout of SPIRIT GPS (global positioning system) technology is part of Staffordshire police and crime commissioner (PCC) Matthew Ellis' "revolution" to see Staffordshire Police become the most technologically advanced force in the country.
A total of 176 local policing team (LPT) vehicles have now been fitted with the SPIRIT system, which was developed by Northgate Public Services.
Mr Ellis said: "We cannot expect Staffordshire Police to meet the ever-increasing complexities and rising demand without the proper tools for the job.
"The investment I promised in technology is essential in my view and with the SPIRIT system, control room staff can now see exactly where police resources are in real-time and know precisely what skills the officers in those vehicles have.
"This means that the closest resource with the right capabilities will usually respond, rather than officers from further away who aren't always the most appropriate ones.
"It should also reduce the times that multiple police resources turn up to the same incident, even though they are not needed. The SPIRIT technology will see effective use of police time and resources and allow better coordination, meaning quicker responses."
Mr Ellis added: "I spent time with control room staff after the new SPIRIT system went live and their enthusiasm at having so much visual and real-time information to deal with often complex situations was welcome.
"While technology isn't the be all and end all for policing, intelligent investment in the right kit can increase capacity, improve response times and provide officers with data, information and processes while visible in communities instead of having to go back to police stations."
The SPIRIT system arrives as the rollout of mobile devices to officers across Staffordshire gathers pace. Mobile data is allowing officers to take witness statements when out on patrol and access information, data and police systems without the need for them to return to police buildings.
Armed response vehicles and police dog vehicles are due to be fitted with Spirit this month. Forensics, investigative services and other vehicles will get the technology as part of the rolling programme during 2016.
Assistant Chief Constable Bernie O'Reilly said: "SPIRIT is about giving the best possible service we can to the public and using our resources as efficiently and effectively as we can. The technology should ensure that victims are seen quicker and travel time to incidents is reduced. It's about keeping officers and staff safe – our control room will know exactly where they are and can get help to them quickly."
The LPT vehicles fitted with the system so far include some non-response vehicles driven by police community support officers and detectives in the LPT areas.
Ian Blackhurst, executive director at Northgate Public Services, said: "We've worked closely with Staffordshire Police to get to the heart of their needs and to build a system that really makes a difference – it reduces costs by ensuring police are in the right place at the right time with the right resources. SPIRIT delivers directly to the frontline agenda set by the PCC in Staffordshire, who has clearly committed to invest in advanced technology. This is an ambitious project designed to get the best results from police, and help protect communities by getting police to incidents faster."