New threats demand renewed attention to ATM physical security
A renewed focus on the "physical security" of ATM machines is being called for following an upsurge in attacks across Europe.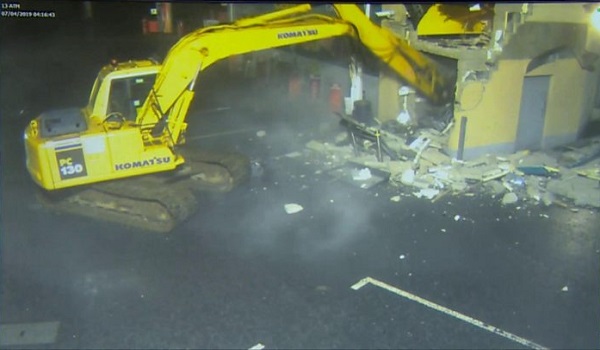 According to the latest figures from the European Association for Secure Transactions, reporting countries saw a 27 per cent increase in ATM physical attacks in 2018, costing the economy more than £32 million in Europe in 2018.
In the UK, thefts and attempted thefts of cash machines have more than doubled from less than 400 in 2014 to almost 850 in 2018.
Criminals are using increasingly extreme methods in their attacks, including explosive gas, industrial cutting tools and ram attacks to remove the ATM.
In a paper published this week, Europol and the European Crime Prevention Network (EUCPN) call for a three-step strategy to combat and prevent this crime – reduce the rewards, increase the risk and increase the effort.
While one approach to the problem of physical attacks is to harden the security of ATMs, others include reducing the amount of cash in ATMs so that it is sufficient for one day only or marking the bank notes with a forensic traceable 'dye'.
Information gathering and sharing between all relevant stakeholders is also essential, says EUCPN, as is the exchange of high-quality CCTV images and sound data to increase the chances of early detection and successful investigations.
It wants to see such measures adopted on a Europe-wide level so that strong measures in one country do not drive organised crime groups across borders to more vulnerable countries.
Last week, at the National Commercial Robbery Conference in Staffordshire, police and local business owners from across the country came together to discuss ways of reducing incidents of ATM theft.
The National Police Chiefs' Council lead for commercial robbery, Assistant Chief Constable Sarah Boycott, said the aim of the event was to look at ways to design out crime and better share information to stay a step ahead of criminals.
"Working in partnership is key to both preventing crime and convicting criminals," she said.
Sarah Staff of SaferCash, the British Security Industry Association's intelligence sharing initiative, said: "It's incredibly useful to be able to share best practice and highlight innovative approaches that can be used in partnership to tackle this offending."