New statistics show increased use of Tasers and disproportionate use of force among ethnic minorities
Police use of Tasers has increased by almost 50 per cent in the past year, according to newly published Home Office statistics which for the first time provide full details on "use of force".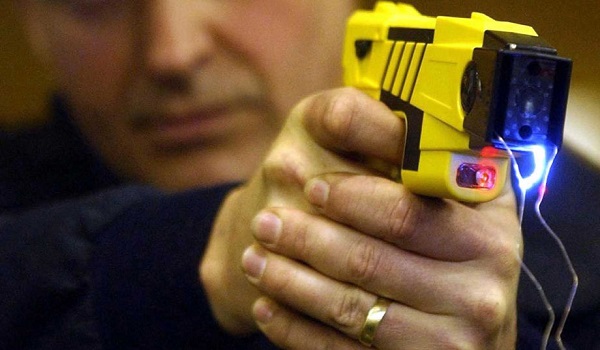 Between April 2017 and March 2018, Tasers were used on 17,100 occasions compared to 11,300 occasions the previous year. Officers drew their Tasers to protect themselves on 12,000 occasions, with 7,500 incidents involving an armed assailant. The weapons were fired around 2,000 times.  
The report states: "All types of [Taser] use (discharge, non-discharge, and not stated) increased compared to the previous year. However, the majority (89 per cent) of this increase in use was accounted for by a rise in non-discharge uses." The increase in the number of occasions on which Tasers have been drawn is, according to the report, the results of "officers dealing with more incidents with the potential for conflict".  
The figures showed that members of ethnic minorities are more likely to have force used against them. Although black people account for only around 3.5 per cent of the population, they experienced 12 per cent of use of force incidents. 
Use of force is any situation in which a police officer uses any force tactics, ranging from applying handcuffs to using a firearm. 
More than a quarter of all police firearms incidents involve black people while one in five uses of Tasers involve members of the black community. 
The new statistics also revealed that 18,000 officers were injured – 270 seriously – in 313,000 incidents involving a use of force by police. By comparison, around 20,000 suspects reported being hurt, 380 seriously.  
In total, 12 suspects died during or after contact with police. Five died after being restrained, two after being struck or tackled by officers and one after a firearms deployment, although the Home Office said it was important to clarify that these deaths were not necessarily caused directly by the use of force. 
The National Police Chiefs' Council (NPCC) introduced the requirement for all forces in the UK to record data on police use of force from April 1, 2017. 
Deputy Assistant Commissioner Matt Twist, the NPCC Lead for Self Defence and Restraint, said: "These statistics show that when force is used, it is mostly low level, and done to protect those who pose a threat to themselves, officers or others.  
"Police officers are carefully making operational assessments and are using the absolute minimum amount of force to resolve a situation. They are also using force as you would expect them to, in situations such as arrest or restraint to protect others. 
"We will be working to continuously improve the quality and consistency of this data to maximise its use. We want to see these statistics informing future planning and learning on training and equipment, in order to provide the best possible service and protection to the public," said Mr Twist. 
The Association of Police and Crime Commissioners (APCC) custody lead Martyn Underhill said: "These figures shine a light on policing. Any society that polices by consent needs to be able to quantify and qualify occasions when the State uses force on one of its citizens. Such scrutiny is a bedrock of democracy. This has been a long four-year journey and we now have the figures for the "use of force" by police forces across England and Wales. 
"The publication of this data should be welcomed and examined locally by PCC's and Deputy Mayors for Policing when holding Chief Constables to account and sharing information with the public to improve transparency." 
Deborah Coles, director of Inquest, a charity that provides advice on deaths in custody and detention, said: "These long overdue statistics are welcome concrete evidence of what we already know. Officers report most commonly using force not because of prior knowledge or possession of a weapon, but because of alcohol and drugs, the 'size, gender or build' of the subject, or mental ill health. 
"These figures beg questions about discriminatory assumptions and attitudes towards certain groups of people. All restraint has the potential to cause death, and the same issues are reflected in the numbers dying. This is clearly not only a policing issue but about the need for investment in frontline drug and alcohol and mental health service." 
Responding to the statistics on the increased police deployment of Tasers, Oliver Feeley-Sprague, Amnesty UK's Police and Security Programme Director, said: "Amnesty recognises that the police have a duty to protect the public and themselves from harm, but we've got serious concerns about the use of Tasers becoming the norm for day-to-day policing. 
"Coroners have pointed to the use of a Taser as a key factor in the deaths of two people in the UK, but it's likely Taser use was a factor in many more deaths. The Taser is a potentially lethal weapon and should be treated accordingly. 
"We're particularly concerned at the alarming rise in over-use against vulnerable and minority groups, including on people with mental health issues and black, Asian and minority ethnic people. The British public should resist the drum-beat of calls for every police officer to carry a Taser. More Tasers would inevitably mean more mistakes and more tragedy." 
Simon Kempton, Operational Policing lead for the Police Federation of England and Wales welcomed the collection of data but said he still had concerns around the methods by which it was gathered. He said: "The report highlights the disparity in the way officers record this information. Some officers are still having to complete pages of questions which can take more than 20 minutes whereas in other areas such as the Metropolitan Police the form takes around two to three minutes. 
"Many forces are moving to the on-line forms, but this can only be viable if they have the IT systems which can support this method and that is not the case in every force. What we need is standardisation across the forces so that all officers complete the same form as efficiently as possible."