New Police Covenant aimed at bolstering protection to be made law
Home Secretary Priti Patel has confirmed plans to create a Police Covenant aimed at boosting protection and support for officers and staff.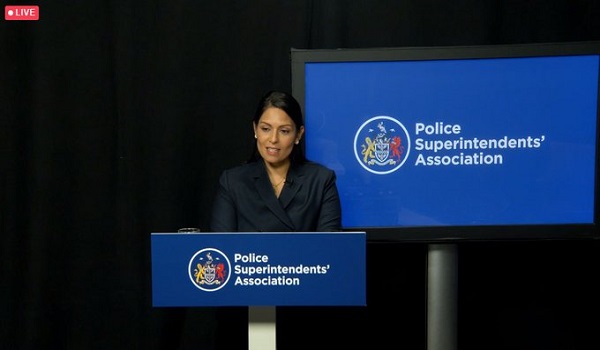 A consultation that canvassed police groups as well as the public showed that 90 per cent of respondents supported the introduction of a covenant, the Home Office said.
The idea for a covenant covering police staff and officers in England and Wales was first announced last year amid concerns over safety and welfare.
It makes specific reference to making sure police officers, staff and their families are not disadvantaged.
The announcement came after the Home Secretary met with the widow of Police Constable Andrew Harper last week, as part of a campaign in his name for life sentences for those who kill emergency services workers.
Ms Patel said: "The police and the families that stand behind them deserve special recognition. Their bravery and sacrifices are what keep us and our loved ones safe.
"I will put the Police Covenant in law to ensure they will always have the support of the nation."
The agreement would create a statutory duty to support the police, and would require the Home Secretary to make an annual report to Parliament on its use.
It applies to current and retired police officers and staff, in both paid and voluntary jobs.
Leaders of police groups that have campaigned for a covenant welcomed the announcement.
Chair of the Police Federation of England and Wales John Apter said: "This covenant will mean much more than words to serving or former police officers.
"It recognises the unique position they hold in society and the fact they very often put their lives on the line."
President of the Police Superintendents' Association Paul Griffiths said: "Our people put themselves at risk each day as they work to protect the public, something that is now more acute than ever, when faced with the challenges of coronavirus and increased reports of assaults against our officers.
"This important step forwards will ensure that our duty to our people begins to mirror that of our duty to the public."
The covenant says that it "acknowledges the sacrifices" made by police staff and officers in paid or voluntary jobs.
It says: "It is intended to ensure that they and their families are not disadvantaged as a result of that commitment and seeks to mitigate the impact on their day-to-day life or in their access to justice."
The agreement also acknowledges "a responsibility to provide protection and support to the police".
Responding to the news that the Police Covenant is to be enshrined in law, Association of Police and Crime Commissioners Chair Paddy Tipping said: "We welcome this announcement, in particular the focus on protection, health and wellbeing and support for families. Police officers, staff and volunteers do an outstanding job, day in day out, displaying bravery and making sacrifices in order to keep our communities safe.
"It is absolutely right that we recognise the contribution made by those working in the police service and a Police Covenant is an important way of doing that. Police and crime commissioners will continue to work closely with their Staff Associations and Trade Unions to ensure that serving and retired officers and staff, and their families, get the support they deserve."
Steve Edwards, CEO of the National Association of Retired Police Officers (NARPO) said: "NARPO welcomes the Home Secretary's decision to enshrine the Police Covenant in law. The Covenant will rightly enhance support and protection for serving officers but also extends to retired officers and the entire police family.
"NARPO responded to the Government's consultation earlier in the year, in addition to our campaigning in Parliament, and we are delighted that the Home Office has recognised the cumulative effect of a career in the police and that these issues do not end at retirement. We particularly welcome the emphasis on parity between physical and mental health. For too long retired police officers have not had access to dedicated support when mental health and wellbeing issues have arisen.
"We sincerely hope that this will make a real difference to serving and retired officers and their families and we look forward to working with the Government to ensure it offers real and tangible support to those it covers."